A parade of fascinating people stopped by Next in 2017.
Maybe you didn't always agree with them, or understand them, but we hope their stories at least made you think.
Below is a list of nine of out most memorable guests, ranked by Kyle in no particular order.
Who would you add? Weigh in, and let us who'd you'd like to see here in 2018 with #HeyNext or on our Facebook page.
Christopher Kendall
Kendall is a Coloradan who is homeless. He describes himself as an atheist, but he was moved by a sculpture of "Homeless Jesus" that was installed at Father Woody's Haven of Hope in Denver. It's hard to forget Kendall's honest eloquence. He told us, "What could be more powerful than a man that we hold in such high esteem sharing 'our experience?' It's a very powerful symbol."
Full story: Denver adds one to its homeless population: 'Homeless Jesus'
Ray Appling
Maybe you don't recall her name, but you probably know what she did. When Longmont Police tagged along with the Housing Authority to search affordable housing, Appling knew her rights. It was her tip, and her courage, that made these searches public knowledge. "This is a rights issue, not whether or not you have something to hide," she said.
Full story: Longmont Housing Authority invited police to search low-income apartments without warrants
Full story: Report: Tenants felt 'pressured' to allow warrantless searches in Longmont
Bill Hammons
Bill Hammons may want to forget his interview on Next. The Unity Party candidate for Governor had received glowing media coverage for his promise of centrism. Part of his plan included Colorado secede from the United States, then join New Mexico and California in forming a new nation that will take over parts of Mexico.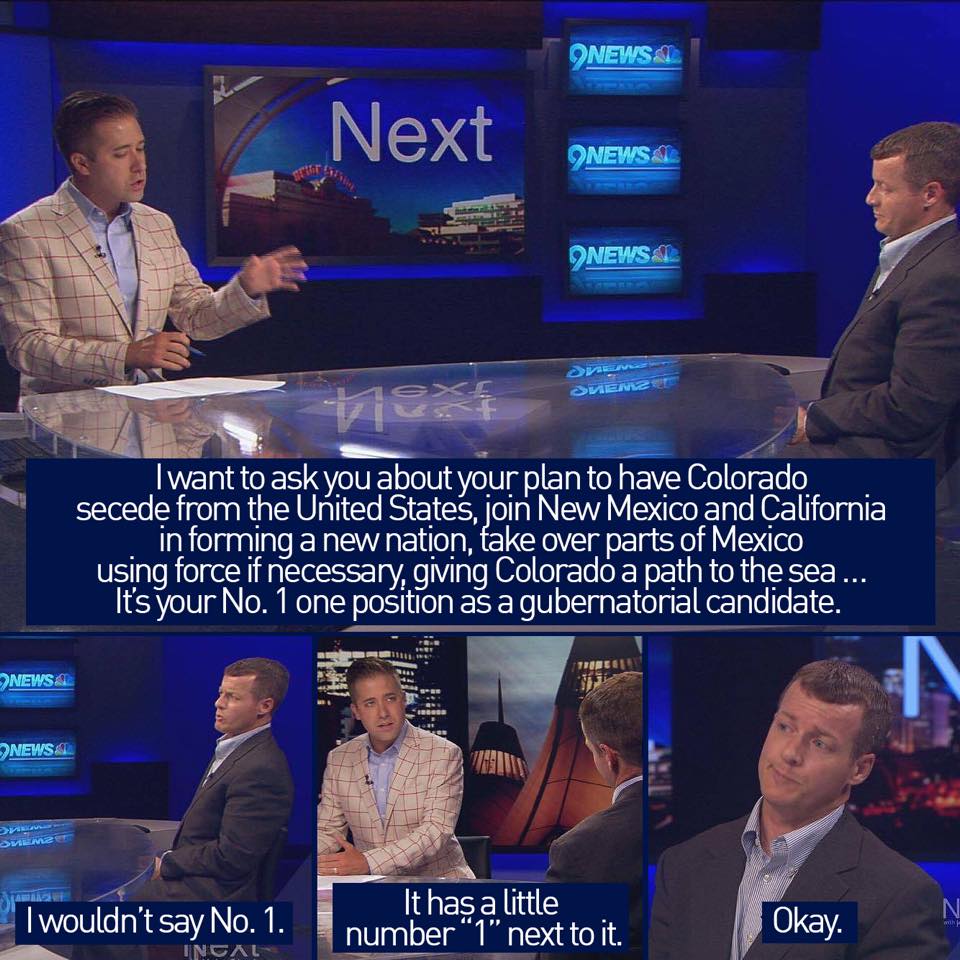 WATCH: Our full interview will Hammons
John Creed
Way down in Westcliffe, we met John Creed. He built hummingbird helmets for a better view of wildlife.
You have to watch the story to really appreciate how awesome it is.
Louise
We can't forget Louise and her family in Centennial. They taught us about about albinism, and about gratitude.
"Louise? What's the best part about having albinism?" her mom asked.
"Because I'm beautiful," she said.
Full story: Girl who became internet famous as baby has a message: Albinism is beautiful
Kathy + Herb
We met Kathy and Herb at the end of her life's journey. She was one of the first Coloradans to legally seek a doctor's help to end her life. Herb graciously has allowed us to check in, to see how he's been doing over the last year. Herb's honesty has reminded us that stories don't end when attention fades.
Full story: Perspective on Colorado's aid-in-dying law after one year
Cowboy
He is the King Soopers clerk known only as "Cowboy." Cowboy's been working at the store in Arvada for more than 30 years, and you'll never walk by without hearing a "Howdy, Pard'ner."
WATCH: The King Soopers clerk known only as 'Cowboy'
Deon Fisher
We squeezed in a visit to see Fisher right before New Year's. Millions saw the video online of Fisher at the piano on the 16th Street Mall. We met a man who was a patient teacher and thoughtful artist. Chances are that it's not the last we've seen or heard from him.
WATCH: Video of incredible 16th Street Mall pianist goes viral