When an adult teacher has a sexual text conversation with a high school student, it's legal under Colorado law.
State law is specific about child crimes of "exploitation," "luring" and "enticement" when the victim is 14 years old or younger. When the child is 15, 16 or 17, sexting conversations are legal as long as there is no proof of photos or videos being exchanged.
In Northwest Colorado, Justin Folley, a high school teacher and coach at Moffat County High School, was just found not guilty of sexual exploitation of a child.
According to court documents, he was accused of getting a high school student to send him three nude photos, while sending her a video of himself masturbating.
"The charge of sexual exploitation of a child was hinged on, or hinges on, the presence of an image, a sexual image. We didn't have the images, we just had the victim's testimony that the images existed," Moffat County Deputy District Attorney Matt Karzen told Next in a phone interview.
During the trial, which ended last week, the jury was shown 30 pages of text exchanges between Folley and the victim.
"I'd probably press you against the wall. Pull your clothes off and kiss your entire body," he wrote in one text.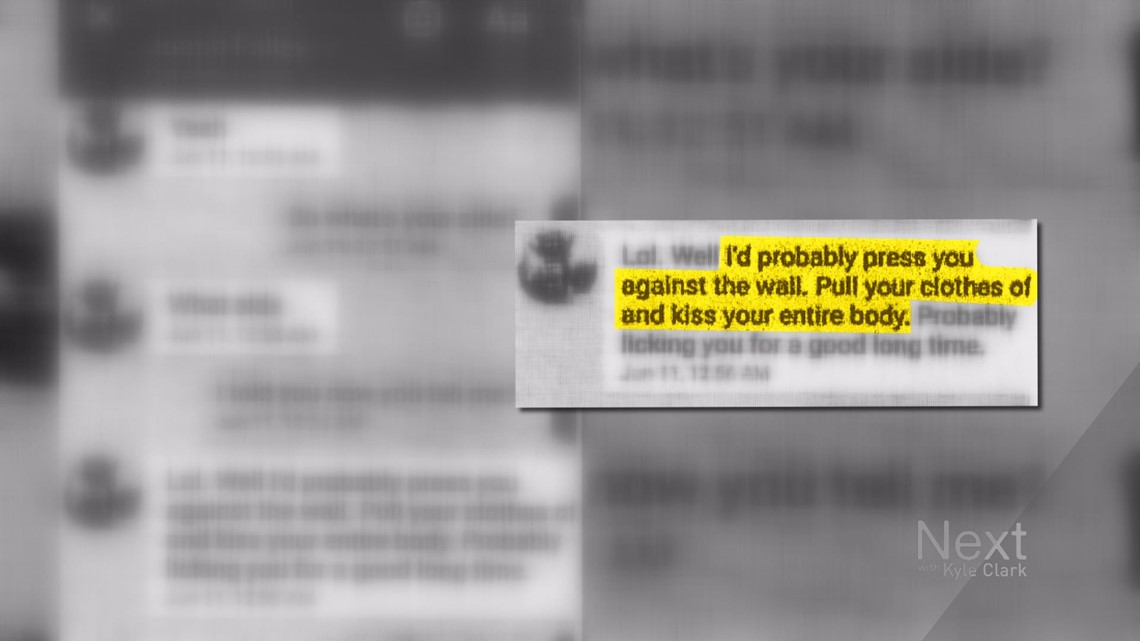 Despite the explicit text exchanges, the jury acquitted Folley. When asked if that meant the Moffat County D.A.'s Office sought the wrong charges, Karzen was adamant that the correct charges were filed.
"Internet exploitation, internet luring and enticement, all cover sexually charged text messages, but you have to be 14 or younger," said Karzen.
Under Colorado law, "enticement of a child," "Internet luring of a child" and "Internet sexual exploitation of a child" all require the victim to be "under 15 years of age."
That means if an adult has a sexual text exchange with a 15, 16 or 17-year-old through text messages or online, there is no crime.
"When you're talking about a 15, 16 or 17-year old child, even if you're talking about a teacher or coach or someone with special access to that child, currently that's not criminalized," said Amanda Gall, a sex assault crimes prosecutor with the Colorado District Attorneys Council.
Gall, a former prosecutor, helps train district attorneys on sex assault crime prosecution and guides lawmakers on policy changes needed in a statute.
"It's a loophole, and once you have a perpetrator like this who understands there's a loophole, then that behavior continues, so if there's an opportunity for us to close that gap to protect kids, then we should be doing that," said State Sen. Rhonda Fields (D-Aurora).
In 2017, Fields passed a sexting law that created a lesser offense for teens who post, possess or exchange a sexually explicit image of another teen. This was created to keep teens from being charged with sexual exploitation of a child, in cases of teens knowingly sharing nude photos with each other.
That decriminalization of teen sexting took two years to get passed.
"The scenario that we're talking about right now was not covered in my bill because we were talking about a teen or a child on the same level. Here we have an adult, a trusted adult," said Fields.
Gall said any change to Colorado law would need to be cautious of criminalizing an 18 or 19-year-old who might be in a relationship with a 16 or 17-year-old.
"I think that if you were going to approach this from a policy standpoint, you would want to make sure that you're only talking about 15 and 16 and 17 years old, in conjunction with conduct by those in a position of trust, not simply 15 and 16 and 17-year-olds with anyone," said Gall.
"My hope is that in the next legislative session that that changes," said Moffat County School District Superintendent David Ulrich.
Even though Folley was found not guilty, Ulrich told Next with Kyle Clark in a phone interview that Folley won't be welcomed back.
"He won't be in the classrooms of our kids anymore," said Moffat County School District Superintendent David Ulrich. "He's in violation of multiple board policies."
Folley was placed on paid administrative leave in April 2017, after the investigation began.
In Sept. 2017, the Colorado Board of Education suspended his teaching license. Because of that action, Moffat County School District moved him to unpaid administrative leave, where he remains today.
Ulrich said that the state board still has another action to take on Folley's license, and after that happens, the district will make a determination on his employment status.
More stories from Nex with Kyle Clark: