KUSA — Arapahoe County is considered one of Colorado's three crucial swing counties, along with Jefferson and Adams, and it sure did swing on Tuesday night.
Both Democrats and Republicans agree; the results were surprising in Arapahoe, an area that touches the densely packed suburbs of Littleton and Centennial, all the way to the wide-open spaces of Deer Trail.
As the state of Colorado voted to put Democrats into key leadership positions, Arapahoe County also opted to vote out two Republican incumbents: Sheriff David Walcher and U.S. Representative Mike Coffman.
"We have the carry-over from last night to figure out what the heck happened to our county and our state," said Rich Sokol, chair of the Arapahoe Republican Party.
Coffman's been serving in Colorado District 6 for almost 10 years and will be replaced by Democrat Jason Crow in 2019. Walcher became sheriff in 2014 and was defeated by the Democrat, Tyler Brown, an officer from Mountain View. As of Wednesday evening, Brown leads Walcher by more than 13,000 votes.
"It was better than expected," said Kronda Seibert, who's on the executive committee for the Arapahoe County Democrats.
More Democrats voted in the county this time around compared to the last mid-term election, but they weren't the only voters who came out in droves.
"I would argue today the unaffiliated voters are the kingmakers," said Sokol.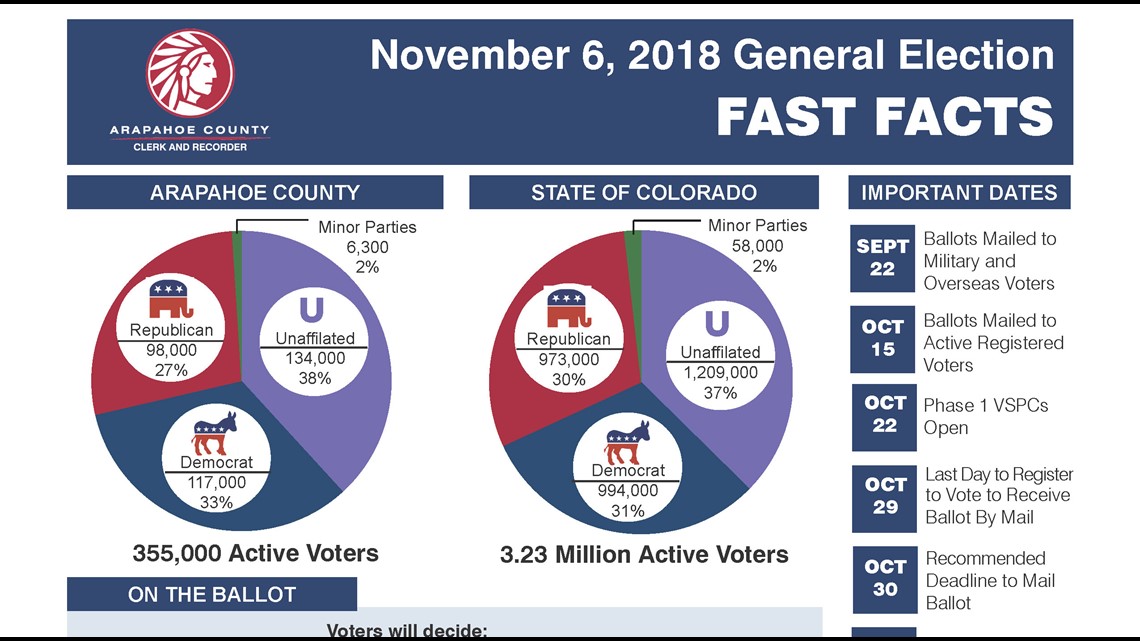 More than 92,000 unaffiliated voters in Arapahoe County cast a ballot this year, compared to about 80,000 Republicans and 97,000 Democrats.
In 2014, Arapahoe Republicans had the biggest showing with more than 68,000 voters, followed by Democrats with more than 58,000 voters, and then Unaffilateds, who returned about 47,000 ballots.
Democratic Governor-elect Jared Polis also won Arapahoe County, as did the Democratic Secretary of State candidate Jena Griswold, Democratic candidate for Treasurer Dave Young and Democratic Attorney General candidate Phil Weiser. Seibert believes it's a sign that people are voting for change.
"There is an anti-Republican backlash right now," said Sokol, "Our big task is to refocus how we message, especially to unaffiliated voters."
At a state level, the Colorado Democratic Party and Republican Party agree unaffiliated voters were a huge factor. The unaffiliated turnout outnumbered both parties statewide.
The Democrats also believe legacies of people previously in office played a role in how Tuesday night played out. Colorado Republicans said they are still sorting through the numbers and assessing what happened.
Coffman said during his concession speech that he attempted to distance himself from President Trump's politics in his campaign. The president called out Coffman by name in a press conference Wednesday, saying he and other Republicans who used that strategy lost the election because of it.
"They did very poorly. I'm not sure that I should be happy or sad, but I feel just fine about it," he said. "Mike Coffman - too bad, Mike."
The Colorado Republican Party said it's too early to say if the president had a role in the election results.