NEW HAMPSHIRE, USA — Polls be damned, Sen. Michael Bennet (D-Colorado) is still running for president. He's made it a goal to finish in the top three in Tuesday's New Hampshire primary.
That was all true when this blog, from 9NEWS political guy Marshall Zelinger, started, but Tuesday is over, and so is Bennet's presidential campaign. Bennet decided to bow out after seeing the results from the "First in the Nation" primary. He didn't finish anywhere close to top three.
Marshall and photojournalist Mike Grady have been in New Hampshire with Bennet during these last few days of his campaign. These are the behind-the-scenes moments from their trip.
Editor's Note: This blog is in chronological order, and will be updated when Marshall isn't actively running after Michael Bennet.
TUESDAY
8:00 a.m. EDT - Still looking soupy outside. I do love me some overcast weather, but could do without needing windshield wipers on my glasses.
8:20 a.m. EDT - I hear a familiar voice on the radio. We're listening to New Hampshire Public Radio and they're airing a story from Colorado Public Radio's Ben Markus!
8:50 a.m. EDT - We arrive in Nashua at Sen. Michael Bennet's presidential campaign headquarters. It's on Main Street, even though we passed a Bennett Street a few blocks back (yes, I know his name only has one T!). His campaign HQ is on the fifth floor of the building. We see a sign telling us to enter in the back. Meanwhile, on the ground floor, is an office for former South Bend, Ind. Mayor Pete Buttigieg. His campaign has picked up on the difficulty of his last name with a sign that spells out his name phonetically: Boot Edge Edge.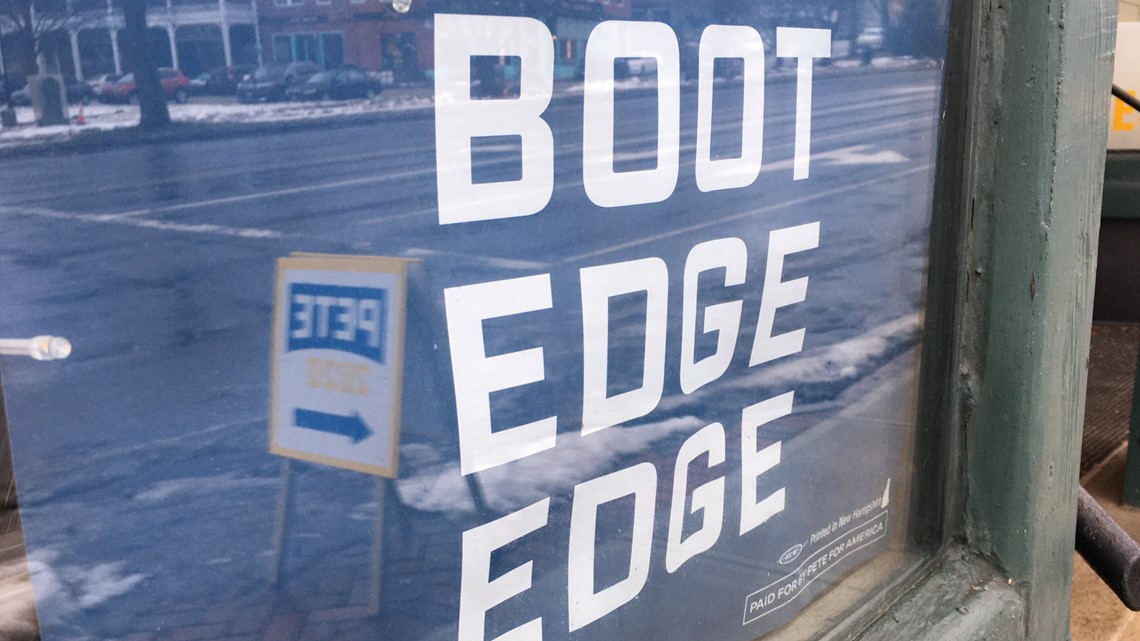 8:52 a.m. EDT - Candidate Tom Steyer has an office on the fourth floor.
9:15 a.m. EDT - Bennet arrives at his HQ with Dunkin' Donuts and coffee. He enters to the chants of "Two Ns, one T, Bennet is the one for me!" His wife, Susan Daggett, speaks first. She tells the volunteers that "He has run so hard. He has run against such headwinds. And I could not be prouder or love him more." Bennet says, "We designed this campaign to be here on Election Day and we're here on Election Day."
9:50 a.m. EDT - I sit down with Bennet for a one-on-one interview. We talk about:
Finishing in the Top 3
Not finishing in the Top 3
Name recognition in a state he says he's been to more than any other candidate
Difficulties with being brief
Is he running for any other office besides president?
How running for president impacts being a Senator for Colorado
Does he still get along with Sen. Cory Gardner?
How will he be a useful Senator if he voted to convict and oust the president who must sign his legislation?
Does he get along with the president on anything?
Will he be in Colorado when the president visits on Feb. 20?
How does he get a consistent vote in NH if his name appears in a different order on different ballots?
Did he talk to his brother, the editor of the New York Times opinion section, about the presidential endorsement of Sen. Elizabeth Warren and Sen. Amy Klobuchar, since the article implied he was no longer running?
On the heels of an editorial penned by his daughter, Caroline, how is it running for President with three daughters in high school and college?
Where will he be tomorrow?
10:45 a.m. EDT - We arrive at Ledge Street Elementary School in Nashua's Ward Four to check out a polling place. It's old school! Literally, it's an old school and you have to come to the school's gymnasium to vote! I miss this!
Don't get me wrong, I love the convenience of the Colorado mail-in ballot, but I would totally do this too. Outside there are campaign volunteers holding signs for Joe Biden, Amy Klobuchar, Pete Buttigieg, Elizabeth Warren and one for Tulsi Gabbard.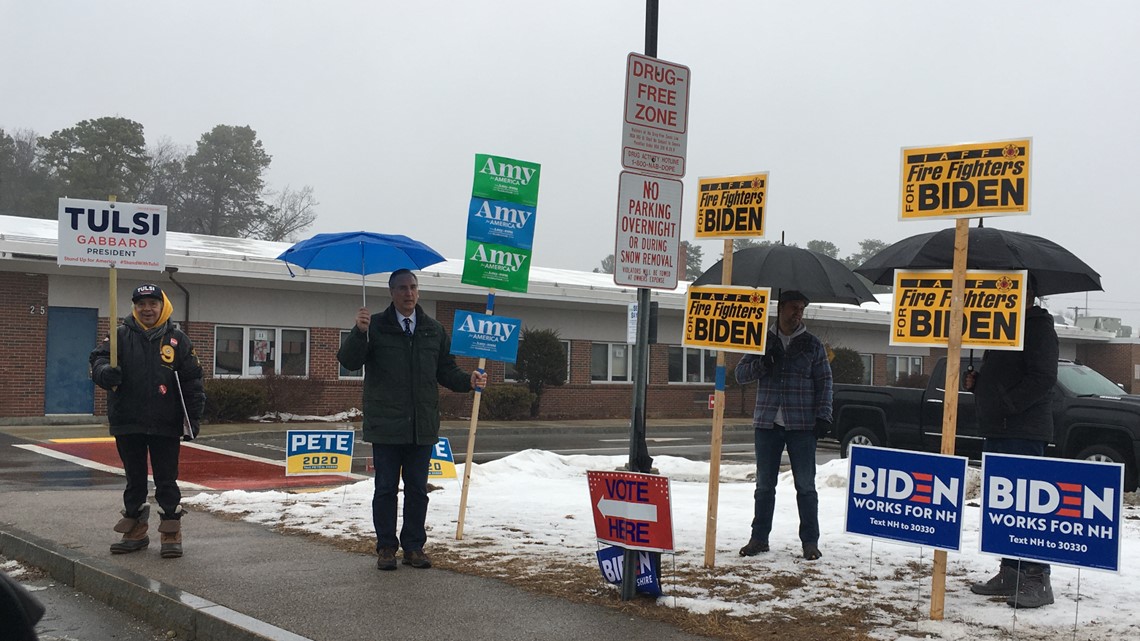 11:00 a.m. EDT - A TV crew beat us inside. They're from the BBC?!?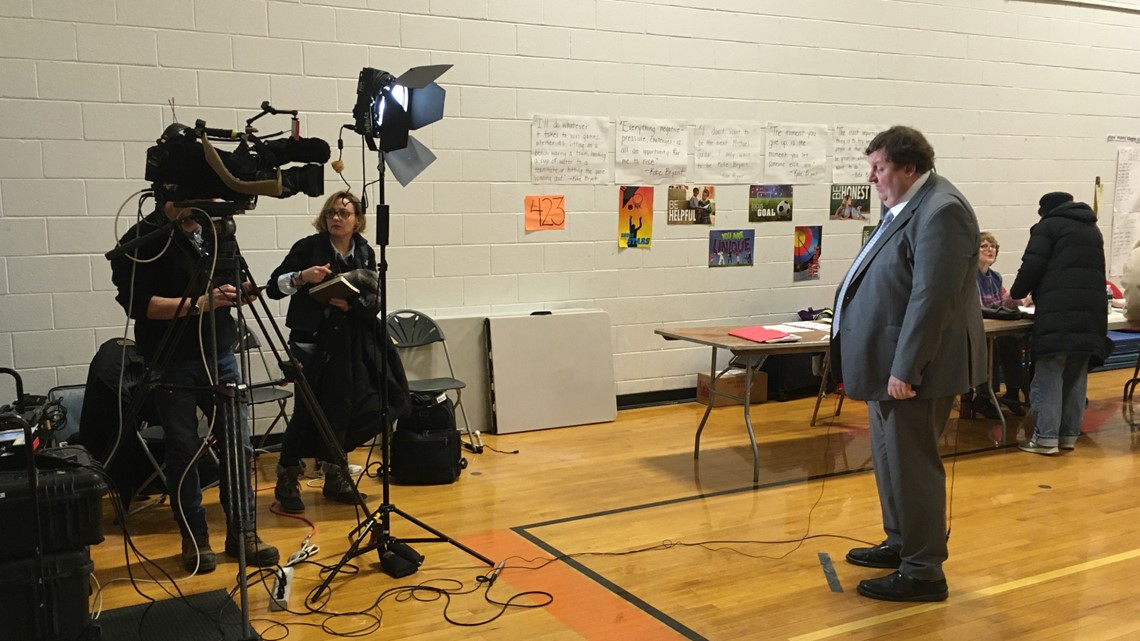 11:50 a.m. EDT - There is a guy here from Edison Research doing exit polling. He asks every third voter that walks out if they would take a confidential exit poll that takes about two minutes. The third question of the Democratic exit poll asks who they voted for. They give eight options by name before the "other" option, with a write-in line. Bennet is not listed. He's relegated to "other."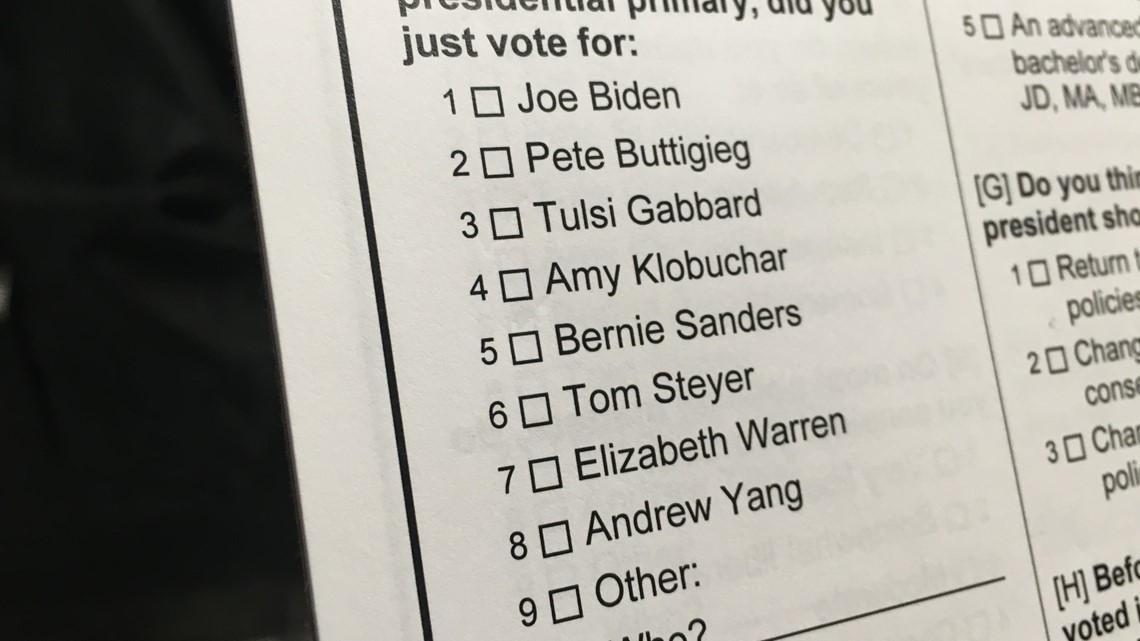 12:00 p.m. EDT - I talked with a handful of voters. None voted for Bennet. Only two knew him by name when I mentioned "Colorado Senator." All but one Democratic voter knew who he was. The Republican voter I talked with confused him with Buttigieg.
1:15 p.m. EDT - We stop at The Red Arrow Diner for lunch. If we went to the Manchester location, we probably would have seen Bennet and other candidates. It's a stop on just about every candidate's tour. We went to the one in Concord. For every lobster dinner, there's a diner brunch!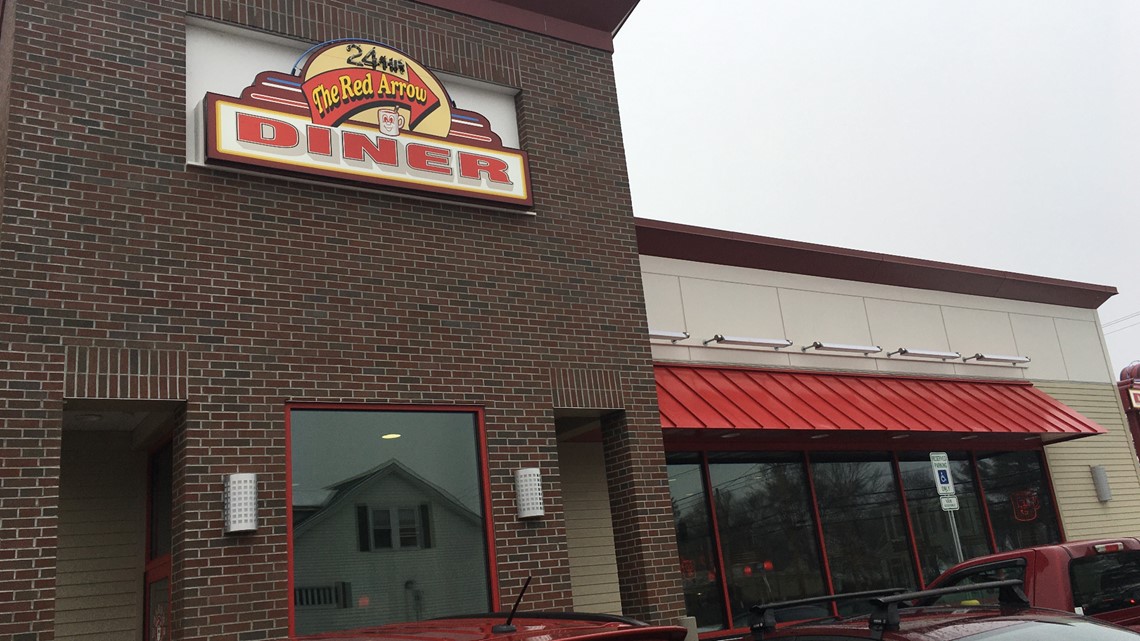 1:45 p.m. EDT - The menu said that if it's your first time be sure to tell someone. We did. After our meal, our waitress made a loud announcement. I assumed it was someone's birthday. Nope. They were announcing me and Grady as first-timers!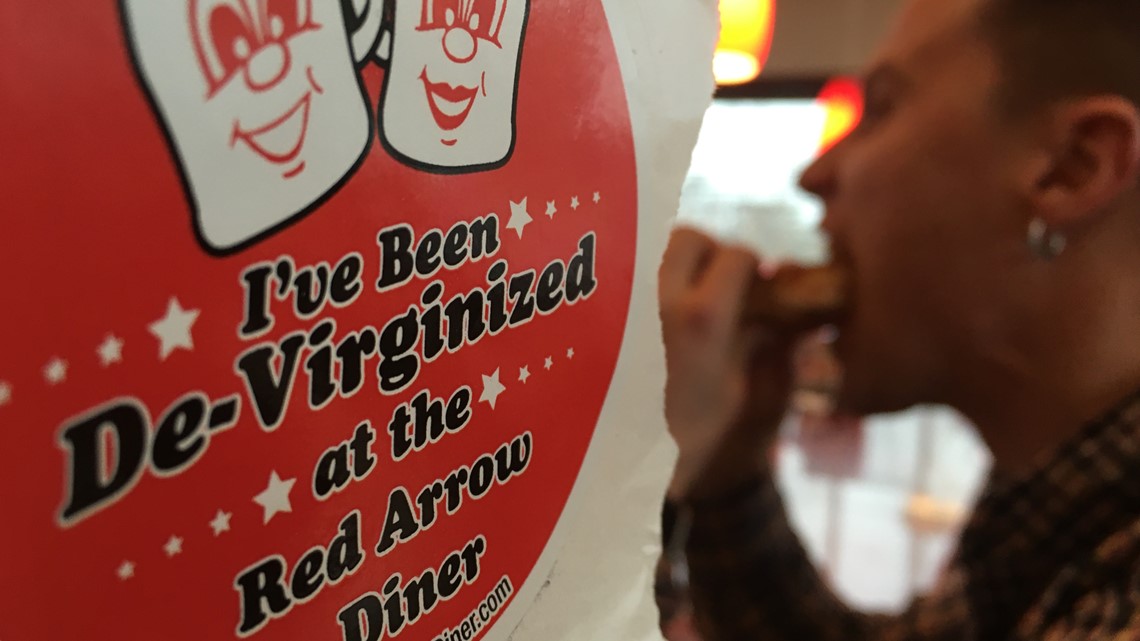 5:30 p.m. EDT - Time to voice my story in the hotel room. But first, must build a pillow fort to dampen the echo.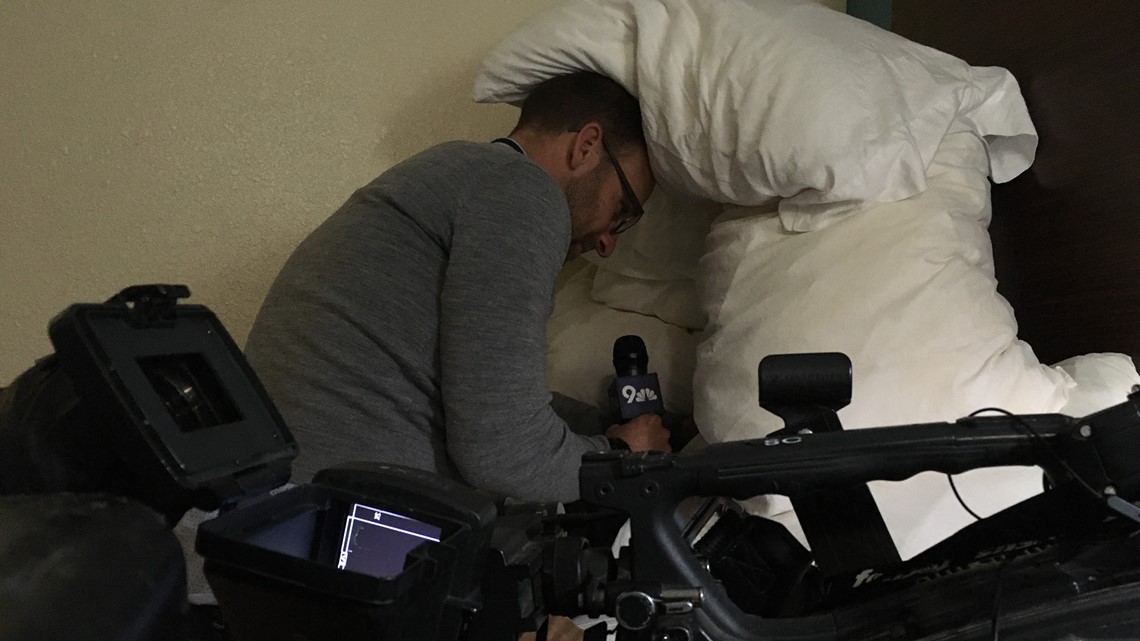 7:35 p.m. EDT - Arrive at Bennet's boisterous bash in The Barley House basement. Come for the party. Stay for the alliteration.
8:30 p.m. EDT - Just as Next with Kyle Clark goes off the air, Bennet starts his speech. The campaign was coordinating with CSPAN, which was set up right next to us. He was waiting for a window in which no other candidate was talking. He needed to wait until Elizabeth Warren stopped, so CSPAN could take his speech live.
8:33 p.m. EDT - The Michael Bennet presidential experiment is over. "Let me say this to New Hampshire, you may see me again."
8:45 p.m. EDT - Bennet ends his speech on an uplifting note, singing Happy Birthday to two key staffers: campaign press secretary Shannon Beckham and Alejandro Rosenkranz.
9:15 p.m. EDT - Bennet comes back to our camera for a quick gaggle with us, WMUR (ABC) in New Hampshire, Jon Murray at the Denver Post and Caitlyn Kim from CPR. He quoted his oldest daughter, Caroline: "If you're going to run and you tell the truth and you lose no one can fault you for it."
When did he know he was giving a well-prepared campaign ending speech? "I thought it was quite possibly today that we would fall short, and I didn't know I was going to give that speech until about 15 minutes ago."
Presidential candidate Bennet now goes back to Senator Bennet and will pivot his attention to the Colorado Senate race. "John Hickenlooper may not want me in his way. But if there are things I can be useful to him, I certainly will be useful to him. I'm fond of Cory Gardner personally, we've got a good working relationship, but the stakes are too high. We have got to make Mitch McConnell the minority leader of the Senate."
10:20 p.m. EDT - The watch party is still jamming out with club music!
MONDAY
12:15 a.m. EST - Phil is running the desk at our hotel. He tells me he's going to vote for someone who can beat President Trump. "Don't get me wrong, he hasn't done all bad," Phil told me. He's also OK with Mookie Betts getting traded from the Boston Red Sox, but also annoyed at Red Sox management for billionaires not willing to write a check for hundreds of millions.
7:15 a.m. EST - Continental breakfast at the hotel usually makes my eyes bigger than my stomach because of my addiction to cereal. You're sensing a "but..." aren't you? BUT...Froot Loops and Raisin Bran?! At the least, I expect Cheerios and either Lucky Charms or Frosted Flakes! At least it's better than my Iowa hotel in Feb. '19 (when I followed Bennet the first time).
7:45 a.m. EST - It's lightly snowing outside. The car is covered in snow and the windows are iced up. Am I in Colorado or New Hampshire?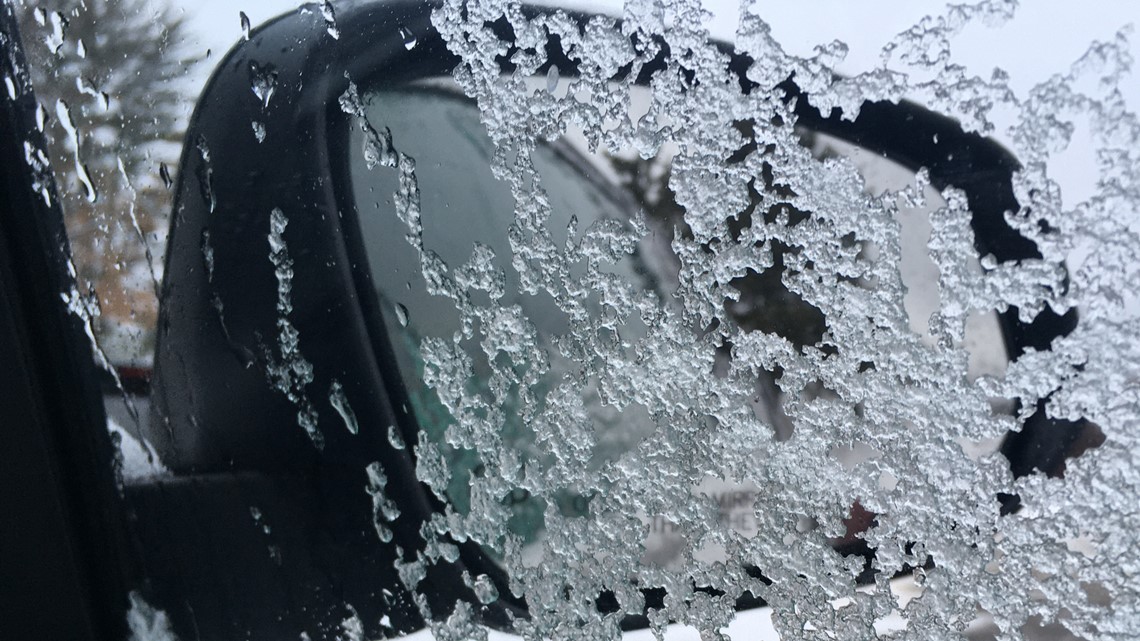 8:30 a.m. EST - We arrive at the Blue Loon Bakery in New London. We were hoping to see what some regulars were going to do when Michael Bennet showed up, but it turns out the bakery is normally closed on Mondays. Mike owns the place and tells us someone he knows supports Bennet and that person has been asking for a place to host an event. He made coffee and baked pastries for the visit.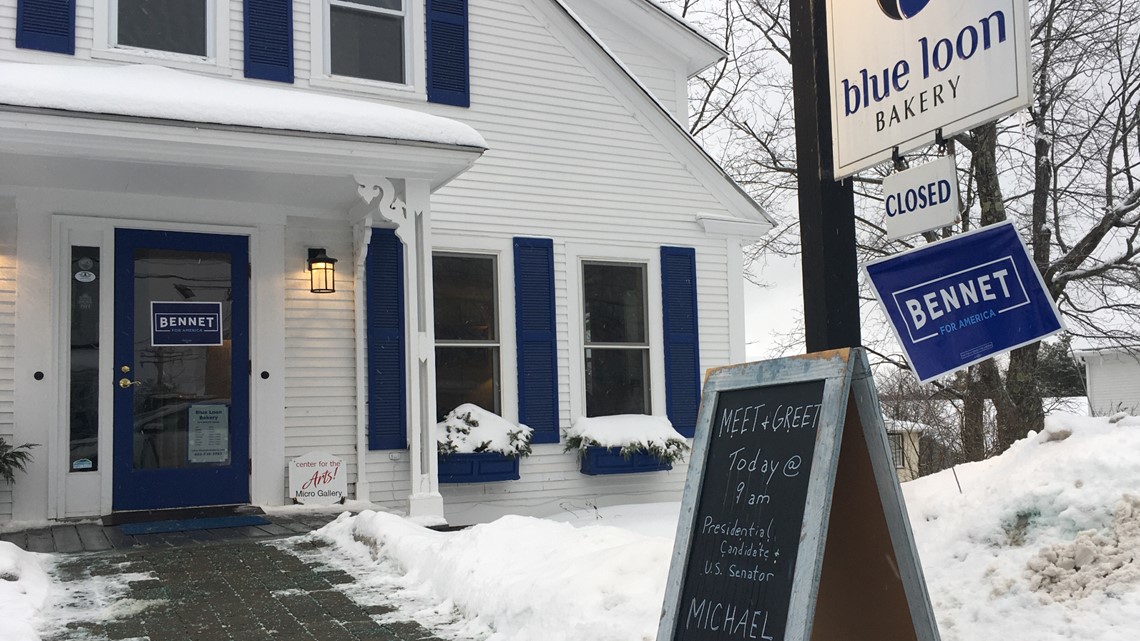 9:05 a.m. EST - Bennet arrives with his wife, Susan Daggett and daughter Halina. He greets some people he clearly knows, then does the sensible thing. He grabs a pastry. What was it? Glad you asked. A bacon, potato and cheddar turnover. He took two.
9:10 a.m. EST - Bennet promises to be brief and answer questions, including ones that you wouldn't normally ask a politician for fear of upsetting them. However, his "brief" promise is a year-long work in progress. It took more than 10 minutes for Bennet to finish his bio and resume before he took the first question. Back in Feb. '19, I was at a Bennet house party in Iowa (before he officially started running for president) and he was asked by a college student to answer a question on a millennial's timeframe, which was like 45 seconds or less. He failed then. He failed today. Multiple times he promised to be brief and he joked that he talked a lot.
9:50 a.m. EST - I count about three baker's dozens in the bakery.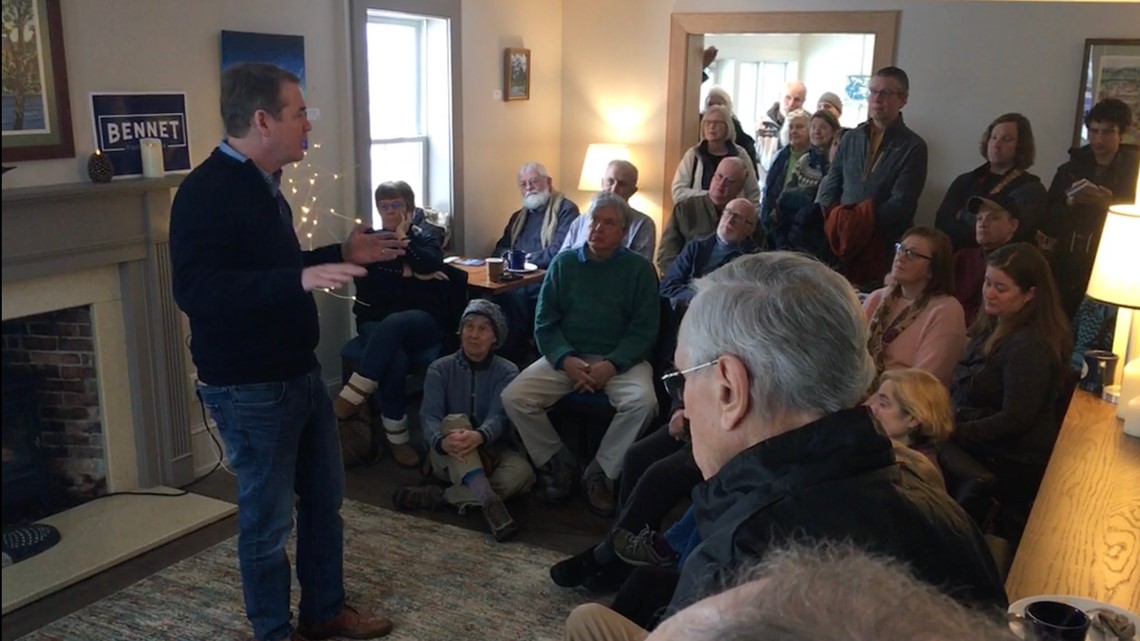 10:05 a.m. EST - Chatted with Bennet's daughter Halina, who attends Bowdoin College in Maine. She's enjoying the campaign trail, although she had to get up earlier than if she had gone to class today. I feel ya! She was also writing a Spanish paper on what I thought was a complicated topic, but maybe it's because I could never write a Spanish paper. As a multi-tasker myself, a fist bump of respect, Halina.
10:20 a.m. EST - Jerry Coogan is an "undeclared" voter. He tells me he's independent, but in New Hampshire, they're called undeclared. He's going to vote for Bennet. Funny story about Jerry. His name is Gerald, but goes by Jerry and not Gerry. Discuss.
10:30 a.m. EST - Rich Anderson, a voter from New London, tells it to me straight: "No disrespect to the Bennet campaign, I think he's actually campaigning for the Vice Presidency." He tells me he's backing former Mass. Gov. Deval Patrick. "I think, honestly, the Senator's a terrific candidate. I think he has a lot to offer. He's not who I will support."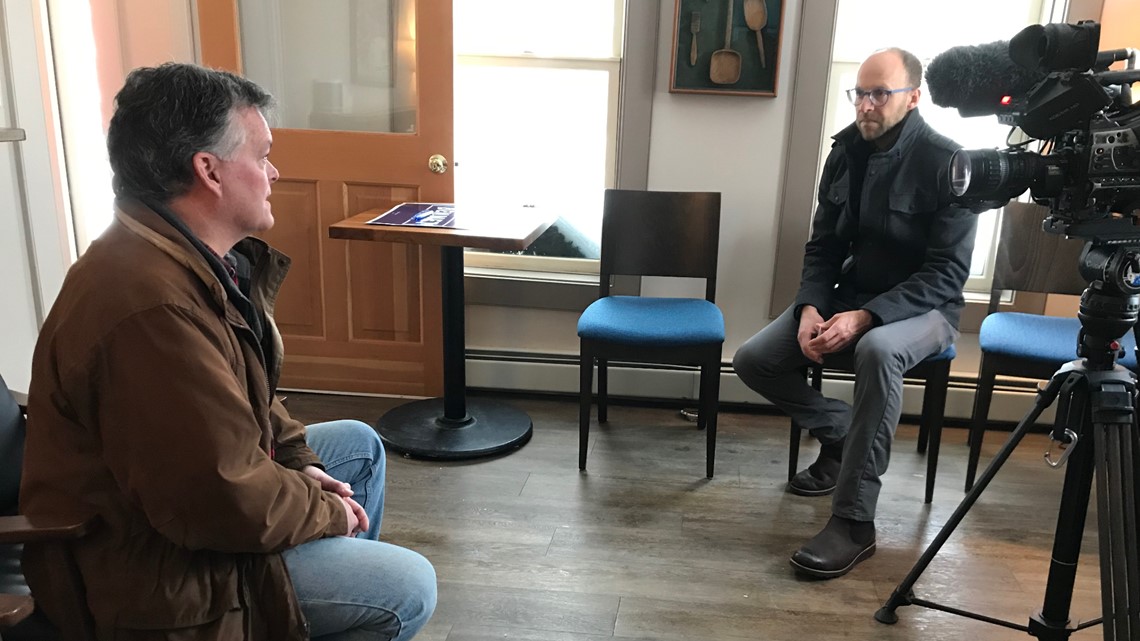 12:00 p.m. EST - We turn on the news back at the hotel room. On WMUR (out of New Hampshire) and WCVB (out of Boston), the commercials are nothing but political ads. If you thought Mike Bloomberg had a lot in Colorado, consider yourself lucky...for now.
1:40 p.m. EST - First, you must know, I'm a latte addict. If I can't make my latte at home, I prefer local or Peet's. When I'm on the road, it's usually Starbucks. Grady is from Massachusetts. He's all about Dunkin' Donuts. We rock, paper, scissors for where to go. I lose. I can't get a latte at Dunkin', but we go anyway. Then, we find out it's attached to a gas station. Don't get me started on this! Food places attached to a gas station are a 'no' for me. Does that make me weird? OK. Grady convinces me it's just a gas station attached to a Dunkin', not the other way around. AND...that it's better than a standalone Dunkin'. Black for me please. Cream and sugar for Grady. As we pull away from the drive-up window, it sounds like we've suddenly taken out the side of the building. For a second, I thought we ripped the awning off, but then I realized we were in an SUV and not a truck with a microwave mast on top. What happened? The awning over the drive-up window is NOT snow safe! The slant was so steep that the snow just decided to fall right off at that moment and pummel us as Grady drove off, with his window still down. I forgot to snap a photo until we were cleaning up. And then, right after I shot the video, the rest of the snow fell just as another car drove off.
2:15 p.m. EST - We skipped Bennet's visit to a technical college farther west of New London, and instead meet him in Manchester at the New Hampshire Institute of Politics at St. Anselm College. How do you say that word? I say "ANN-selm." Grady says "ANDS-lum." Fast forward an hour to when I got to ask the teacher of the class, and yeah, of course, I was right!
At this class, Bennet talked with students from St. ANN-selm and a visiting group from San Diego. Which brings up something I asked the students and Bennet afterward...why is this the best use of his time? In 2018, New Hampshire's governor signed into law a new provision requiring students to register their vehicles in the state if they plan on voting here. It's being challenged in the court right now, and it's unclear if out-of-state students will be turned away at the polls tomorrow. So, on the day before the primary, Bennet may have been talking to a group of students who can't support him tomorrow even if they wanted to vote for him.
3:25 p.m. EST - What's the only way Marshall's going to an Ivy League school? As a visitor! We're driving to Hanover for a Bennet event at Dartmouth tonight. As we're driving on the interstate, we see an amazing sign. Our vehicles back in Denver have license plates with "KUSA" followed by a number. In New Hampshire, someone who happened to be driving next to us, has the OG!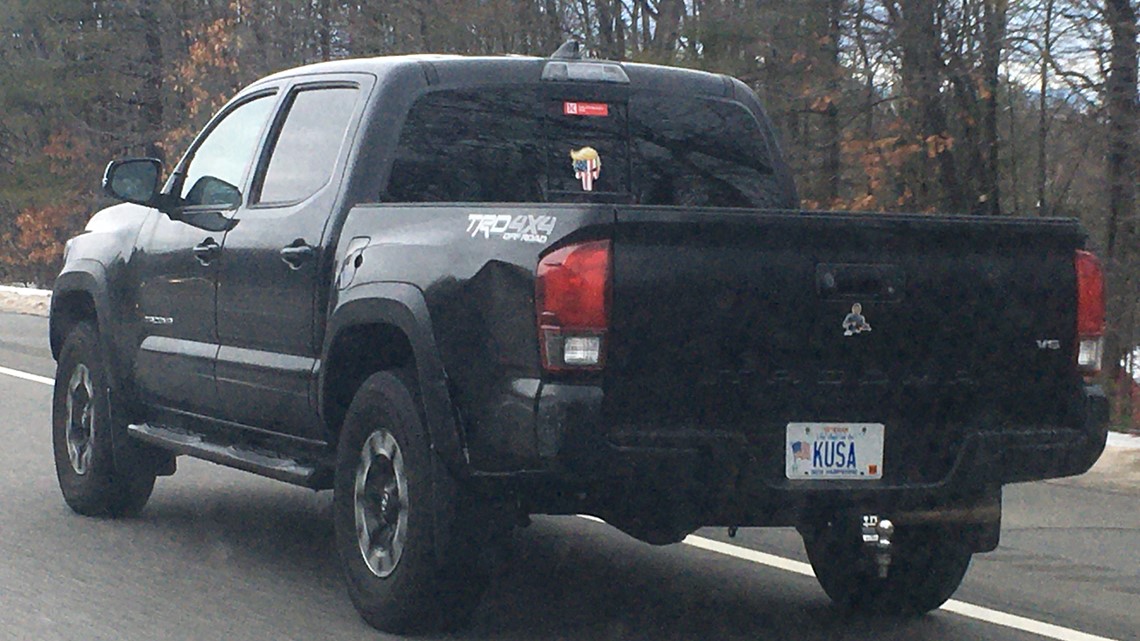 4:30 p.m. EST - Rock, paper, scissors pshaw! We needed a place to write and edit our story in Hanover (near Dartmouth), so we landed at Starbucks. Thanks, fast internet! It was here, Grady and I wrote a story of love. If Michael Bennet were the main character in a Hallmark movie and the Democratic nomination for President were his hard-to-get co-star.
7:35 p.m. EST - Look Ma! I made it to an Ivy League School! Kinda. Bennet spoke in an auditorium at Dartmouth Hall at Dartmouth College for the New Hampshire Young Democrats. Sparse crowd. This was happening at the same time as President Trump's rally at an arena in Manchester. Earlier, at St. Anselm College, Bennet said Trump was having a rally to compare crowd size to the Democrats. In Trump's defense, there are 17 total Republicans on the primary ballot tomorrow. 33 Democrats. (photos of Dartmouth)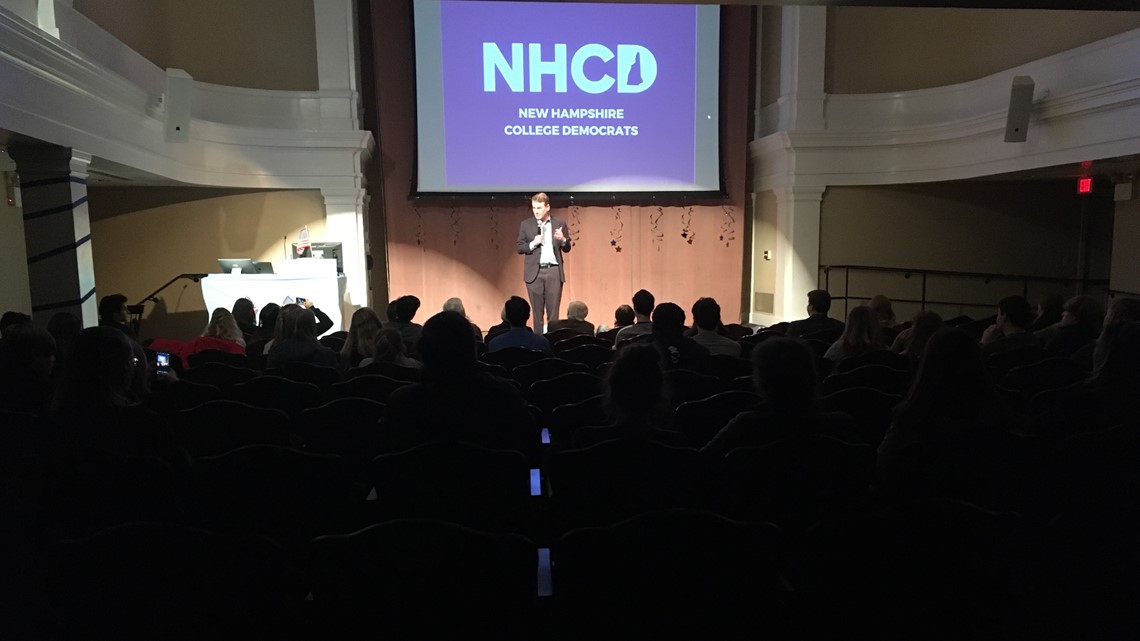 7:45 p.m. EST - An intense amount of fog is rolling in. I call it "marine layer." I'm a fool.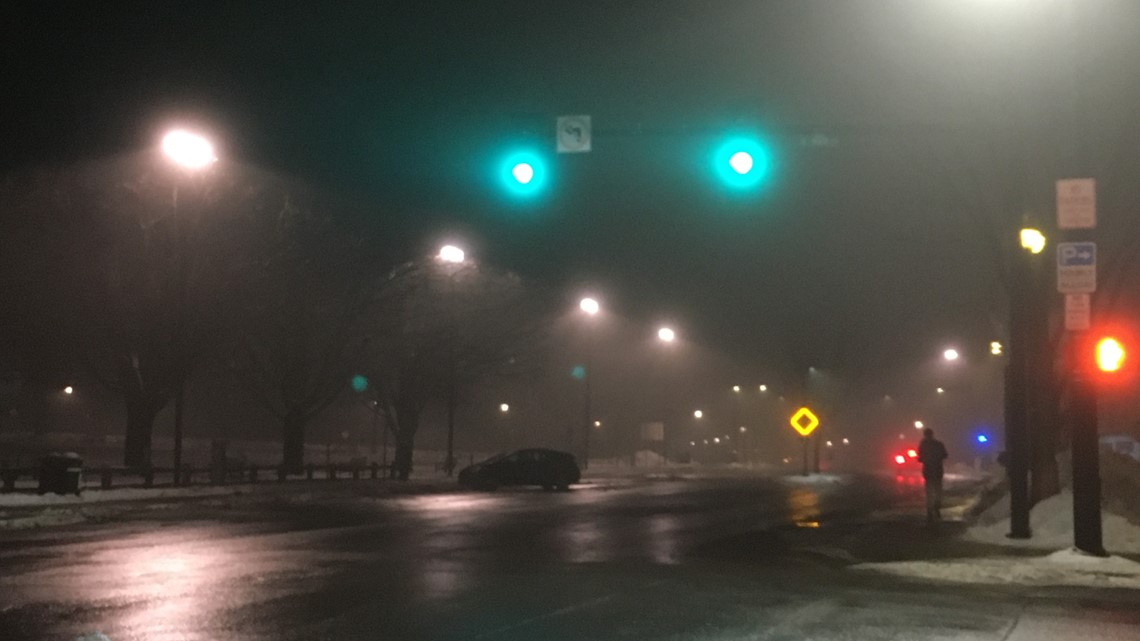 7:50 p.m. EST - Getting ready to go live for Next with Kyle Clark, we're outside Dartmouth Hall. There are campaign signs on the snow-covered lawn between where we're set up and the building. A couple walks by and the woman says outlet, no joke, "Who's Bennet?!" We let her know. She feels embarrassed, drops an "Oh, s***," and apologizes. ¯\_(ツ)_/¯
7:57 p.m. EST - Just before we go live, Bennet and his family walk by. I threaten to toss a giant snowball. Spoiler alert: I don't.
7:59 p.m. EST - I see some familiar faces. RJ Sangosti, a photographer from the Denver Post, and then Denver Post reporter Jon Murray. I know DC-based Colorado Public Radio reporter Caitlyn Kim has been here longer than both of us, though I haven't seen her yet. Jon and I went to Smoky Hill High School together. He's a year younger than me, but we're both getting old. Good to see him. Small world.
8:06 p.m. EST - Kyle mentions the fog in our live report. My "marine layer" comment is justified!
8:30 p.m. EST - We decide to work from Hanover, since the fog is so thick. We're concerned about getting our 9/10p story done on time. Grady looks for a restaurant with food and drink to work from. Molly's will close too early. Pine is too fancy. Murphy's it is! When in doubt in the Northeast, find an Irish Pub!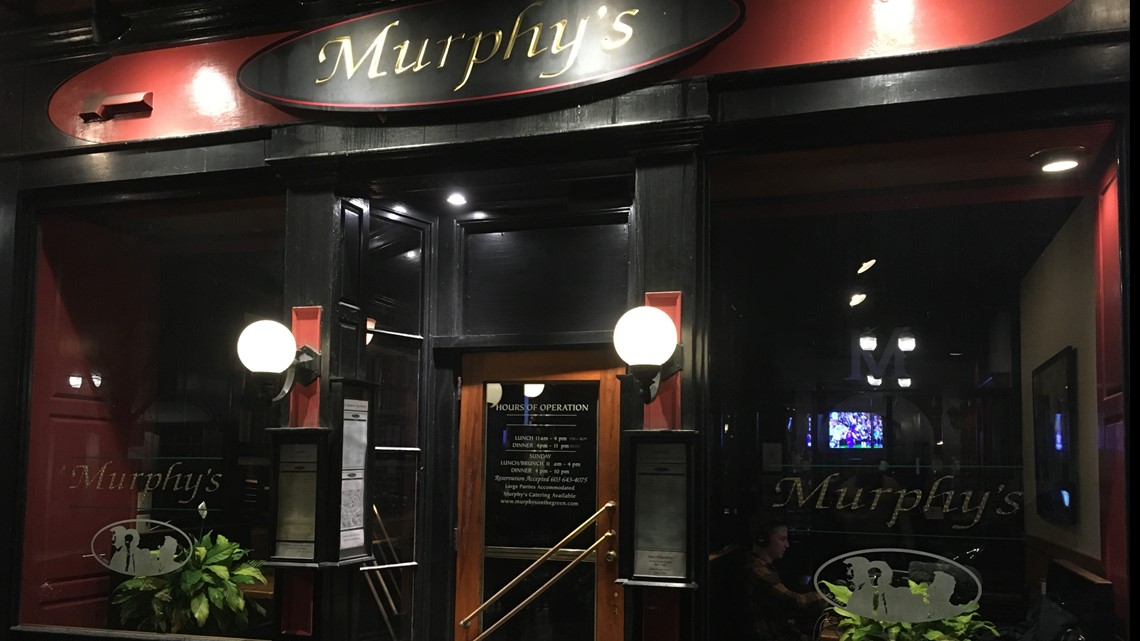 8:40 p.m. EST - As we're seating, someone asks us what we're up to (since we have so much gear). Grady tells him we're following our Senator around as he runs for president. The guy says, "Hicken--," and never finishes.
9:30 p.m. EST - Grady graduated from Chowdah! Dinner was a panko-crusted Cod caught today. I was going to go with a sandwich until I saw Lobster and Beet Risotto. It's not often a work road trip equals eating good! I'll take it!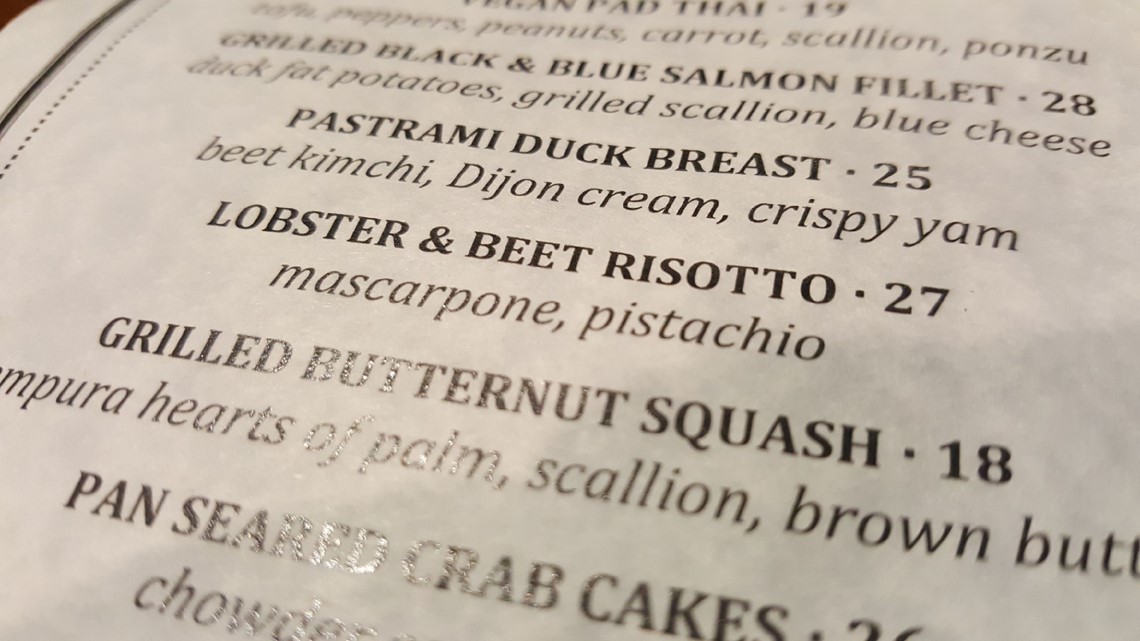 SUNDAY
7:30 a.m. MST - Woke up to yet another snowstorm, but realized since DIA is 100 miles east of Denver, it probably wouldn't impact our trip to New Hampshire to cover Michael Bennet and the presidential primary.

8:30 a.m. MST - The roads aren't bad in the metro area, but it's going to take me and photojournalist Mike Grady a while to get to DIA.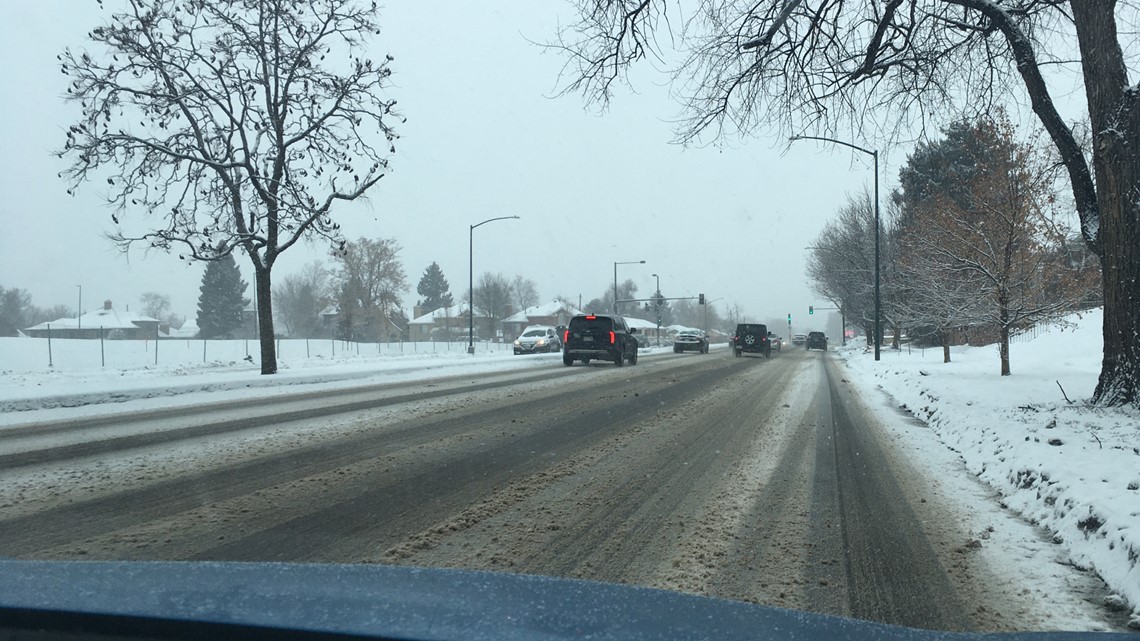 9:05 a.m. MST - Blucifer still looks evil in the snow, but makes for a nice video to tease the beginning of our adventure.
9:40 a.m. MST - It's been a while since I parked at DIA and tried to get around. There are plenty of signs guiding travelers on how to get to the ticketing area and security, but it's still a pain! Grady and I had to go outside in the snow with all our gear, after thinking we were nice and warm inside because there was a wall blocking us from the United check-in. I miss 2015 DIA. Heck, I miss 1985 Stapleton.

10:35 a.m. MST - Onboard our flight to Boston, Grady and I meet Inge, our flight attendant from Exeter, N.H. She told us she's getting texts from every candidate on her cell phone. We asked if she has one from Michael Bennet. She grabbed her phone and showed us one sent from Bennet's campaign on Wednesday. Her best advice to us: "eat lots of seafood."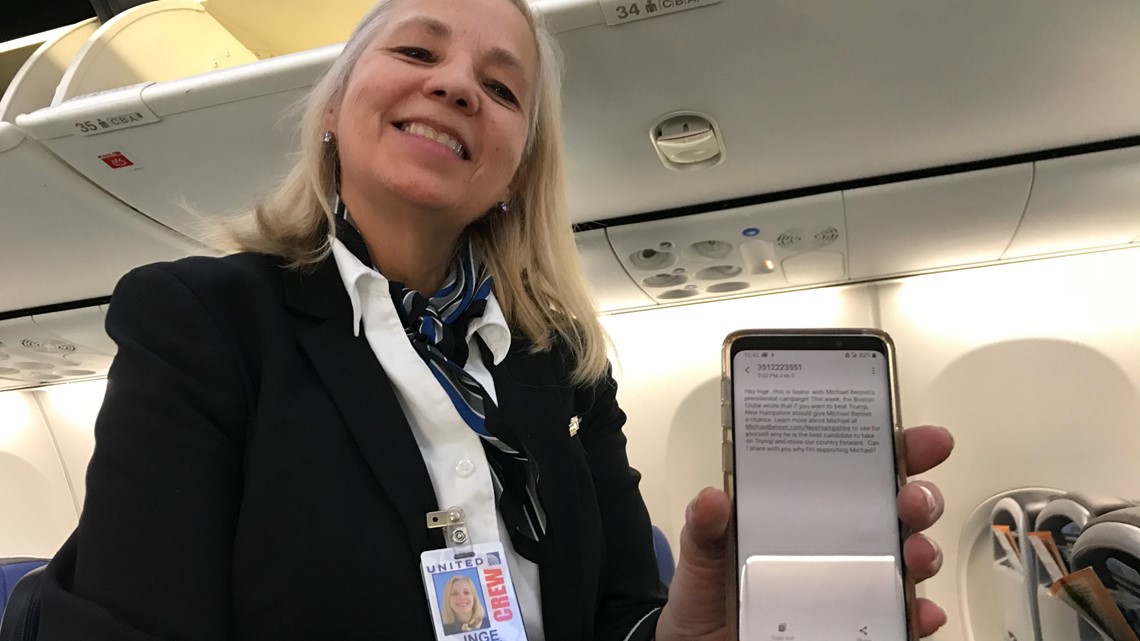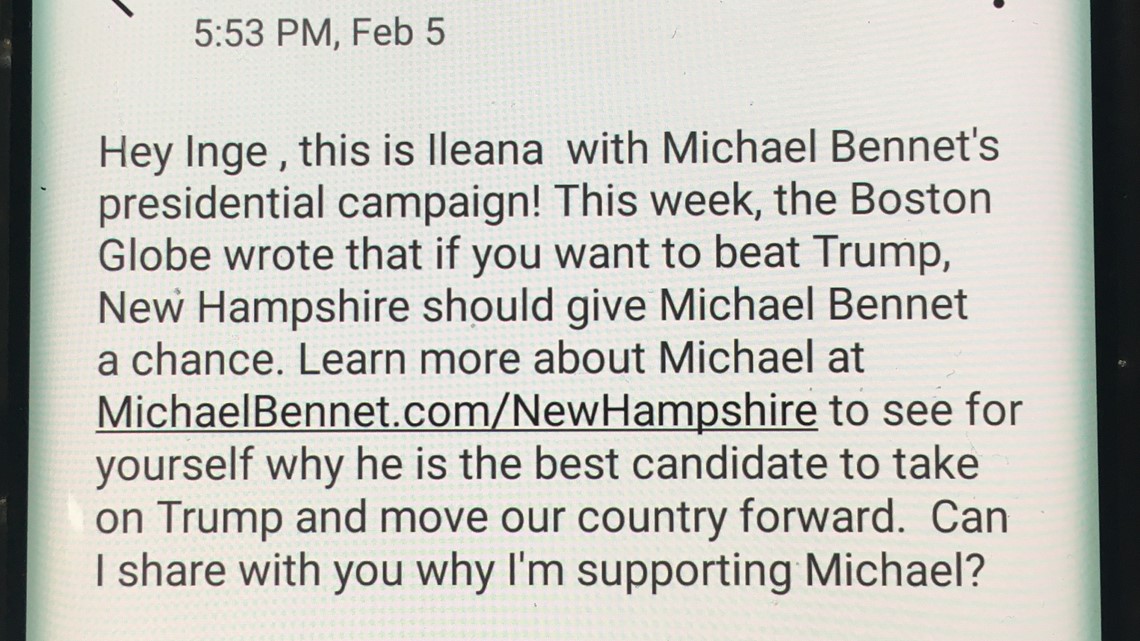 12:15 p.m. MST - After an hour delay on the ground and some much needed de-icing, we're New England bound! In center seats 😭

5:25 p.m. EST - We're on the ground in Boston!

6:05 p.m. EST - While we may on the ground in Boston, one of our bags is not. We checked three bags. One had all my stuff in it. Made it. One had the tripod and some miscellaneous gear. Made it. One was a hard-shelled Pelican case with lights, battery charger, other miscellaneous gear and Grady's clothes.

Missing.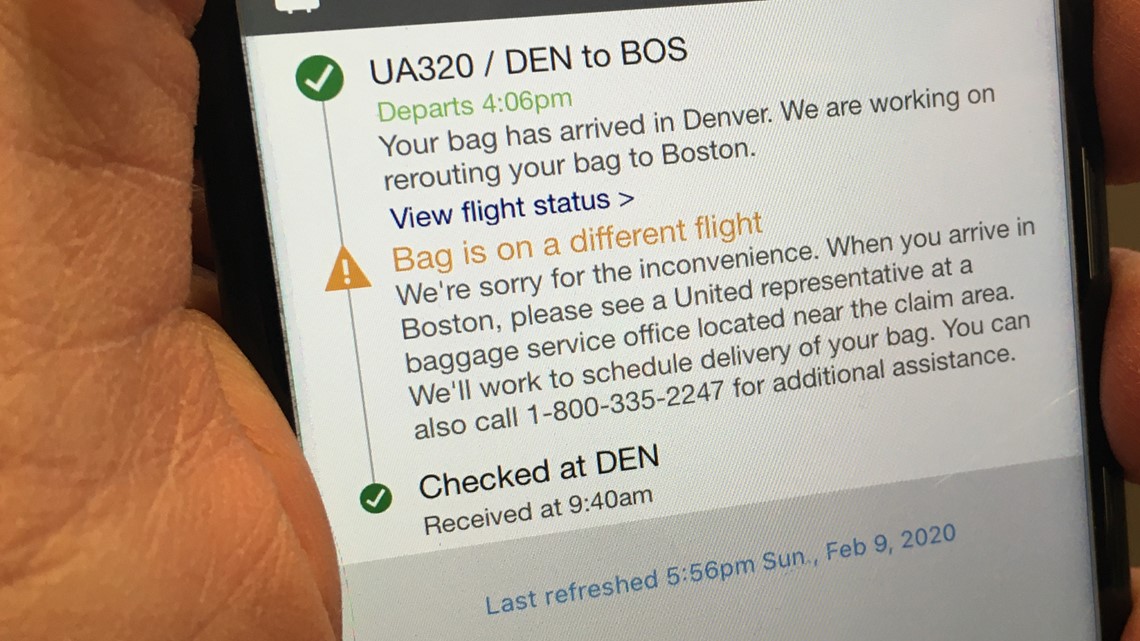 Turns out that even though the bags got to DIA at the exact same time as me and Grady, one somehow missed our flight. According to the app, "bag is on a different flight." I'm sorry, did it stop to eat at Root Down and forget when we were departing!?

The bag will be on a flight from Denver arriving at 9:30 p.m. Boston time. We're told the bag can be delivered to us in New Hampshire by the morning, maybe by 6 a.m. Too risky. We decide it's only best if we wait by taking Inge's suggestion and eat lots of seafood.

7:30 p.m. EST - After trying to find the impossible: a parking spot in the North End of Boston, we spot an empty meter (free!) about a 10 minute walk from a chosen spot. Grady eats all the chowder. I eat all the other seafood.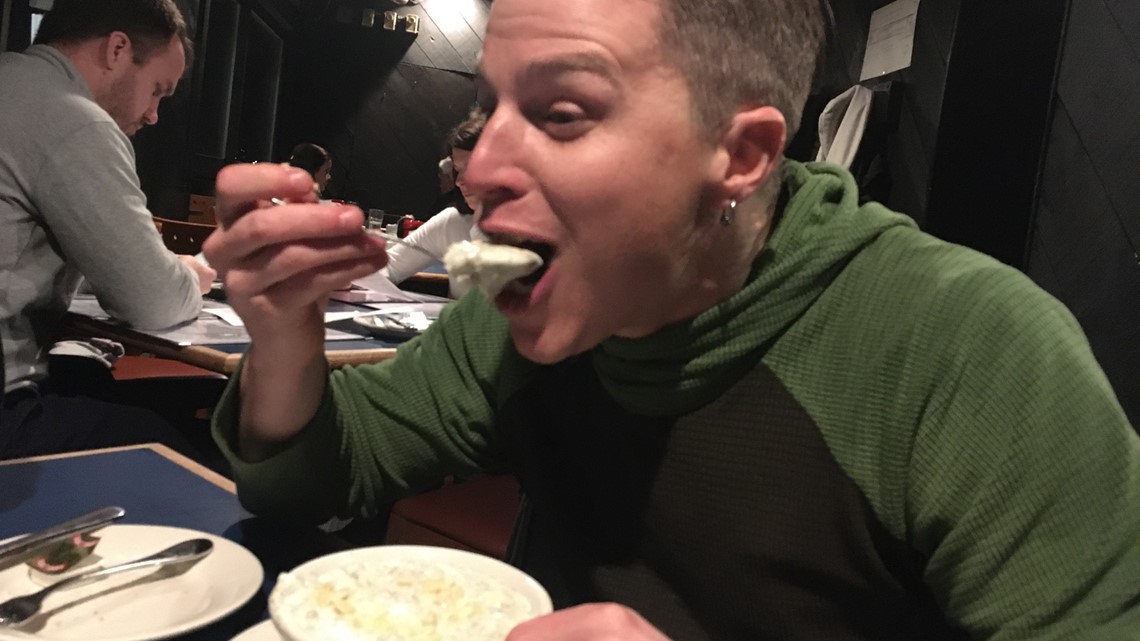 8:30 p.m. EST - Grady asks what I'm most looking forward to on this trip. I say, "you mean besides working with a talented photojournalist and not having to shoot a story alone!?" Well, seeing New Hampshire for the first time and getting behind the scenes of a presidential campaign (hold your laughter) at key moments (the look on your face when the results come in).

I ask Grady what he's most looking most forward to on the trip. "For starters, getting my friggin bag!" He wants to hear what it's like for people in N.H. to be in the political spotlight and how Bennet fits into that.

9:45 p.m. EST - It's here!!! New Hampshire, Live Free or Die!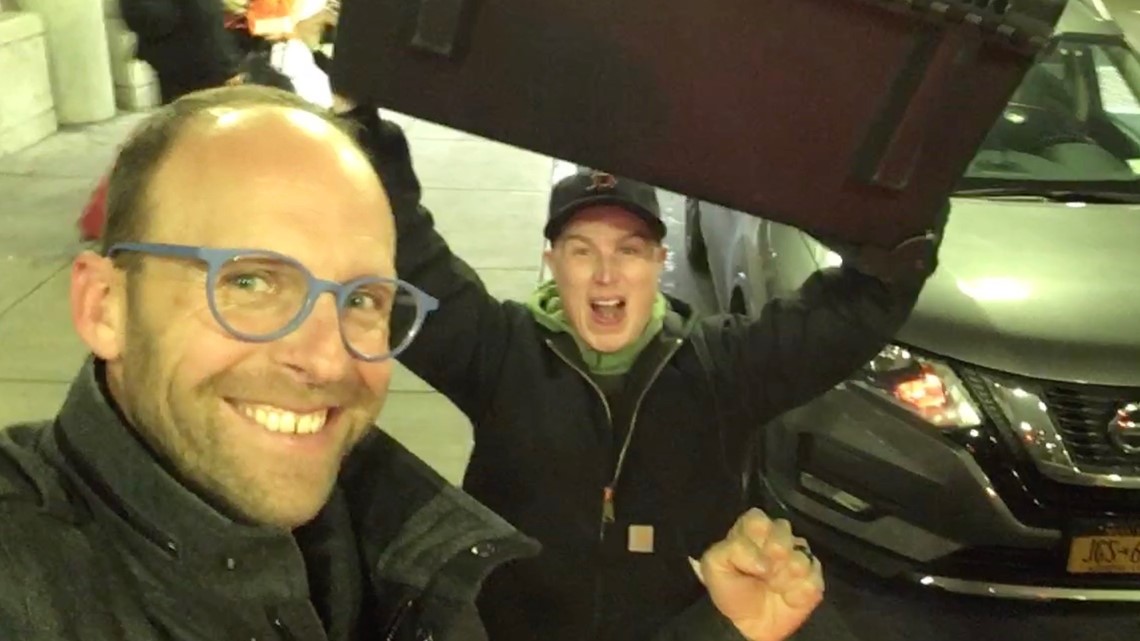 9:50 p.m. EST - Just passed a Boston billboard that said, "Order Weed Online." I thought we left Colorado.

10:05 p.m. EST - As I get ready to check New Hampshire off the list of state's I've never set foot in, I realize my blog is lacking anything Bennet related. Just like the polls. Hiyo! We'll see him tomorrow morning and you'll read about it!