DENVER — Colorado State Patrol changed the access code to an unmarked women's restroom at the State Capitol after a male lawmaker was said to have been in there repeatedly.
State Sen. Daniel Kagan, D-Cherry Hills Village, admits he used the restroom once in 2017.
"I have acknowledged that there was one occasion where I mistakenly entered the women's bathroom at the Senate," Kagan told 9NEWS reporter Marshall Zelinger on Thursday.
"One time?" asked Zelinger.
"Were there multiple times besides the one you've admitted to?" asked Zelinger.
Last month, 9NEWS was tipped off that Kagan had used the women's restroom next to the Senate Chambers at least three times in 2017. However, no one would go on record and no complaint had been filed.
Days later, a state lawmaker would file a formal complaint about a time in 2017 when Kagan used the restroom.
The restroom, just to the left of the Senate Chambers, has a keypad next to the door, but until last month it had no marking that it was a women's restroom. Last month, the Senate installed signs indicating the men's room and the women's room.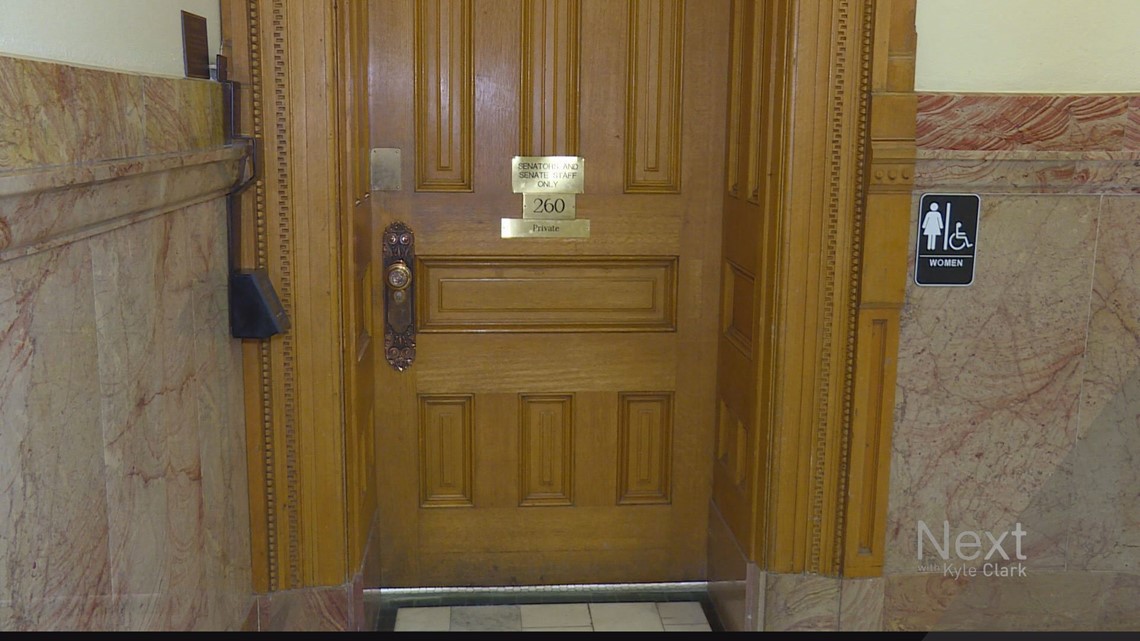 On Thursday, 9NEWS Republican political analyst Kelly Maher revealed the contents of an open records request she had filed as part of her day job at Compass Colorado. She received email exchanges and a phone call between the Senate Secretary and the Colorado State Patrol, which monitors access at the Capitol. We asked the Colorado State Patrol for those same records and a few more specific to Kagan.
"The minute that I saw there was audio, I was shocked," said Maher.
The audio was a phone call between Senate Secretary Effie Ameen and Colorado State Patrol Communications Supervisor Heather White.
"We have, um, a person who works here, a male, that has been frequently accessing the bathroom, and so, yeah, it's so awkward, and so, that's why I want to change the code," said Ameen.
"So, what's his name?" asked White.
"It's one of my Senators. It's Senator, um, Senator Kagan," said Ameen. "I don't know that it's happened this year. I know it was a problem last year, but someone came to me about it and was like, 'Can you change the code.' I was like 'Probably.'"
9NEWS reached out to Ameen and asked if she saw Kagan go into the restroom at any time. She said someone else in the Senate told her and she wasn't told how many times.
Maher said she requested the records after hearing that Kagan's security access may have been changed.
"If Kagan's access had been revoked, then at some point somebody must have either talked to or emailed someone about that and that would be subject to open records," said Maher. "It was such a concern and such a problem that Colorado State Patrol had to change the code to the bathroom and needed to restrict only Daniel Kagan's access to the bathroom."
"Were you aware that access was changed for you personally?" asked Zelinger.
"I don't want to get into anything really beyond the things that I've already stated on the record," said Kagan. "I really ought to refrain from commenting on details while an investigation is pending out of purely respect for the process."
Records requested by 9NEWS show that Kagan's security badge was never used to enter that bathroom in 2017 or 2018.
In February, there was a request to change the security code to the door because Kagan could access the bathroom using the code, as could interns and anyone else who had ever been told the code.
So far, no one has accused Kagan of anything other than using a bathroom designated for women.
"Is there any reason you went into that restroom for any enjoyment or predatory reason?" asked Zelinger.