DENVER — It catches eyes of drivers on Interstate 25, but perhaps not for the reason the company hopes it will.
Months after Carvana built one of its car vending machines near I-25 and Evans, it's still sitting empty with no public plan to open.
A spokesperson for Carvana told 9NEWS last week that the company still plans to open the car vending machine, even though analysts are warning the online car dealer may be on the brink of bankruptcy. Shares of Carvana stock have lost 96% of their value over the last year.
The company spent $5.8 million to purchase the plot of land where the old Rockies Inn motel burned down in 2016. By summer 2021, the company also successfully lobbied the city of Denver to rezone the land, allowing for a building of up to eight stories.
"We refer to it as the bubble gum machine for cars," said Elyse Morris, who owns the Dirty Duck bar next door. "There it sits, blocking my mountain views."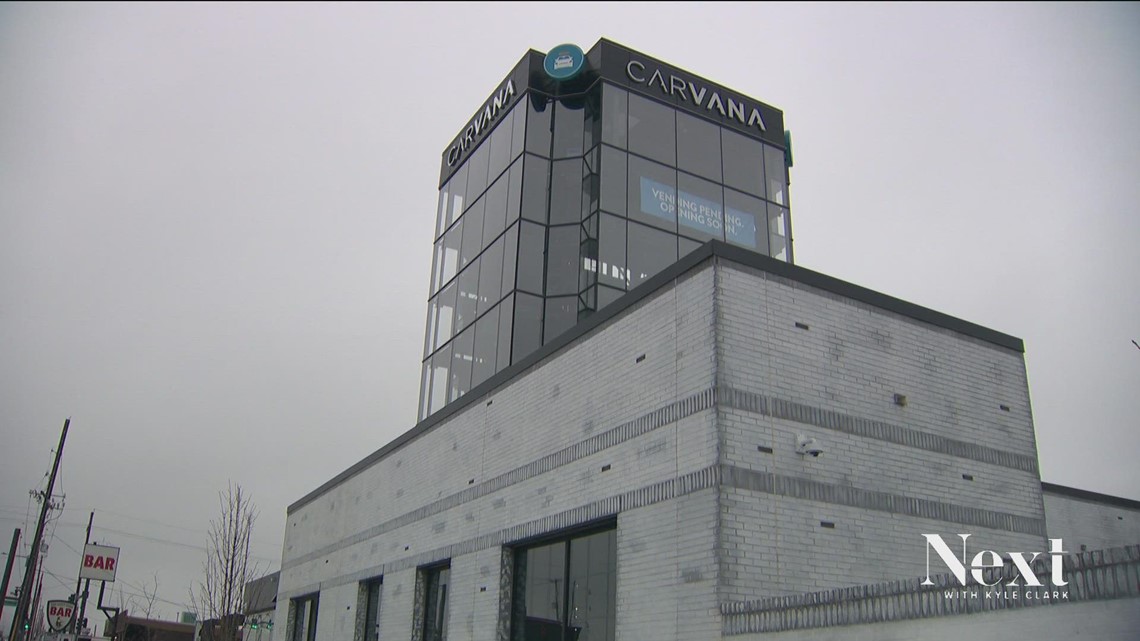 "We know that Carvana is not currently in the best position business-wise and we don't know what's going on," she said.
The online car dealer was expected to boom during the pandemic when auto dealerships across the country were forced to close their doors during coronavirus lockdowns. According to Michael Wayland, an auto industry reporter for CNBC, the company struggled to acquire an inventory of vehicles to serve customers during the pandemic. By the time it did, it had overpaid for used cars and the market began to cool down.
"Carvana was really created to disrupt the U.S. vehicle market. It was meant to disrupt the dealership model," said Wayland. "It was going to be largely online sales and offer these unique car vending machines. To an extent, it has actually successfully done that."
Even though Carvana's stock has lost most of its value, Wayland said most analysts don't believe the company's bankruptcy is imminent.
"Analysts say that they've got enough cash to really kind of go through this year. However, they will need an influx of cash to really continue operations how they were doing it," he said.
Much of Carvana's current capital is real estate, including the car vending machines.
"The car vending machine is a really novel idea," Wayland said. "It's kind of like having a wacky, waving inflatable man in front of a dealership or a giant gorilla. It's just a little bit more costly."
"But what [Carvana is] going to do with that future real estate, like we've seen in Denver, it kind of seems up in the air right now,'' he said.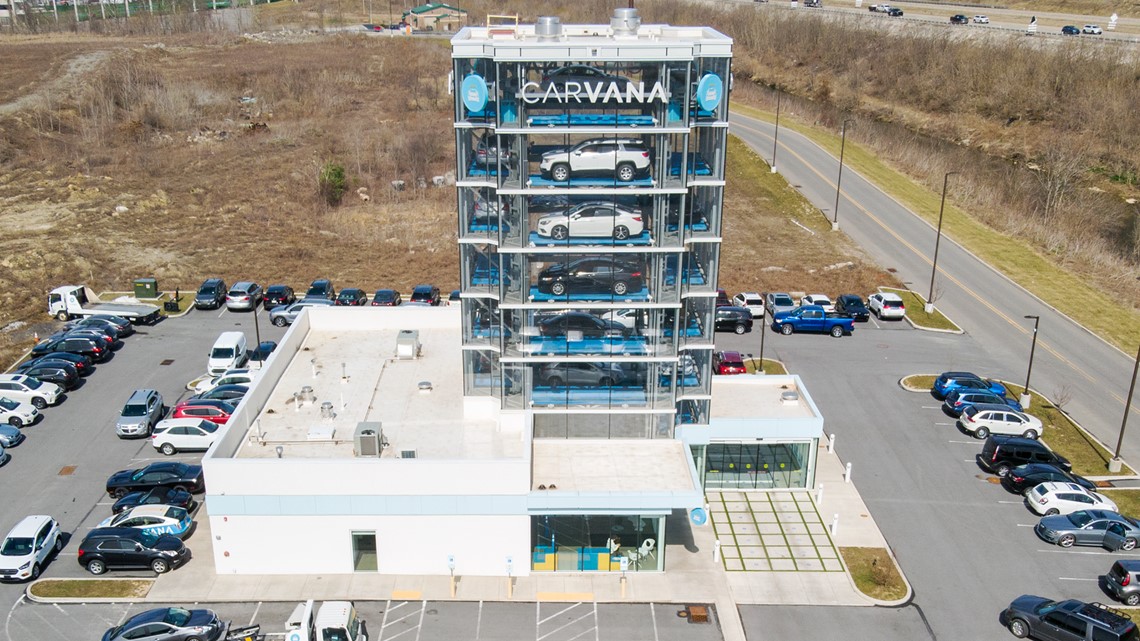 The change in zoning for the property in 2021 came with much debate on both the city's planning board and city council.
"At each stage the officials on the board or on the council would clearly think it was a little weird, a little questionable… and wasn't really the right thing for a spot down the street from a light rail station," said Thomas Gounley, a reporter for BusinessDen who covers real estate.
Gounley said much of the debate on the planning board surrounded whether the vending machine should be regulated like a billboard.
"There was kind of like a philosophical debate at the planning board, the first board to hear rezoning things in Denver, about what really is this thing," he said. "It's basically a parking garage that brings the car down to you when you want it and it's obviously a way for them to attract attention."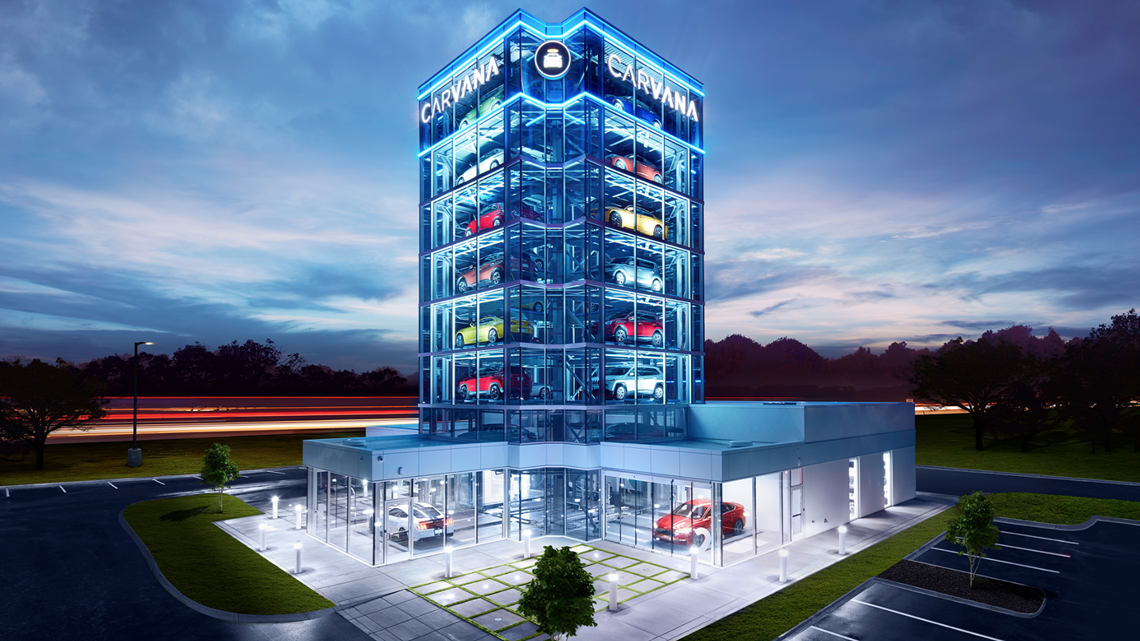 In the end, the city council voted 10-3 to rezone the land, allowing the developers to build eight stories.
Phil Ruschmeyer, a commercial real estate broker, said the property at 4700 E. Evans Ave. was highly sought after because it falls on what real estate agents call "hard corners" – streets with high visibility. He said the visibility of that property alone makes it "priceless."
Should Carvana not survive its difficult financial times, several real estate experts told 9NEWS the property would still be incredibly valuable, even with a structure that has limited uses. Ruschmeyer said another car dealer could use it to display their products. He suggested anyone looking to advertise could effectively use the property.
Carvana did not specify a date it plans to open the vending machine. In a statement to 9NEWS, Carvana said: "While we haven't shared our press launch date externally, we do have a scheduled plan launch (coming soon). And as we do with all of our vending machines, we share our press release with all the details as we get closer to our press launch date."