The state's DUI program is on trial.
A defense attorney is trying to convince a Gilpin County judge that the breathalyzers in the state of Colorado were certified through flawed measures.
"This could potentially impact DUIs across the state," said defense attorney Danny Luneau.
Lunea is trying to keep the breathalyzer results out of a specific DUI case that he's defending in Gilpin County. He has a former Colorado Department of Public Health and Environment lab worker, Mike Barnhill, who told him his signature was forged, signing off on tests that helped certify specific breathalyzers.
Luneau said Barnhill also signed off on other forms, even though he had not seen the tests done, to properly authenticate what he was signing.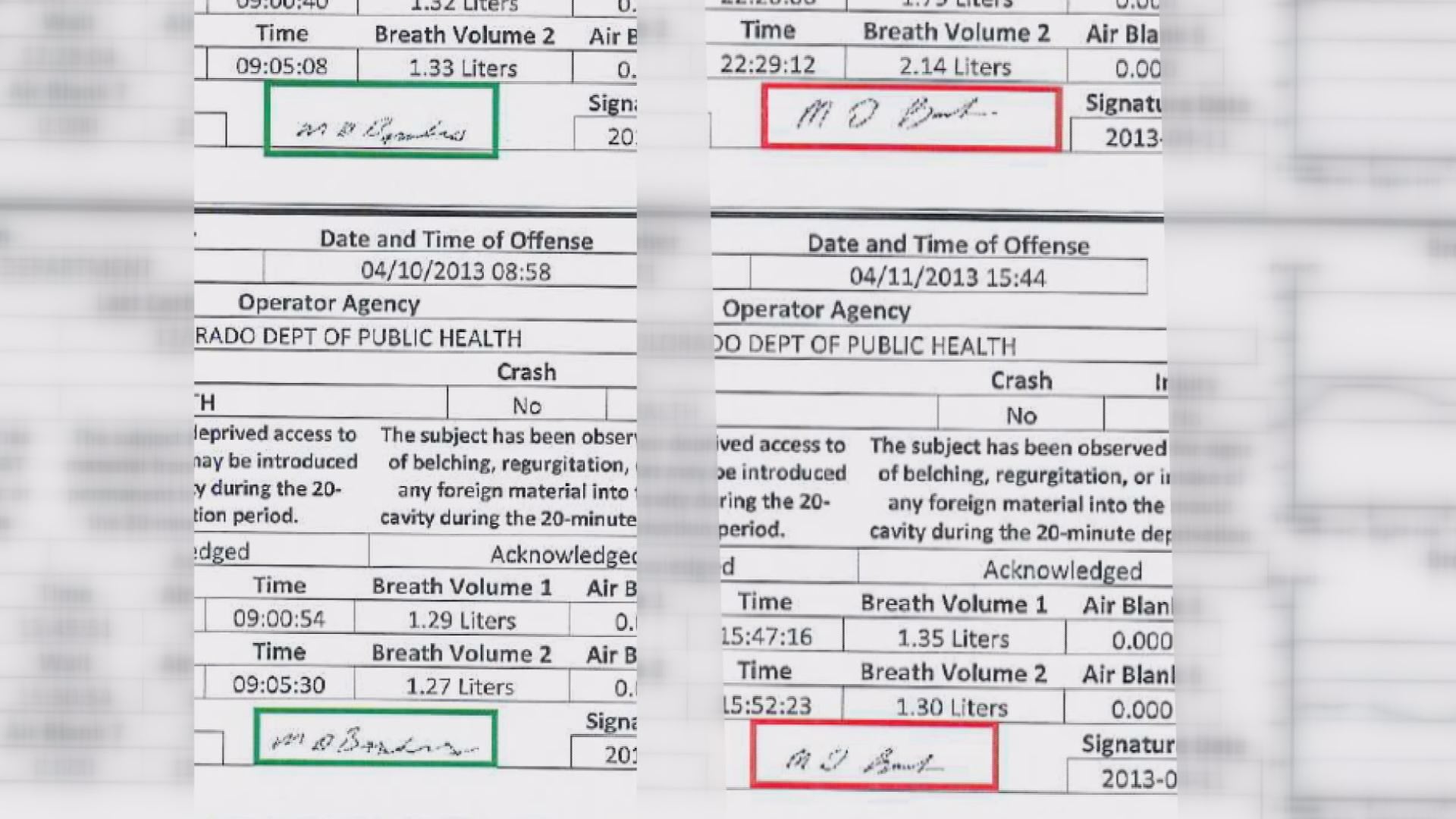 "We have to make sure innocent people aren't wrongfully convicted, but the other thing is, we have to have reliable testing because, not only are you going to have innocent people who could be potentially wrongfully convicted, guilty people are using these issues in court to try to get out of DUIs," said Luneau.
During court, former co-workers of Barnhill, testified that he had authorized them to sign his name.
Luneau also has other evidence that he's using to try to keep the breathalyzer results out of his case. It's a date-stamped certificate that shows specific breathalyzers are certified and approved to determine blood alcohol content, except it has the signature of a laboratory director that did not work at the Department of Public Health and Environment during the time listed on the certificate.
He wants the judge in his case to keep the breathalyzer results from being used as evidence. If the judge rules in his favor, that could impact DUI breathalyzer results over the last four years, when the specific breathalyzers were first certified.
"If you have a program, a breath-testing program that's accurate, scientifically reliable and transparent, not only will innocent people not get convicted, guilty people will not be able to get off using these arguments," said Luneau.
He said that the Colorado Department of Public Health and Environment conducted its own internal investigation, which found no wrongdoing.
"What the Colorado Criminal Defense Bar is asking for is an independent investigation into the reliability of the evidential breath alcohol testing program, and into the Department of Health. We want an independent, outside investigation," said Luneau. "An organization that is accused of committing fraud, shouldn't be the organization that investigates themselves. There should be an outside, independent investigation."
In an email response to Next, Mark Salley, a spokesman for the Colorado Department of Public Health and Environment wrote:
"Regarding the lab's certification process for Intoxilyzer 9000 instruments for evidential breath alcohol testing. One of the numerous analytical and function tests involved in the certification process, the Final EBAT Breath Test, includes testing the signature pad on the instrument by inputting a signature where an officer would sign if it were a real test. This doesn't equate to certifying the instrument. It is merely a simulated test that uses place-holder information."
That statement is in reference to the documents that Barnhill claims his name was forged on. According to the state, those documents alone do not certify the breathalyzer, but merely prove that the machine works like it's intended.
"The department is aware that a former employee of the Evidential Breath Alcohol Testing Program alleges that his signature was forged on I-9000 certifications. These allegations are false for two reasons: First, the signatures input while testing the I-9000s during a Final EBAT Breath Test do not constitute certification of the instruments. Second, while participating in the initial certification of the instruments in April 2013, this same former employee authorized others to input his signature while running the standard procedures on the instruments,
The court case continues Tuesday morning in Gilpin County. The judge will hear more arguments about why the breathalyzer for one specific DUI case should not be allowed as evidence.