DENVER —
The Denver Board of Ethics unanimously ruled that a building official's side business of constructing sustainable homes is using public office for private gain.
Scott Prisco is the engineer, architect director and building official for the City and County of Denver. He also runs Hip Homes LLC with his wife, Jeanne Prisco. The company builds sustainable homes in Denver.
Jeanne Prisco, who Scott Prisco lists as his wife on Facebook, is Hip Homes' official registered agent with the Secretary of State's office.
Jeanne Prisco emailed a news release to 9NEWS ahead of the Oct. 15 open house. She said she is the owner of the business. Jeanne Prisco described Hip Homes as a builder of "attainably-priced, net-zero-ready, energy-efficient custom homes."
"Hip Homes reduces risk and carrying costs, and most importantly delivers sustainable and affordable homes in a fraction of the time of traditional homes," Jeanne Prisco said in the release.
Jeanne Prisco did not immediately return a request for comment.
'Nothing whatsoever to do in his city position with permitting'
In a notice of a hearing on the case, the board said Scott Prisco leaned on inspectors to influence his projects, and that he reached out to employees about Hip Homes multiple times.
"On May 10, 2019 and again on May 16, 2019, Mr. Prisco emailed city employees from his city email account asking for a 'favor' by asking them to log in a document to avoid delay for a Hip Homes project located at 2650 W. Asbury Ave., in Denver, Colorado," the notice says.
Scott Prisco's approved involvement with respect to owning Hip Homes was outlined in a 2018 ethics waiver. The LLC is supposed to provide parts of a home to a customer and the customer is then supposed to apply for the "necessary permits." The Denver Ethics board said in the waiver that Prisco's involvement would be kosher if he steered clear of the permitting, inspections or construction process.
Scott Prisco should have "nothing whatsoever to do in his city position with permitting, inspections, construction or arranging for utilities for any fabrication plant of the LLC inside the City and County of Denver," the waiver says.
The Denver Ethics notice of hearing says Scott Prisco called a Denver inspector to "further the inspection" of a Hip Homes property. Scott Prisco also held a meeting with the city's inspection team to outline "how to handle" dealing with his properties, according to the notice.
Scott Prisco said in an October 2019 letter responding to ethics complaints against him that his interactions with inspectors were designed to clear the air.
"This got back to me that there was a significant amount of rumbling within the teams," Scott Prisco wrote. "Therefore, I wanted to be very transparent with the inspectors so as not to have them influenced by my position and their current inspections and future inspections."
Scott Prisco tweeted about his company from his profile in October, where he had his position with the city listed as his job title. The Denver Ethics Board and Scott Prisco's superiors noticed the tweet, which was noted in the investigation.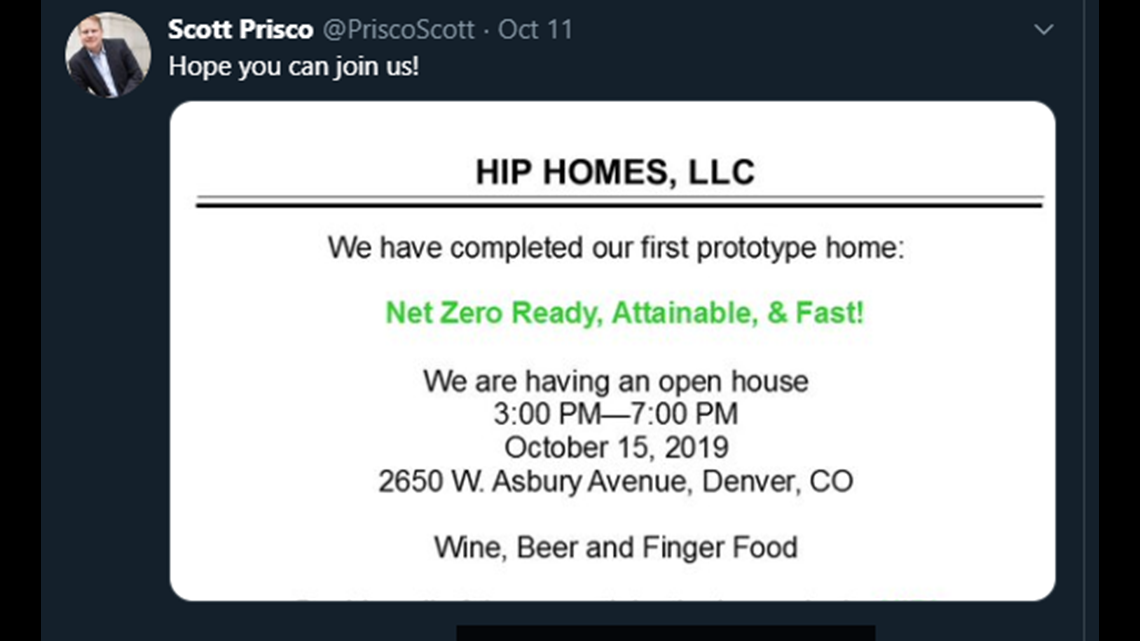 'What would happen to me if I didn't do [it?]'
A whistleblower complaint says in one instance, an inspector felt pressured to spend time with a property Scott Prisco was in charge of because of Scott Prisco's position, according to a whistleblower complaint obtained by 9Wants to Know. The complaint also says the construction site did not have the necessary zoning and approval stamps. He was not planning on doing the inspection until he was put on the phone with Scott Prisco, according to the complaint.
"As I'm handing the phone back to the painter, I can see the contact information on the phone. It says Scott (HIP) Prisco," the whistleblower wrote in the complaint.
9NEWS is choosing not to identify the person due to their role as a whistleblower currently working for the city.
"I was very uneasy the whole time I was doing the inspection," the whistleblower wrote in the complaint. "What would happen to me if I didn't do the inspection? This was our building official."
'It still bothers me'
Barbara Galaviz worked as a zoning inspector with the city until she resigned in October 2019.
She also reached out to the city's ethics board.
"I was upset because my husband and I have a business," said Galaviz, talking about their roofing business. "I was told I have to sign a form every year saying we would not do business in Denver."
Galaviz felt it was important to tell the city's ethic board what happened in her situation.
"It really bothered me," she said, "And still bothers me."
Weiser said when it comes rules around city and county employees opening another business along with their city job, that it depends on if there is a conflict with their time and responsibility and that each situation is handled individually depending on the facts.
'Honest mistakes'
Scott Prisco did not immediately respond to a request for comment. Laura Aldrete, the executive director for the City and County of Denver's Community Planning & Development, said Prisco made "honest mistakes" that won't happen again.
Prisco will keep his job, but will not be allowed to be involved with Hip Homes.
"It is extremely important to me that we at Community Planning and Development do our jobs with integrity and skill," Aldrete said in an email. "While I believe these were honest mistakes made by Mr. Prisco, I want to assure the public and our staff that we have taken corrective actions to prevent this type of situation from arising again in the future. Chief among these is that Mr. Prisco has been prohibited from engaging in any further private business that would require permits and inspections in the City and County of Denver while he is serving in the role of building official."
Among the "corrective actions" taken since the Denver department was made aware of the allegations was designating an engineer-architect to field any concerns about Hip Homes properties.
Future steps
Lori Weiser, executive director for the Denver Board of Ethics, said Scott Prisco violated three tenants of the ethics code:
Use of public office for private gain
Conflict of interest while employed
Using city resources for outside business
Weiser said in a phone call that she is in the process of writing the draft of the decision. The ethics authority will then have a chance to give input. If the changes are substantive, they will have to talk about it at the next meeting.
"If the Board of Ethics feels additional steps are necessary beyond those outlined above, I welcome those recommendations," Aldrete wrote in a letter. "In the meantime, please be assured that Community Planning and Development takes this matter very seriously and is committed to ensuring that no actual or perceived conflicts of interest will arise again in the future."