KUSA — Denver Post employees from more than just the newsroom walked out of the newspaper's Adams County office Tuesday in protest of their ownership, which they say has made unprecedented cuts and censored their efforts to expose what they've referred to as vulture-capitalist practices that have been detrimental to local journalism.
PHOTOS: Journalists protest hedge fund owner outside of Denver Post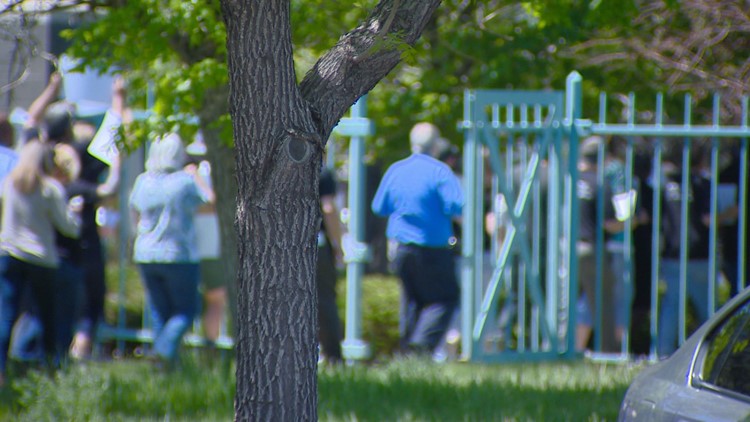 This comes less than a week after the resignation of Chuck Plunkett, the editorial page editor who devoted a Sunday opinion section to the Post's struggles. He claimed he was barred from publishing a follow-up column bashing Alden Global Capitol, the hedge fund that owns Digital First Media – which owns the Post and ordered the recent layoff of 30 employees.
Two other top editors have also since resigned, as well as Dean Singleton, a one-time-owner, editorial board member and fierce defender of the Post.
The Denver Post's employees rallied for a new owner outside a newsroom that was moved from the heart of downtown to Washington Street in Adams County.
Other Denver Post employees went to Alden Global's headquarters in New York City, where they cited what they call high profit margins that starkly contrast with the cuts the company has made at the dozens of newspapers it owns.
The Denver Post's remaining employees signed an open letter Monday calling for Alden Global Capital to sell the Post, arguing that "it has become vividly clear that they are undeserving of owning The Denver Post and of serving you.
"It has become vividly clear that they must either invest in the newspaper or sell it to someone who cares about Colorado, and they must do it immediately," the letter goes on to say.
The Denver Post's struggles with its ownership and ensuing efforts to expose it have garnered coverage from CNN, the New York Times and the Rolling Stone – which allowed Plunkett to sell his side of the story.
Just a few weeks ago, 9NEWS Anchor Kyle Clark implored viewers to subscribe to the Post and invest in local journalism, since we need it now more than ever.
But with these recent revelations, he's been grappling with whether paying for a subscription only helps the hedge fund that owns the Denver Post.
You can hear his thoughts below: