The now-former executive director of the Longmont Housing Authority was asked to resign after the LHA board chairman was provided photos that the board chairman called "disappointing."
Michael Reis was asked to resign as head of the Longmont Housing Authority on Thursday afternoon, about one hour after Longmont Mayor Brian Bagley received information from a former LHA employee, and then forwarded it to the LHA board chairman.
That information from LHA's former Regional Property Manager Kimberly Thomas included a list of concerns she had with the organization, along with two photos of Reis wearing a medal and headband, standing on a third-place podium in front of a banner that read:
Longmont Housing Authority
Longmont Times Call 2017 Local News Story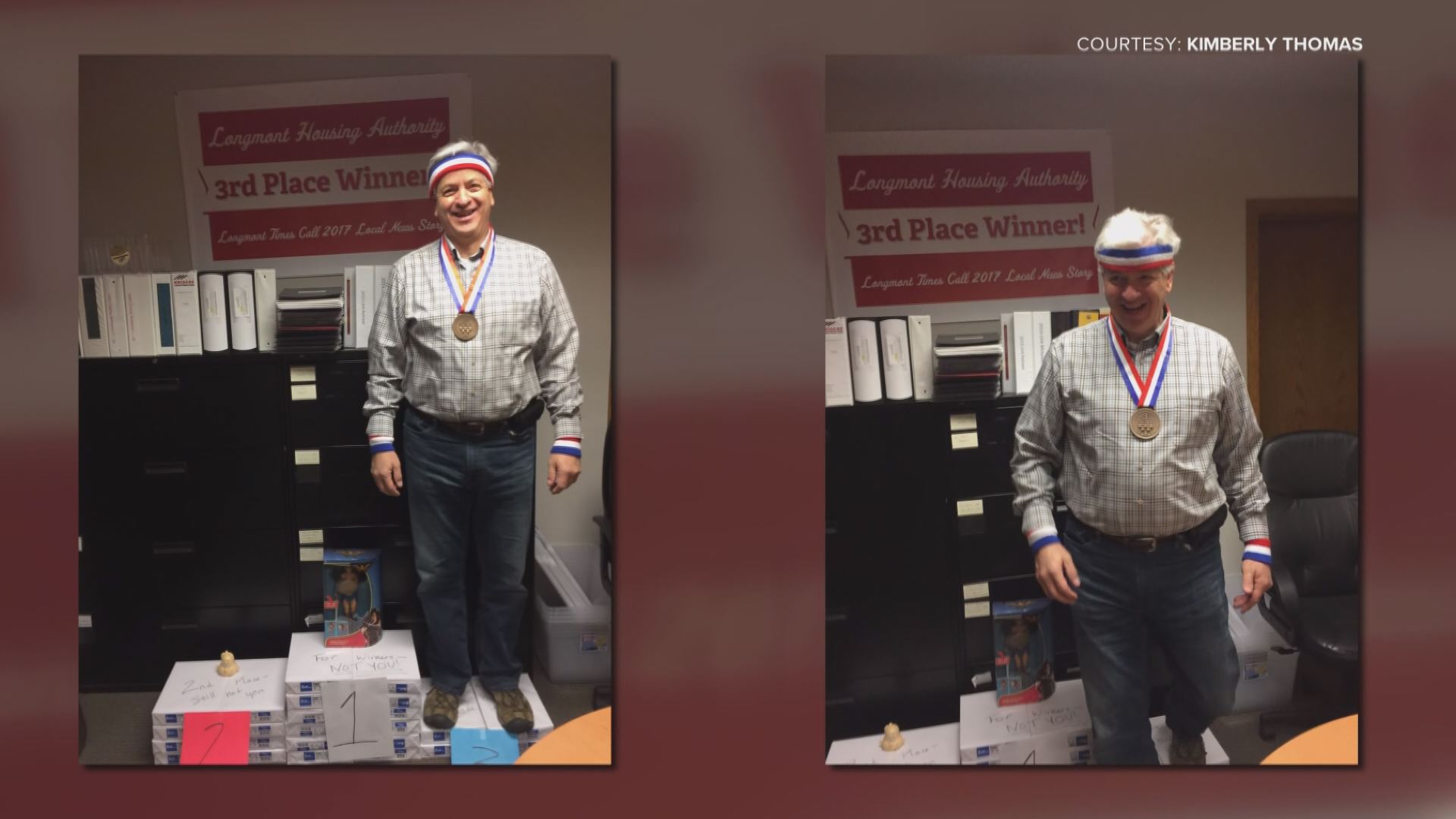 The Longmont Times-Call produced a series of articles about the "Top 10 local news stories of 2017," and wrote that the stories about the warrantless searches at The Suites apartment complex within the Longmont Housing Authority was the number three news story of 2017.
9NEWS has extensively covered the illegal warrantless searches since we first received a tip from a concerned resident in June.
"He's celebrating negative stories about the Longmont Housing Authority," said Thomas. "Michael came down and told us about it, he was laughing. One of the accountants decided to have the banner made on Vista Print. They did an Olympic ceremony for him that he got third place. He was laughing and cheering. They had a cake for him, and he just thinks it's a laughing joke."
Thomas said she was fired on Tuesday afternoon after she gave testimony to a third-party investigator looking into a complaint of a hostile work environment, which had been filed by another former employee.
She then provided 9NEWS and Longmont's mayor a list of concerns she had with LHA and the photos.
"Why not come forward while you worked there?" asked 9NEWS reporter Marshall Zelinger.
"That's a great question, the reason why I didn't come forward while I worked there is just due to the simple fact that I needed to keep my job," said Thomas. "I was concerned of retaliation."
After providing Longmont's mayor with the same information, he contacted the chairman of the LHA board, essentially Reis' boss.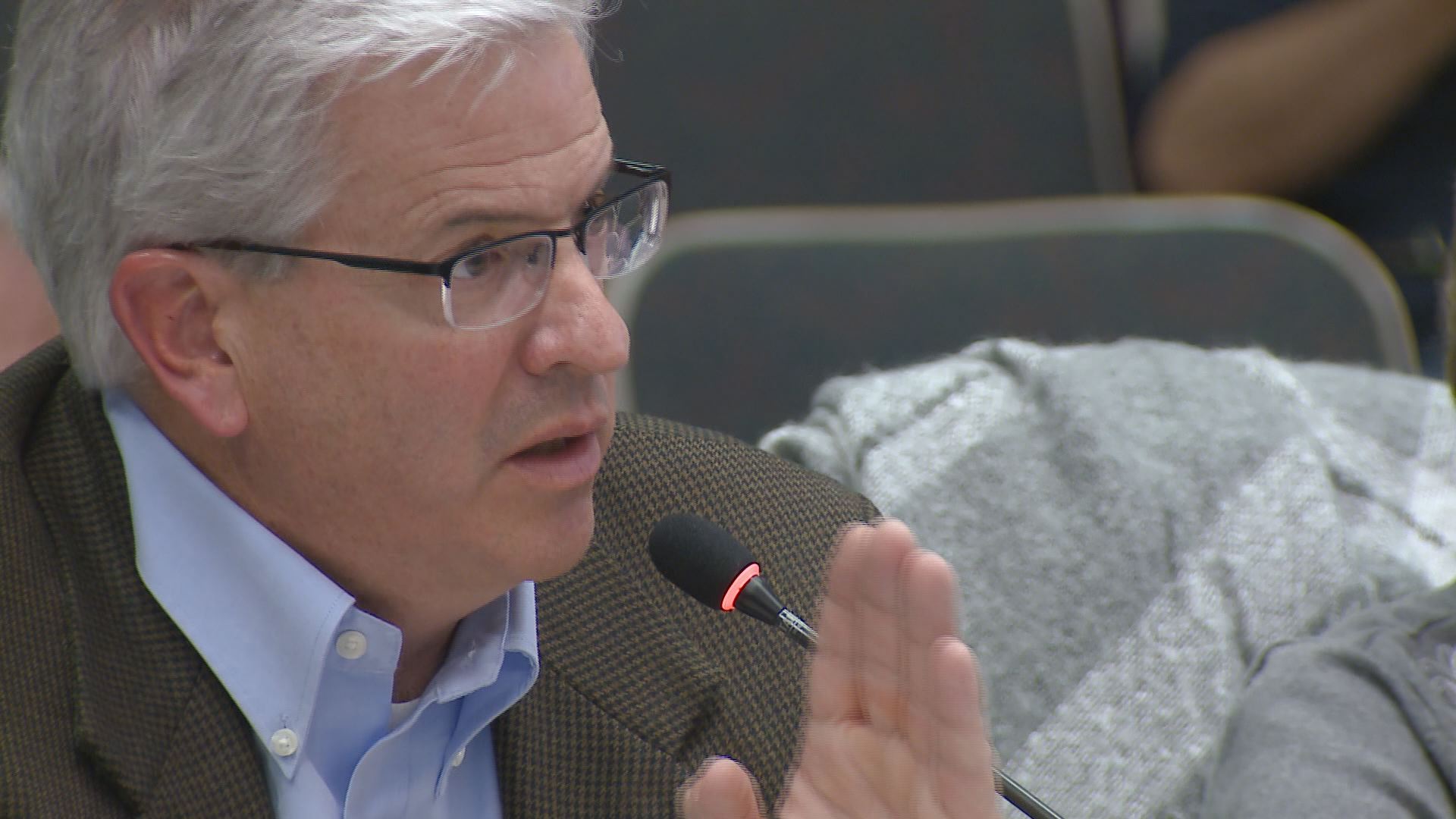 "I forwarded those pictures on to the Longmont Housing Authority executive board, to Wendell Pickett and Bruce Robbins. They saw those pictures and were understandably concerned, had a conversation with Michael Reis, and my understanding is that his resignation was asked for and it was tendered," said Bagley.
"You confirm that he was asked to resign because of those photos?" asked Zelinger.
"I can confirm that he was asked to resign as a result of the events that transpired yesterday," said Bagley.
When reached by phone Friday afternoon, Pickett said it was a personnel matter and he couldn't confirm if the photos were the reason he asked Reis to resign, other to say the photos were "disappointing."
"I can confirm the Mayor provided the photos to me and the results are the results," said Pickett. "Our goal right now is to mend the relationship with our tenants and our community."
"As you are aware, having done your reporting over the last nine months, the Longmont Housing Authority has had a variety of issues and I believe those pictures factored heavily into it," said Bagley.
In June, an alert tenant contacted 9NEWS after getting a notice of a monthly apartment inspection, that included a line that said police K-9 dogs would be participating for training and compliance.
TIMELINE: Warrantless searches of affordable housing (click here if timeline doesn't appear)
After our coverage of those letters, the Longmont Public Safety Chief, who did not know about the plan until he saw our coverage, stopped it from happening. However, the chief revealed that he found out searches had happened in May.
An external investigation conducted by the Weld County Sheriff's Office found that multiple apartment units had been searched by Longmont Police without a warrant and without proper consent.
In November, the city of Longmont announced a $210,000 settlement with four tenants of The Suites because of the warrantless searches.
"When you look at the picture, it relates directly to the story about the warrantless searches and it does not portray an appropriate level of managerial concern for a situation that I, as mayor, and speaking on behalf of the city manager, Chief Butler, the city council, we were seriously concerned since day one, to the tune of $200-plus thousand dollars," said Bagley.
"What does it say that he may have been asked to resign because of photos mocking what we've been reporting, more so than what we've been reporting on?" asked Zelinger.
"I'm a big believer in not being ruthless when people are facing termination, you have to be rigorous," said Bagley. "In this particular case, I think the pictures showed that the management of the Longmont Housing Authority, specifically Michael Reis, was not taking the situation as seriously as, I think, the board and the city, quite frankly, hoped that he would."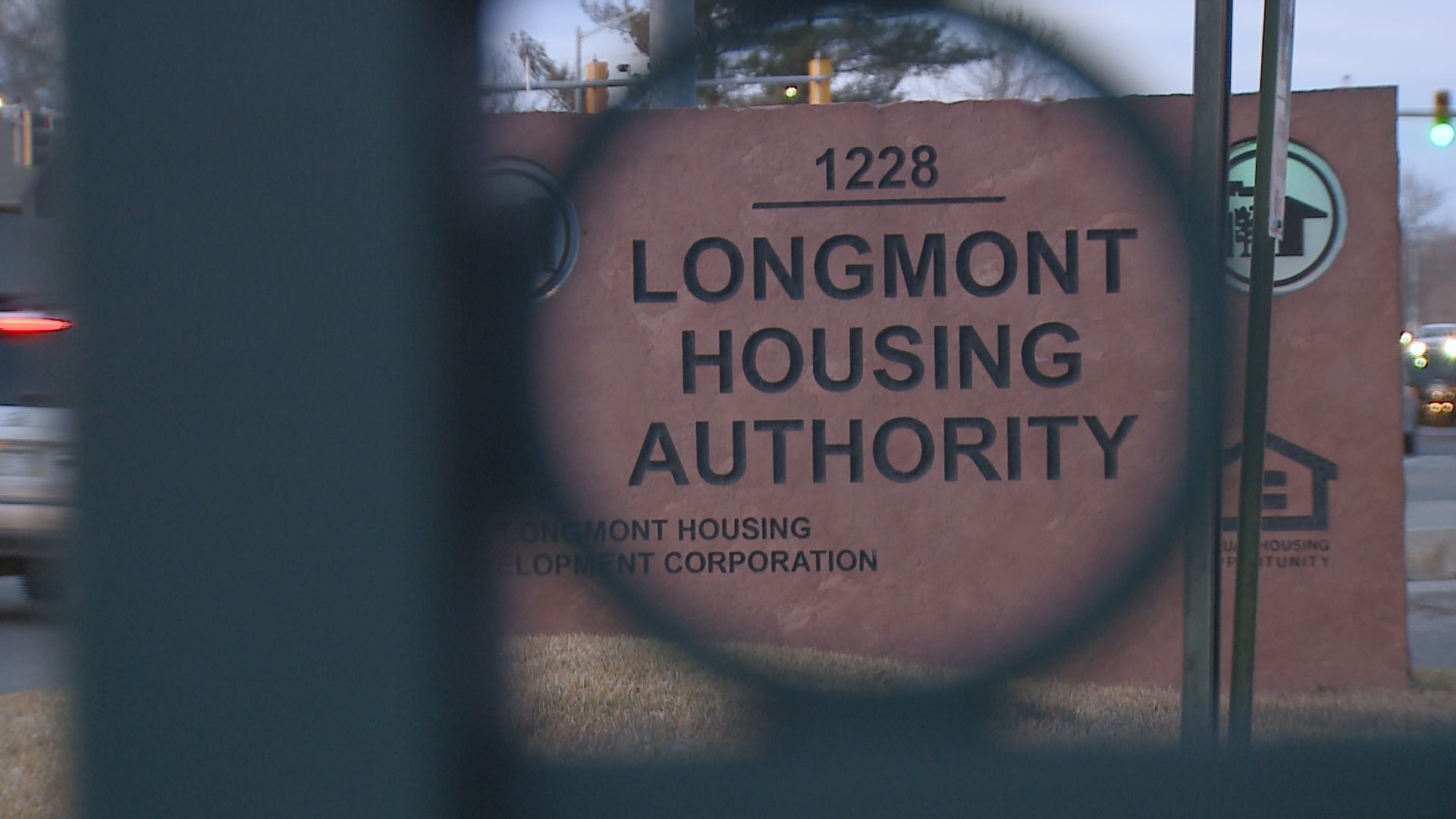 The mayor does not oversee the Longmont Housing Authority or the director. He, and the city council, appoint the board members who do.
"As Mayor, are you confident that the Longmont Housing Authority is doing the job it needs to for the community that it needs to serve," asked Zelinger.
"Let me give you an answer that is not yes or no. Up until now, it has not. Obviously. Moving forward, I have zero doubt that it will," said Bagley.
"Does the city council need to make any changes to the LHA board right now?" asked Zelinger.
"No. And the reason I say that, is I don't think we have enough data, meaning they took appropriate action. We would be having a very different conversation, you and I, if they had not taken the necessary action yesterday to ask for Michael Reis' resignation," said Bagley.