Once the University of Colorado's Board of Regents approves the contract for new football coach Mel Tucker, CU will officially have two people on the payroll for that job.
Tucker, the former University of Georgia defensive coordinator, was named Colorado's 26th football coach on Wednesday. If approved at the Regents' special meeting on Dec. 12, the five-year contract is worth $14.75 million, with Tucker making $2.4 million in his first year.
Meanwhile, former CU head football coach Mike MacIntyre will make $2.95 million to not coach the team in 2019, as the school continues to pay off his contract.
And if you're wondering why any normal person might be fired without taking home a paycheck, and a coach continues to make millions, it's because - essentially - that's just the business of college football.
"Unfortunately, it's the market that's been created out there, and we're at the mercy of that market when we're hiring these people out there," said CU spokesman Ken McConnellogue. "You could say, 'we're not going to do this,' but you'd have difficulty recruiting people. What we do need to say is we need to be as smart as possible in how we do this, while also recognizing the market forces that are out there."
MacIntyre's pay, however - like Tucker's - isn't coming from the citizens of Colorado. CU has a $91.5 million athletics budget for 2019, and exactly none of it comes from taxpayer money.
"About 89 percent of its $90 million budget is money that they raise themselves," said McConnellogue.
The largest chunk of the athletics budget pie is from "conference distribution." CU gets about $31 million this next year just for being part of the Pac-12 Conference. When Pac-12 teams make a bowl game, CU gets money. When Pac-12 teams are televised, CU gets money.
About $20 million of next year's athletics budget comes from ticket sales related to sporting events. Another $10 million is from fundraising.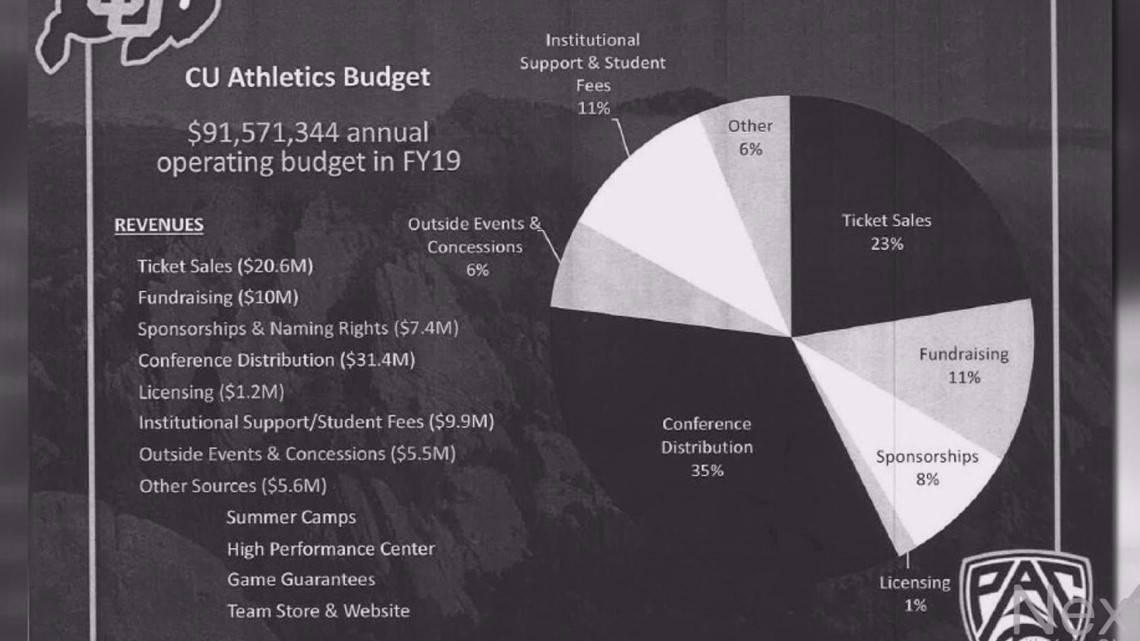 "It's not an unusual model at universities that we ask donors to help support a variety of things, including salaries, and that's not limited to athletics. by any means, that's across the university," said McConnellogue. "The money spent toward a football coach really pales in comparison to what we spend on the academic side of the house."
He pointed out two academic examples of education employees getting recruited to work at CU, and be paid, in part, through donor funds.
Former NASA chief technologist Bobby Braun is the Dean of the College of Engineering and Applied Science, and the Smead Chair of Space Technology. The Smead endowment is named after Dr. Joe Smead, who was a founding member of CU Boulder's Aerospace Engineering Sciences External Advisory Board. Braun makes $483,000, with $63,000 coming from the Smead endowment fund.
The other example McConnellogue mentioned is Dr. Valeria Canto-Soler.
"One of the foremost experts in the world on retinas and macular degeneration from Johns Hopkins," said McConnellogue. "That wouldn't have been possible without support from donors."
She makes $154,000, with a little more than half covered by donor funds.
So what does taxpayer money go toward? It generally covers professor and faculty salaries, operations, electric bills or insurance. State funding, though, is only a small fraction of the budget - accounting for about six percent of CU's funding right now.
PHOTOS | Mel Tucker Through the Years