We've gotten a lot of phone calls and emails from viewers about how to check whether the home they own or are about to buy is part of Denver's affordable housing program.
The Office of Economic Development oversees about 1,300 affordable homes around Denver. These homes are meant to sell below market value to income qualified buyers, but the department recently admitted that as many of a quarter of them sold to people who were unaware of those rules.
9NEWS has talked to more than two dozen people who say they had no idea their homes were supposed to be a part of the program, so here's a step-by-step guide that shows you how to check on a house.
NOTE: This tutorial is meant as a helpful guide. We've repeatedly asked the city for a list or a search tool to help homeowners learn whether they own a home that falls under the restrictions of the program. This guide is not legal or real estate advice. If you have specific concerns about whether your home is under affordability restrictions, please contact an attorney, your realtor or your title company.
Most of the problem homes we've found have been in Green Valley Ranch. Here's how to search if you'd like to look up a Green Valley Ranch house (if you want to look up another location, follow the same steps, but you'll see different directions after step 7):
I recommend entering the address numbers first because the formatting for the streets can be a little confusing. The numbers should generate a list of addresses with those numbers.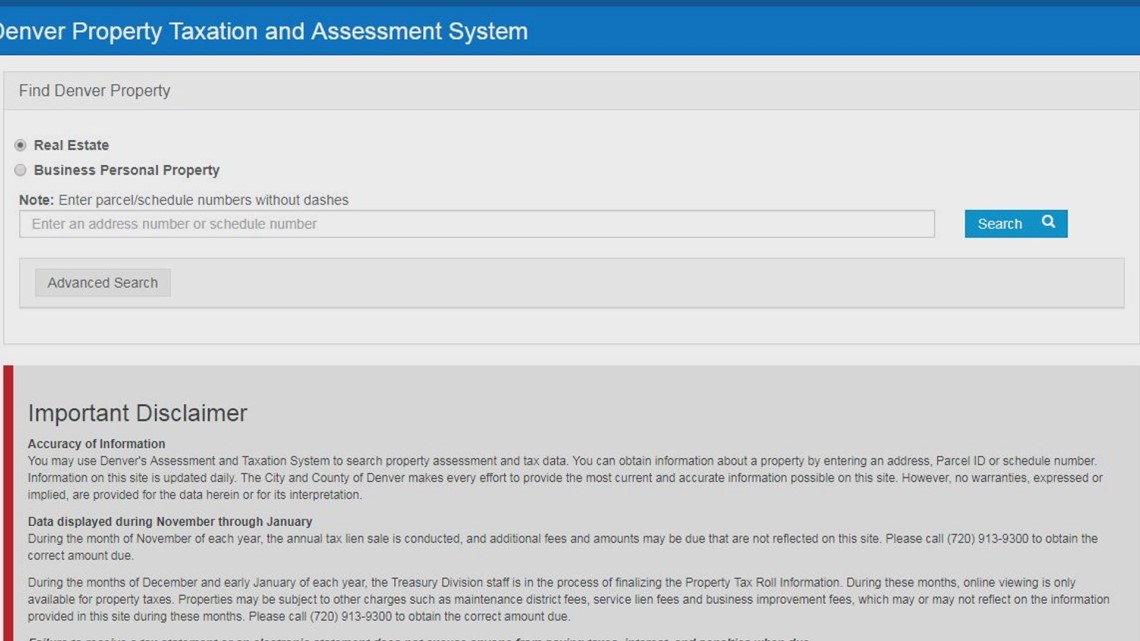 2. Once you have your address entered, there are two things you'll want to look at. The first is the legal description I circled in red. FLG stands for filing, and the number after it is important if you're looking at a home in Green Valley Ranch. The filing numbers Oakwood designated as affordable are 41, 43, 47, 48 and 52.
This house is in No. 48, which means it was originally part of the program. If that's the case for you too, the next step is to click on the other button I circled labeled "chain of title."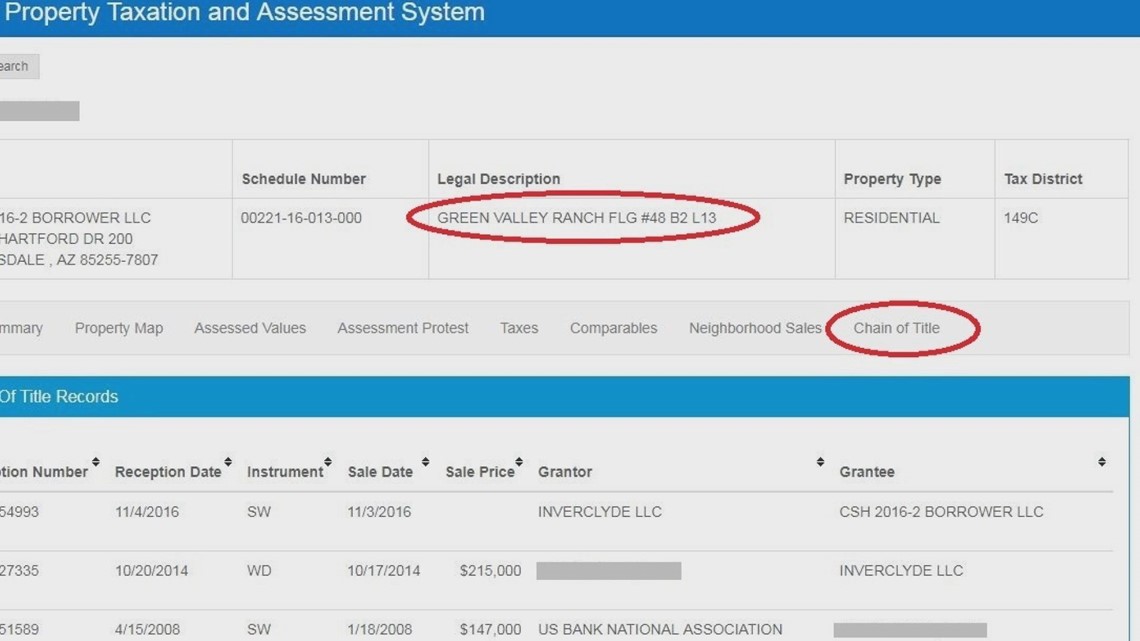 3. What you're going to be looking for in the chain of title is whether the house ever went through a foreclosure. If it did, the income restriction covenants are gone and the house can be bought and sold by anyone for market value.
What you want to see in the "instrument" column are the letters "PT" that I've circled in red. They stand for public trustee, and it means the house went through a full foreclosure.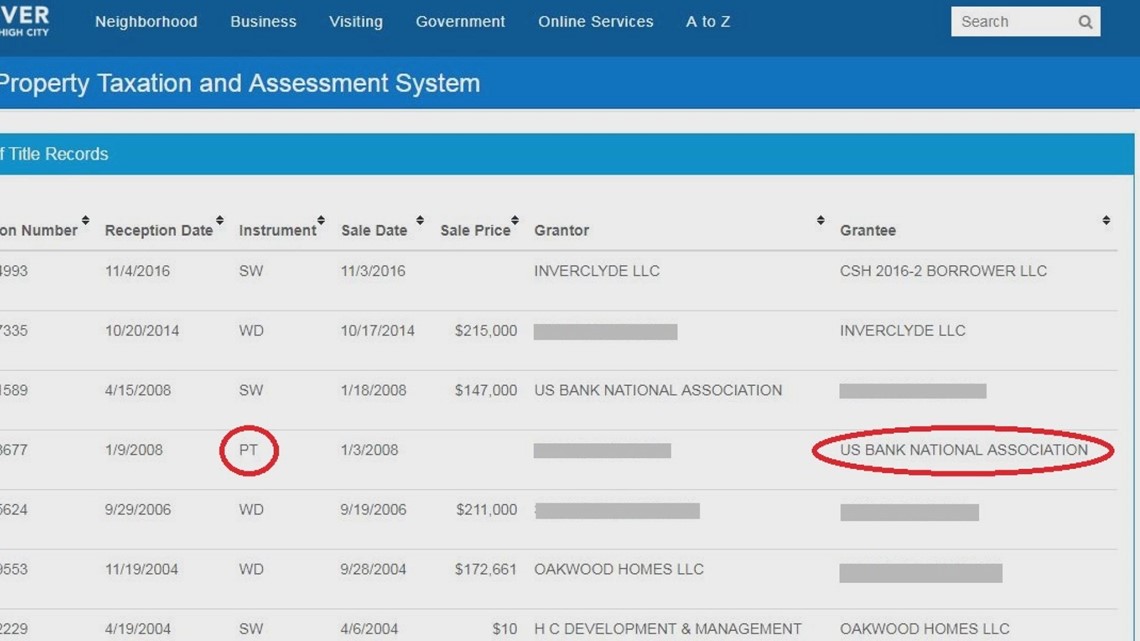 4. If you don't see any evidence of a foreclosure in the chain of title, the final step is to check the original warranty deed for the property. The properties in Green Valley Ranch have the affordability restrictions in every original warranty deed that I've seen.
To do that, you need to go to Denver's clerk and recorder website. Click on the button I've circled in red for marriage application and record search. (Don't ask me why the clerk grouped those two functions together.)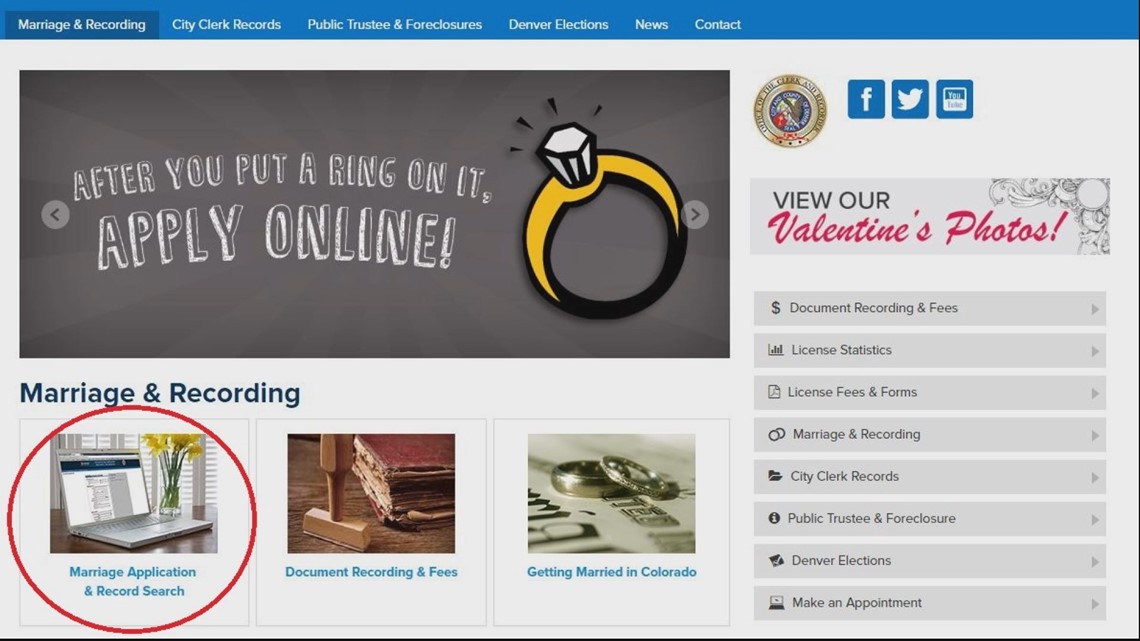 5. You'll want to search the clerk's records by clicking on the button I circled in red. You don't need to create an account to do this, but you can if you want.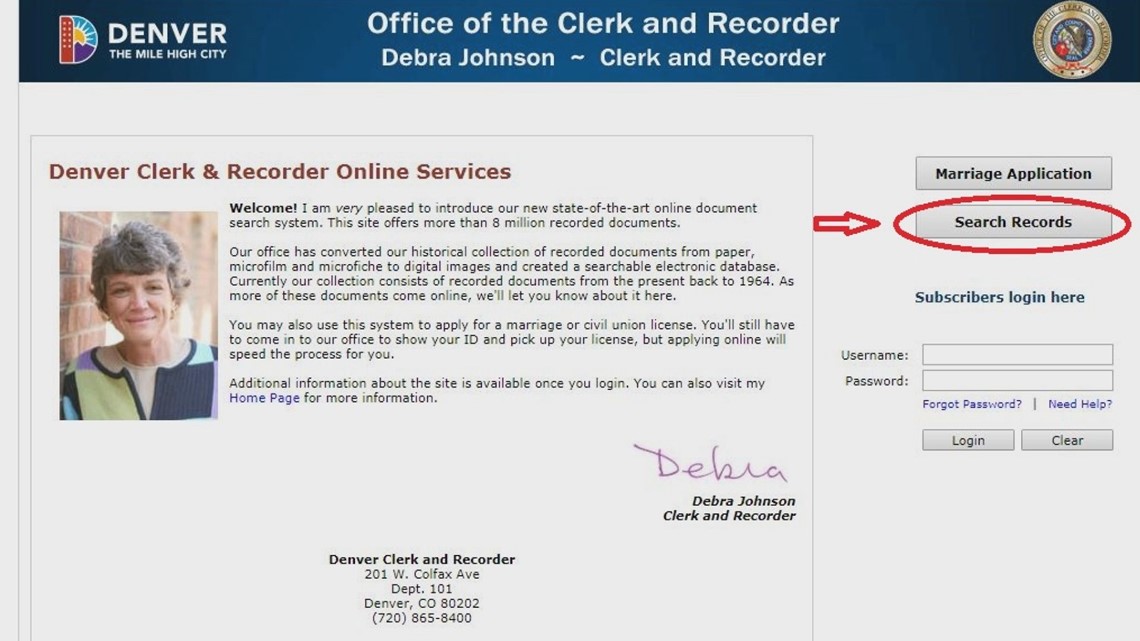 6. Once you get to the search page, you will want to click on the tab marked reception number that's highlighted in blue. In the field I marked with an arrow, you're going to enter the reception number for the original warranty deed for the house in question. I'll show you how to find that number in the next step.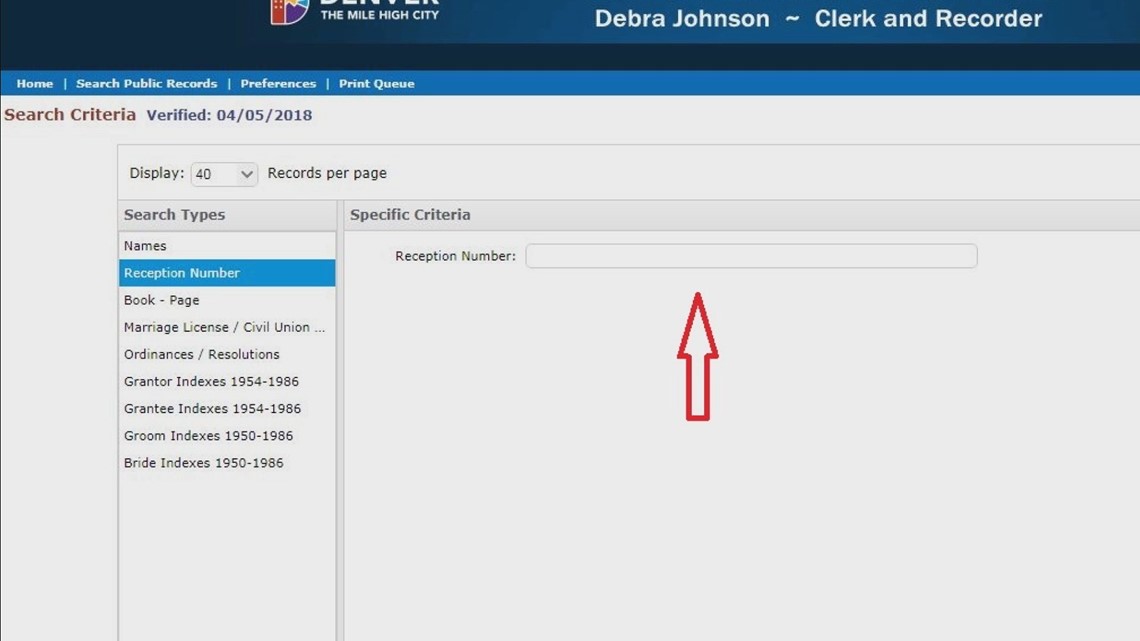 7. You have to go back to the assessor's website and look at the house's chain of title again.
This time you want to look at the first column, which is called the "reception number." You want to get the number from the first sale from the builder to the original owner. It will have the builder's name and a person's name as well as a price that makes sense for the home.
Some of the transfers before the first sale will be for low dollar amounts and reflect how the builder divided the property.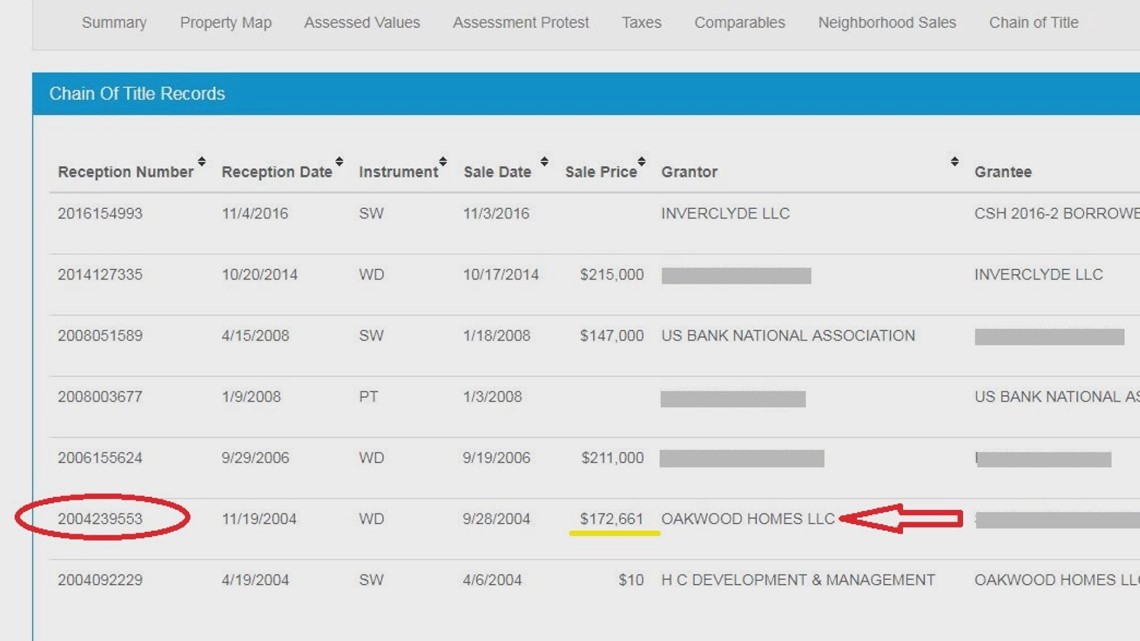 8. Take that number back to the clerk's search page I showed you in No. 6 and enter it.
That should bring up the original warranty deed. You will want to scroll to page two using the arrow buttons I circled in red. You can't scroll from page to page by rolling the mouse. (Again, don't ask me why.)
The Green Valley Ranch properties contain the affordability restrictions on page two. If you have these in your original warranty deed and there are no foreclosure on the property, then it's likely your house is supposed to be a part of Denver's affordable housing program.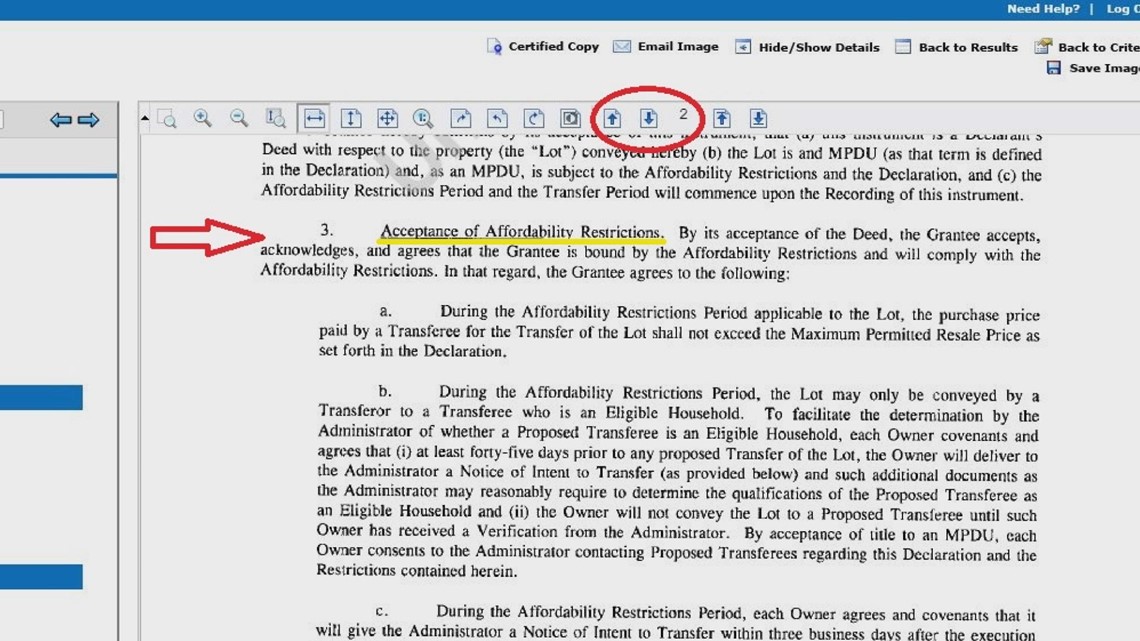 If you own or are considering a home in another part of Denver like Lowry or Stapleton, the steps above can still help you. However, you have to take a few more to figure it out. One exception is if you see Colorado Community Land Trust listed as a second owner after doing the search from step two. Any home where the trust owns the land, is an affordable unit.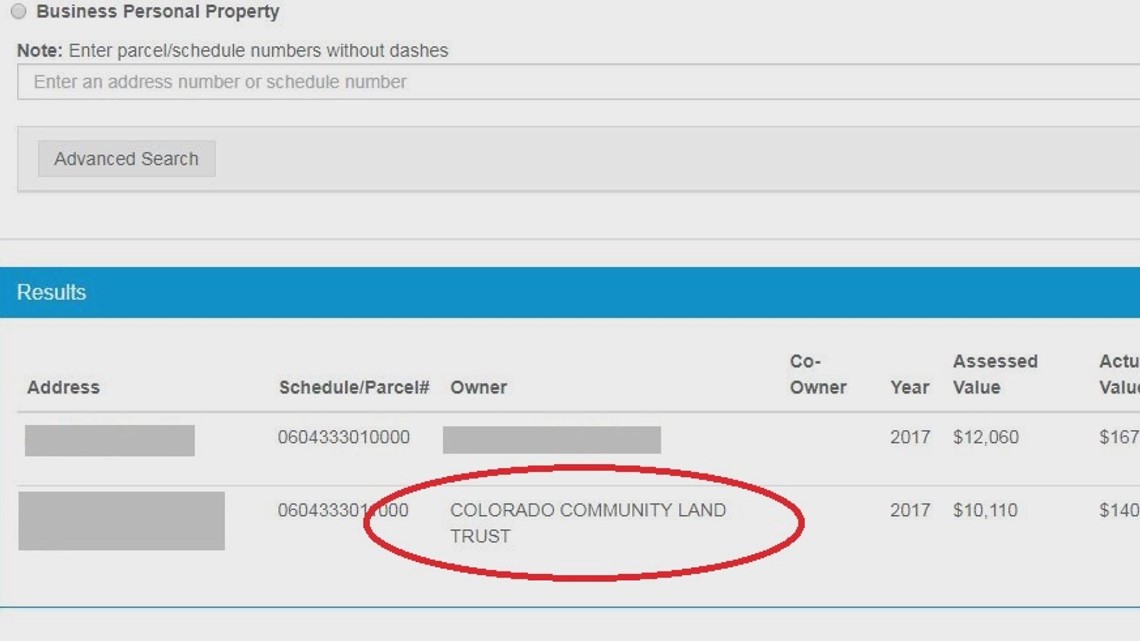 If the trust doesn't pop up, here's what you do next.
9. Once you have the reception number for the original warranty deed pulled up through the clerk and recorder's search, you will want to look for another reception number inside that original deed.
Searching that number will take you to a copy of the affordability restrictions for the property.
Sometimes the deed has more than one (because there are other restrictions that have nothing to do with affordability or income), so you have to check multiple numbers.
These documents can run more than 100 pages, so it's not easy to find. If I find an easier way to check homes outside of Green Valley Ranch, I'll make sure to update you guys.