Everyone occupies their time differently on planes.
There are the snackers, the readers, the sleepers, the armrest hoggers, the chatters, the movie-watchers, and the business-types who email and such throughout the flight.
Then there's some kid, somewhere, who was on a flight this week and passed the time by writing an epic list of life goals.
A woman named Carol Wood boarded a plane at Denver International Airport Wednesday, for a Southwest flight from Denver to Philadelphia. She found the standard safety card and WiFi information, and an index card, with kid's handwriting, that lists everything this little guy or gal wants to do when they're an adult.
On it, the kid wrote (with exact spelling):
1Y: Go to a college and study buisness negotiation.
Y2. Get a part time job as a waiter.
Y5: Graduate colledge and begin my buisness.
Y10: Expand my buisness to a second location.
Y20: Add new items to my menu and expand restaurants to other states.
*And saving the best for last*
Y30: Chill in Cuba with Tupac after retiring.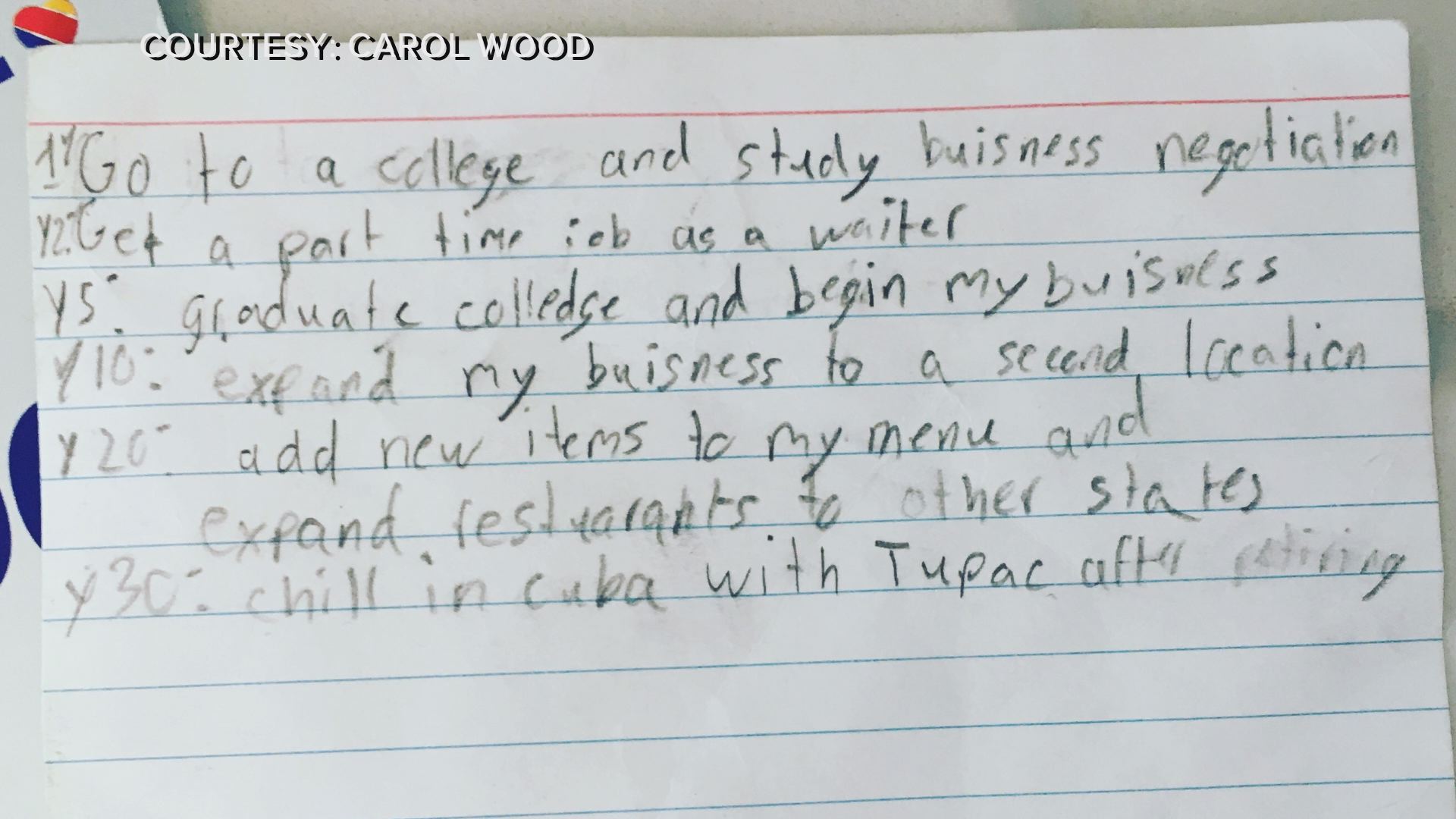 First of all, this kid is an obvious foodie. Is there an Instagram account where he or she is already posting food pictures? Because we want to follow.
Secondly, what kind of restaurant are we talking here? And will there be a Colorado location?
Third, props to this kid for a stellar retirement plan.
Of course, many ~ conspiracy theorists ~ will tell you Tupac is not only living, but he is living in Cuba. That cannot be confirmed or denied by official sources...
Wood assumes this card was left behind from the flight just before hers, but we don't know who this kid is. Wood was on Southwest flight 2037, at 10:35 a.m. She knows nothing about the prior flight, but according to FlightAware.com, this kid may have flown from Portland, Oregon to Denver around 6 a.m. Wednesday.
Based on the way this list is written, and Year 1 indicates the start of college - we assume the kid will be about 58 by the time retirement comes.
May all his/her dreams come true!