DENVER — New guidance from the Centers for Disease Control and Prevention (CDC) did not automatically trigger a new mask mandate in the state of Colorado, but that doesn't mean one isn't coming.
While the statewide emergency order in response to COVID-19 has expired, the office of the governor maintains the ability to issue a new mask order, his office told 9NEWS. As of Tuesday afternoon, Gov. Jared Polis' office said they are reviewing the new information from the CDC that comes amid a surge of cases spurred by the delta variant.
"We are reviewing this guidance and the best way to protect yourself against COVID-19 is to get the free, safe, and effective vaccinated," a spokesperson said.
The Colorado Dept. of Public Health and Environment can also issue a public health order to require mask-wearing.
Fully vaccinated individuals are now encouraged to go back to wearing a mask inside in a public setting, a protocol that largely vanished after the CDC in May said the risks of COVID are low for people who have the vaccine. Specifically, the CDC recommended Tuesday that everyone wear a mask indoors in areas with high transmission.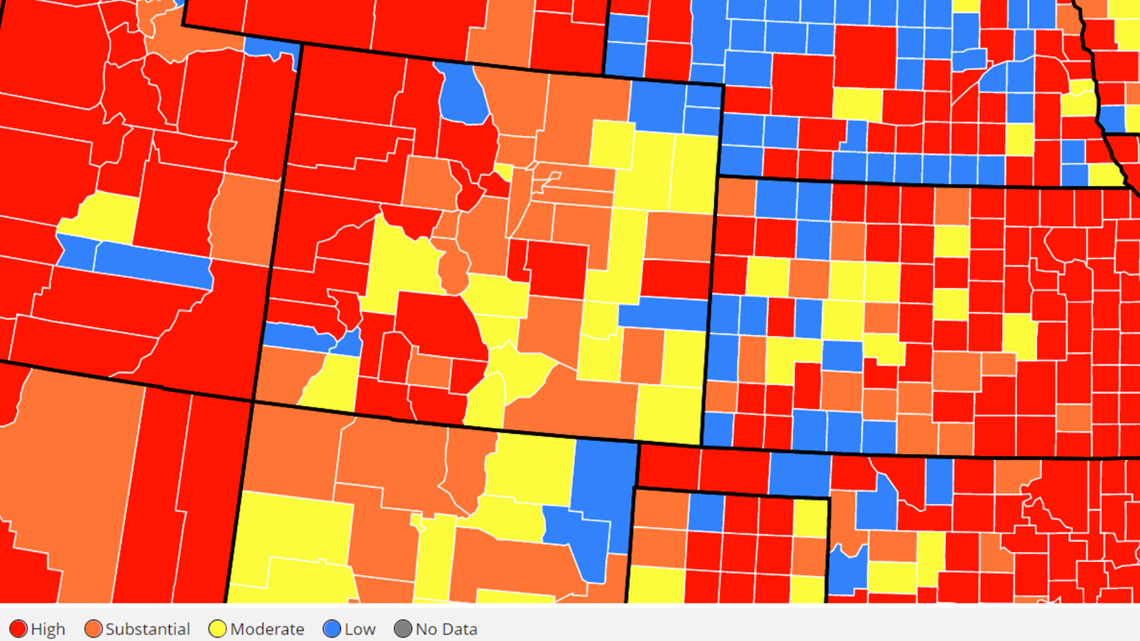 By the CDC's standards as of Wednesday, more than 40 of Colorado's 64 counties are dealing with a "substantial" or "high" COVID case rate, including all counties in the Denver Metro Area.
Regardless of a state mandate, counties have their own power to again require masks. In a statement from Denver Mayor Michael Hancock's office, the city echoed the state's promotion of the vaccine.
"We are watching the Delta variant closely and monitoring its impact on infections and hospitalizations. We are constantly assessing whether we need to take additional steps to protect the public and not lose the progress we have made over the last few months. The best thing people can do right now is to get vaccinated," the city said.
The CDC also recommends that everyone in schools wears a mask in the fall regardless of vaccination status. 9NEWS reached out to several schools districts in the metro area. Most say they are working with their local health departments before making or releasing any decisions.
PING-PONGING MANDATES
Based on the CDC guidelines, 42 counties in Colorado should be requiring indoor masks for all individuals, not just those unvaccinated.
No county health department, nor the state, has issued such a mandate…yet.
"I just found out about this yesterday," Larimer County Public Health Department Director Tom Gonzales said Wednesday. "Inconsistency's been an enemy for all of us of here in public health. First, I want to see what our neighboring counties are doing. What the state's seeing."
Based on the CDC's "Level of Community Transmission" map, Larimer County is one of 20 counties in Colorado that has a "substantial" rate. There are 22 counties that are listed as having a "high" rate of community transmission.
The CDC recommends indoor mask wearing for people in those two risk categories. Of Colorado's 64 counties, 22 are listed as "low" or "moderate" rate of transmission.
Levels are based on the number of new cases per 100,000 people over seven days or the weekly positivity rate, whichever indicator is higher.
Larimer County has a seven-day transmission rate of 71 cases per 100,000 and a positivity rate of 4.8%. Health experts want the positivity rate to be less than 5%.
In Larimer County, 60% of residents have received at least one vaccination dose.
"I don't want our community going back and forth. I want to be able to say, 'here [are] the facts' and 'here's the why,' and we're not there yet," said Gonzales. "I want to hear what our state epidemiologist and our state health officer has to say, and hear all of those facts, and if it is in line with the CDC, absolutely, then we will follow CDC guidance."
Some of the CDC's new guidance is based on "studies from India with vaccines not authorized for use in the United States," which show "relatively high viral loads…with delta, regardless of vaccination status."
The CDC also has lists its guiding principles for fully vaccinated people, which has contradictory language.
"Most indoor activities pose low risk to fully vaccinated people," the CDC's website reads. Further down in the guidelines, the page says, "Wear a mask in public indoor settings if they are in an area of substantial or high transmission."
Denver County is also labeled as orange or substantial.
"We can't continue our face coverings forever, and I think it's going to be challenging if we bounce back and forth between required face coverings and guidance, and then everybody wears face coverings, and now only these people wear face coverings. I think it's really confusing to the public," said Bob McDonald, Director of Denver's Department of Public Health and Environment.
In Denver, the weekly case rate is 56 per 100,000 people. The positivity rate is 3.2%. And 72% of Denver residents have received at least one vaccine dose.
Denver was the first to issue indoor mask mandates in May 2020, two months before the governor issued a statewide order.
So far, McDonald is not yet requiring indoor masks for everyone.
"I can't say at this point because we're still looking into their recommendations. We've got to strike the right balance here, and with public health orders and even with recommendations, we can see some negative impacts from that," said McDonald. "I don't have an answer for you yet to that question, but we expect in the next few days we'll be rolling out some information and guidance along those lines."