DENVER — As the debates begin in the race for Denver City Council in District 10, an incident Monday night caught the incumbent off guard.
"The importance here is to not focus entirely on what went wrong, but to learn from it and to make sure that the next time it's right," said District 10 councilmember Chris Hinds.
Hinds and his team claim that debate organizers at a venue on Feb. 13 made him get out of his wheelchair and crawl onto the debate stage, because there was no other way to access it. Hinds said the venue initially proposed lifting his chair onto the stage.
"Lifting me up is not in certainly in the spirit of ADA. Certainly not in the spirit of the disability movement either," he said.
Even so, Hinds hopes that what happened to him acts as a teaching moment.
"And I believe it's my obligation to speak up for my community, because if I don't, who will," he said.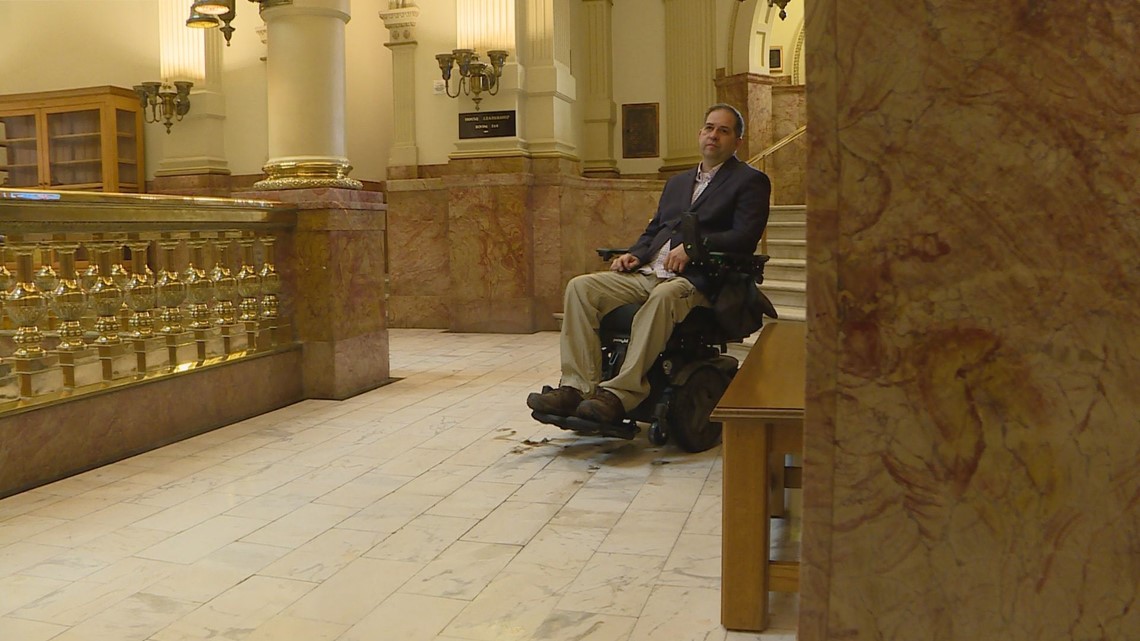 On the afternoon of the debate, Hinds said he arrived just a few minutes before the start time, which was 4 p.m.
He said he spoke to an employee with the venue who did not know that he used a wheelchair, and later said another person with the venue told his staff that they knew he was in a wheelchair.
"...and they were planning to just lift my chair up on stage," he said, calling it 'insulting,' and added that such a task would prove to be extremely difficult, since the chair itself is several hundred pounds.
"And they came up with a suggestion ... they were asking me to get out of my chair, and just rest on the stage because then the wheelchair would be lighter by my weight. So, I did that," he said.
An attendee captured the moment and posted about it on Twitter.
"I was just in shock. I didn't really know what was, you know, how to how to handle the situation. I certainly was rattled," Hinds said.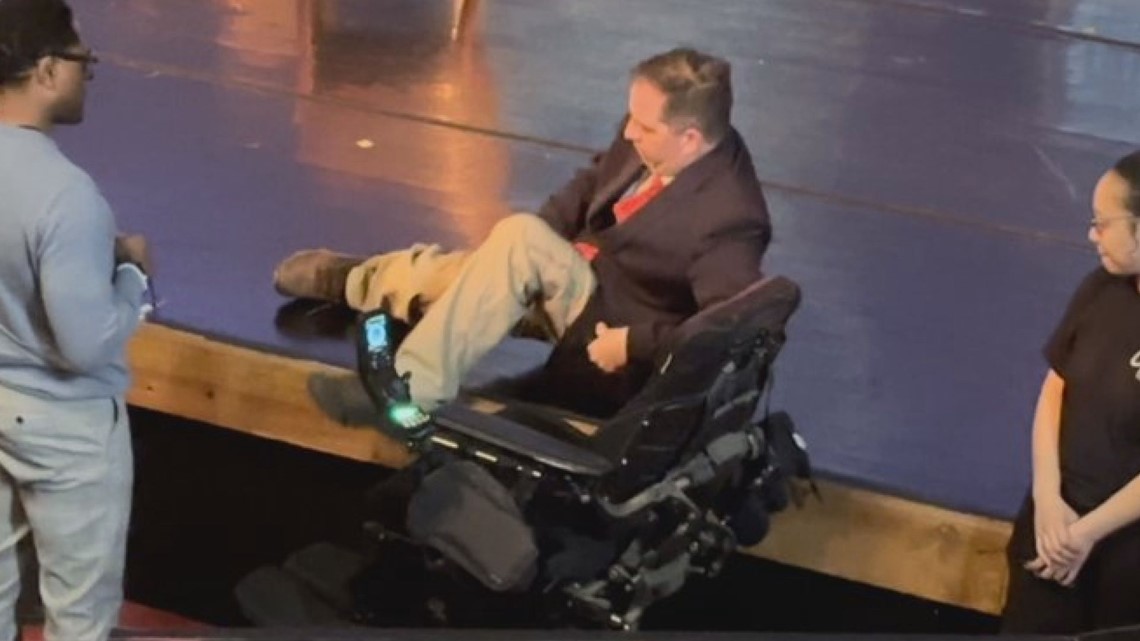 The office maintained that sponsors coordinated with candidates for any pre-planning, format, and logistics. In order to be sanctioned, debate sponsors were required to fill out an application stating that they meet basic requirements including ADA accessibility, the office explained.
"For the District 10 debates, Cleo Parker Robinson Dance and the Upper Downtown Neighborhood Association submitted applications and were approved," a statement from the office read.
In Hinds's case, he says pressure to do the debate played a role in his decision to get out of his chair and crawl onto the stage.
He claimed that his team was told a few days prior to either participate in the debate on Monday or forfeit all of their Fair Elections Funds. He said the ultimatum was made over a phone call.
He also claimed that most of his campaign's funding comes from the Fair Elections Fund, which is a voter approved $8 million fund, from Denver's general fund, to match donations for candidates running for Denver mayor, city council, auditor, judge, and clerk & recorder. Candidates receive a 9x match for donations up to $50. It's true that most of Hinds's campaign funding comes from the FEF.
A spokesperson for the Clerk and Recorder's Office says that all candidates were told in multiple communications that as part of their legal qualification for the Fair Elections Fund, they are required to attend the debates sanctioned for their race.
"The debate obligations for each race were made available beginning in December. If a candidate doesn't meet this or any other legal qualification for the Fund, they would be required to return remaining matched funds," the spokesperson said via email.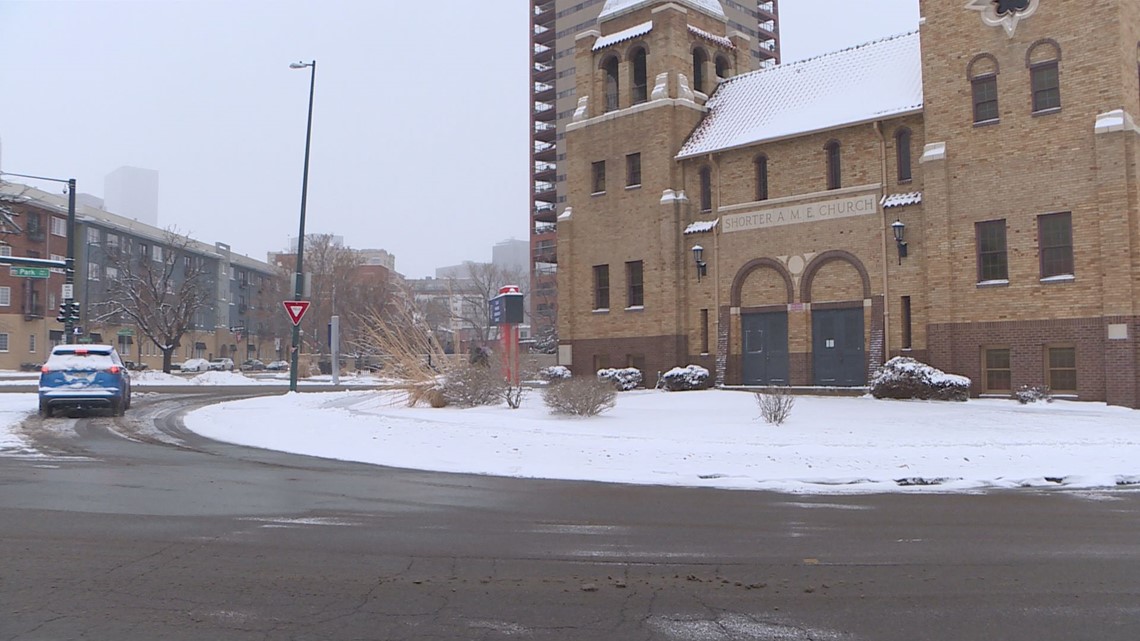 Meanwhile, the venue also responded to what occurred They said in a statement that "...there were no requests for additional or enhanced accommodations. Three of the four candidates arrived 2.5 hours in advance of the event February 13, 2023, upon the CPRD event staff request. This enabled final adjustments and accommodations."
The dance school's executive director, Malik Robinson, said in part that their team develops short-term stage accommodations in advance of events.
"Our stage is home to performers of all abilities. We understand the stage limitations, and plan in advance necessary accommodations prior to events. We are working diligently on a long-term solution," Robinson said.
Hinds hopes it sheds a light on the lens shared by other government officials and leaders in the community.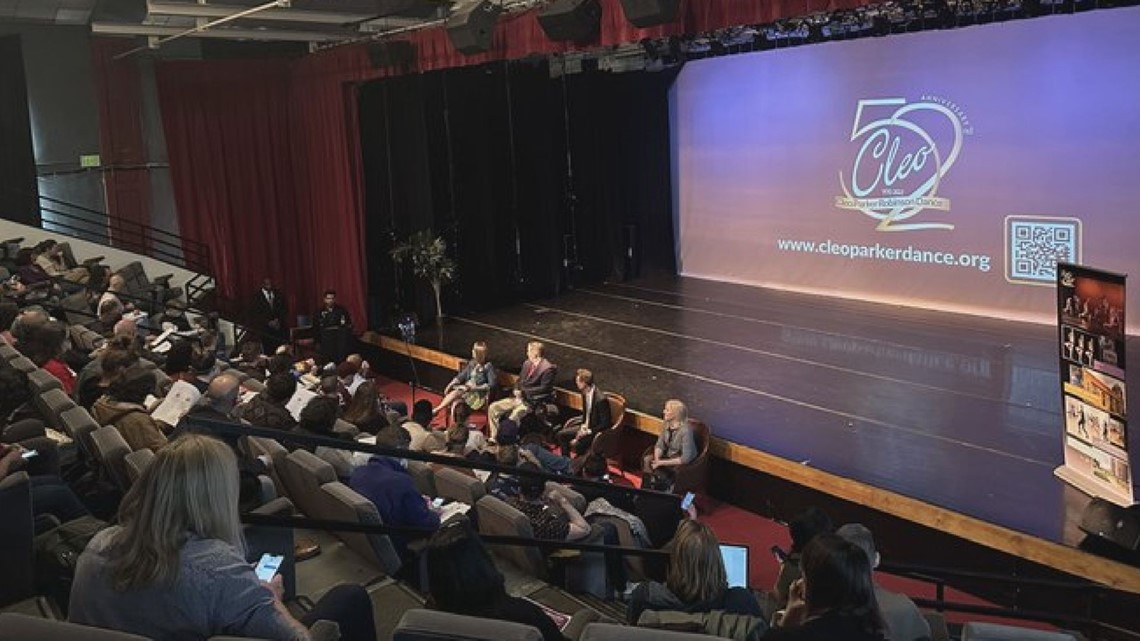 Colorado Democratic State Representative David Ortiz was the first state legislator elected to use a wheelchair.
His office has a special button to open the door to his office, but Ortiz acknowledges that it took a while for accommodations to come his way.
"I couldn't even do my job when I was first elected. The floor was not accessible. I couldn't even get on to the House floor," he said. "So, there was a series of renovations that they had to do just to make it possible for me to get to parts of the building and do basic parts of my job."
The barriers he faced, he said, led to conversations with colleagues.
"And I think the more that they see it, the more receptive they are to being an ally in the work and helping support the work," he said. "Why do you think that Chris Hinds is the first Denver City Councilmember? Why do you think I am the first state legislator that's a wheelchair user at the Capitol? It's not because people with a disability don't have gifts to offer and aren't hardworking. It's because of barriers around basic access around being able to do your job."
While he does now have access to a chair lift to get to the dais, he sees it only as a start.
"One of the many reasons I decided not to run for leadership like whip, for example, is how can I be in a leadership position even within this chamber if I can't even get everywhere in the chamber itself?" He said.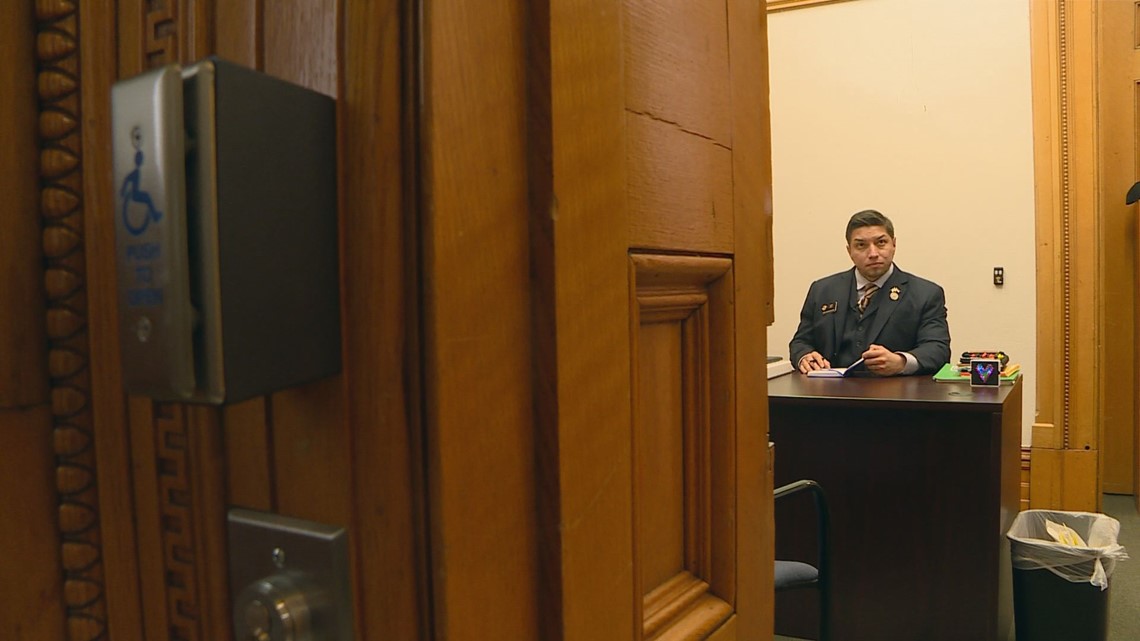 "There shouldn't be anything happening with government money or run by the government that's inaccessible," Reiskin said. "This needs to not be about one race and one person. This needs to be about who do we include and how do we how do we do events."