Most people who are arriving by bus are directed toward the city's intake center, which was set up prior to the influx the city is currently seeing. The intake center is designed to help people as they arrive to process them. A city staff member learns if a migrant plans to stay in Denver or leave to another destination.
They are also asked other information, such as if they went through a port of entry and encountered immigration officials. If they plan to stay in Denver, the city requires an A-number (received through immigration) in order to shelter them. Those without an A-number will be turned away from shelter in Denver.
In the past, the process has been relatively quick. As the city experiences a hundreds of migrants arriving at the same time, the intake center has become backlogged. Many people are waiting three days until they are seen by a city staff member.
In the meantime, they wait at the processing center out in a parking garage in downtown Denver. When they arrive, all of them are asked to put their names on a list so they can be seen in order.
Over the weekend into Monday, many were sleeping there as they waited to get to the front of the line. They are now being moved to a nearby church overnight and can return to the processing center in the morning.
"It's difficult, but what are we going to do? We don't have something stable. The shelter is full," said Maria, who arrived from El Paso. "Si, es dificil pero que vamos hacer. no tenemos algo estable. El refugio están lleno"
Maria is here with her husband and two children.
"I have been here for three days, sleeping here. They have a list where you put your name, your last name and the city where you are going," said Maria. "Ya tengo tres dias de estar aquí. durmiendo acá. Me han teniendo una lista donde pone tu nombre, tu apellido y la cuidad a donde vas."
Yoli Casas runs non-profit Vive Wellness. She combined her team with the team from Papagayo, another organization. Both have been serving migrants since they began arriving in December with different needs such as housing, shelter, food and educational programs.
"I didn't know that it was going to happen so soon. I was thinking it would be somewhere in June but we are not even at the beginning of May, so it is happening," said Casas about the recent increase in new arrivals.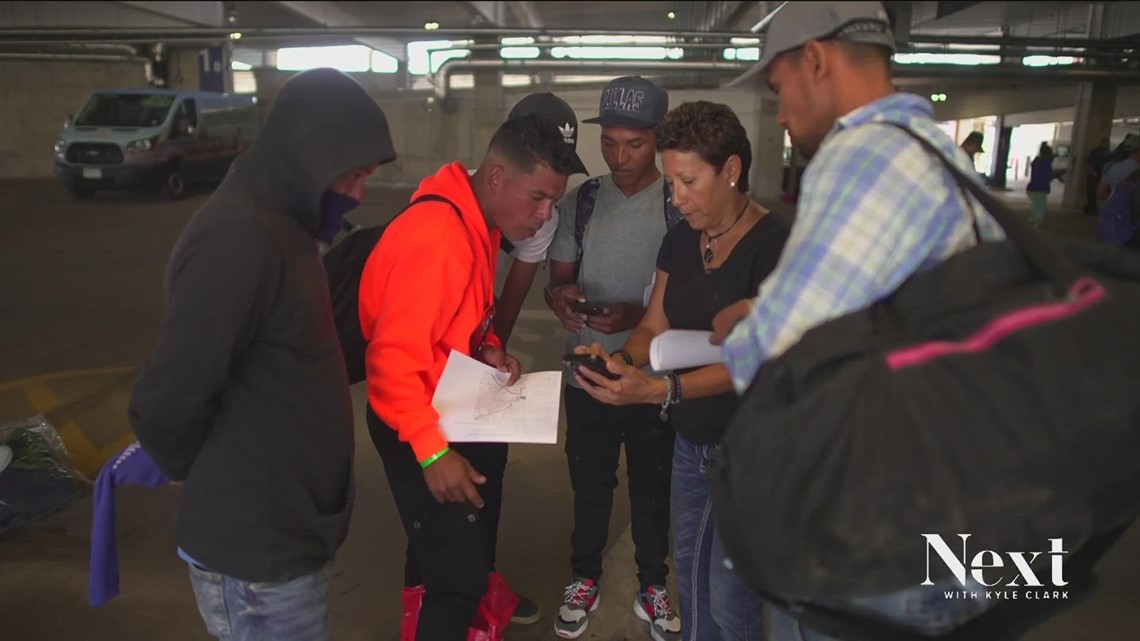 Casas has volunteers and staff members at the intake center, as well as other areas of the city when they arrive or leave.
"This is a place to come and stop. I think it's like the place to stop before you go. It's the place where people come knowing that maybe they will be safe for a little bit," said Casas, who says the majority of people are passing through Denver on their way to another city.
On Monday, Casas spent almost the entirety of her day speaking with people who were waiting in line.
"There are a lot of people, so it takes a long time to move," said Casas to a group of people were waiting in the backlog.
She spoke with several families with kids. She felt concerned about them being on the street and as a result, she decided to come up with a new plan. Instead of families like Maria's waiting in line like everyone else, she was able to help 11 families find a hotel room Monday night and a bus ticket for Tuesday or Wednesday.
"We are trying to move them as quick as we can," said Casas.
Maria's family was one of the 11 who finally, no longer had to wait in line.
"I feel more relaxed knowing that this is something more certain, that we will leave. I feel calmer," said Maria, after she learned of a new plan.
Vive Wellness is asking for additional volunteers. You can also donate as they continue to serve migrants here.