DENVER — As fans and media descend on Denver for the NBA Finals, they may spot one community's frustration with the city over their inaction in fixing a pedestrian bridge near Ball Arena.
Someone hung a cloth sign this week from the steel of an old railroad bridge where Delgany Street dead-ends next to the Cherry Creek. It read: "Fix Me, Fix Me, Fix Me Denver."
The bridge has been closed for about two years after rotting wood collapsed under someone's foot while they were crossing. The city said it was working to determine who owned the bridge. On Tuesday, a spokeswoman for Denver's Department of Transportation and Infrastructure said an extensive search by the city attorney and the city's division of real estate the city couldn't determine who owns the bridge.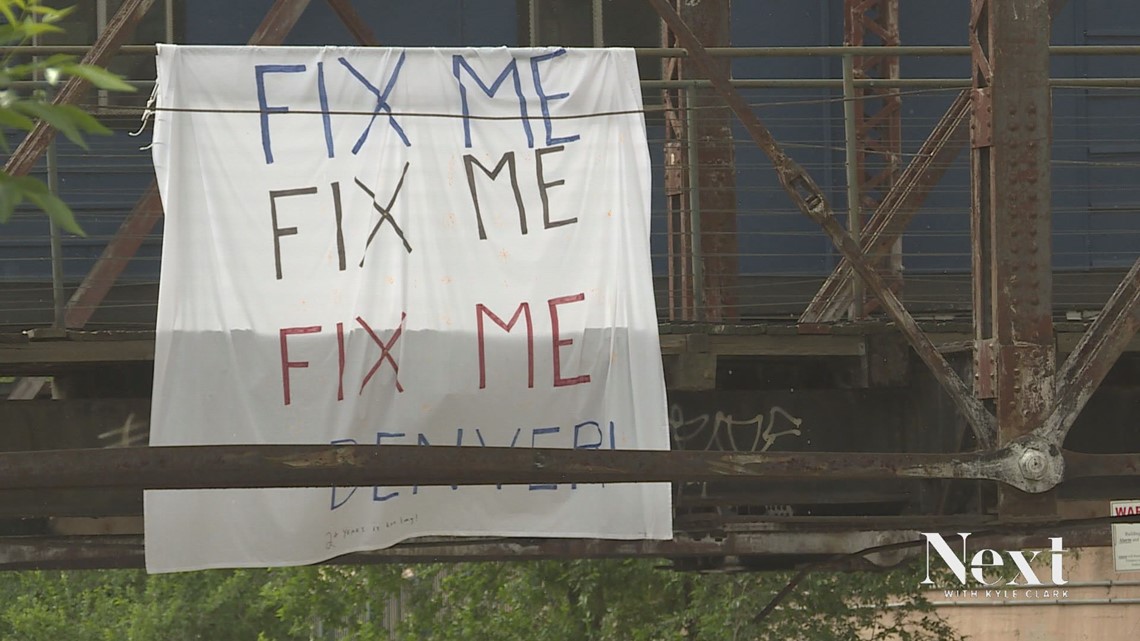 Andrea Kahn sits on the HOA board at the condo building next to the bridge. She told 9NEWS she didn't know who posted the sign. But she certainly agrees with the sentiment.
"If someone would fix it, we as a neighborhood would be glad to put their name in gold on the top of the bridge just because they fixed it," Kahn said.
Wednesday, one day after 9NEWS' story aired, city inspectors were at the bridge, saying it was a "routine inspection." The sign was removed.
By Thursday, a second sign took its place. It read: "Fix me! Denver I am broken."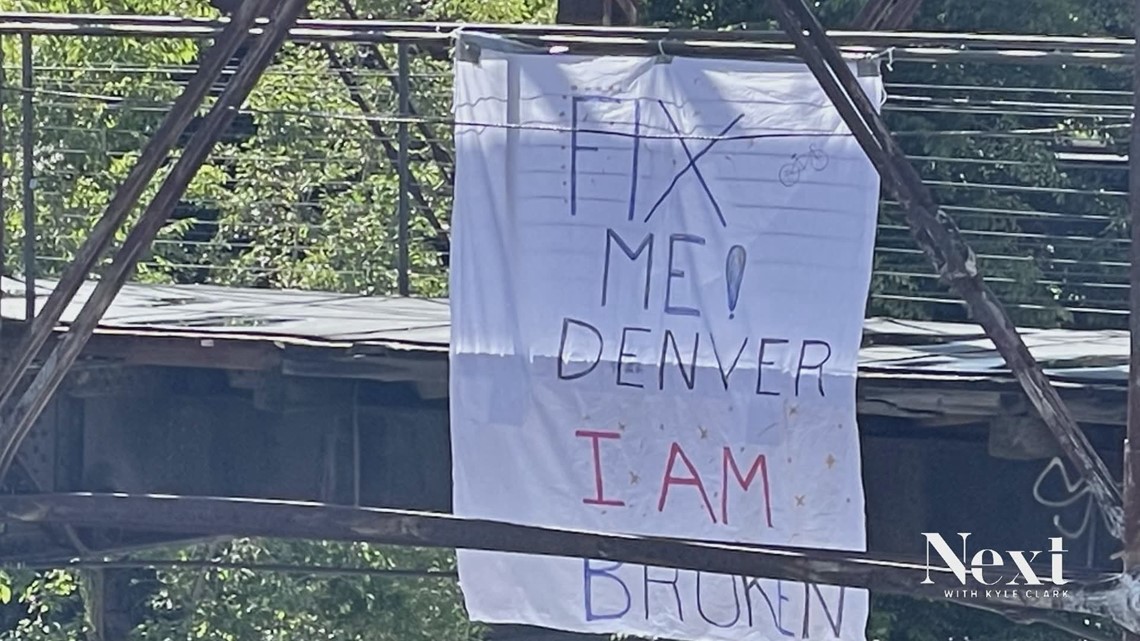 The old railroad bridge connects the neighborhood to a park on the other side of the river and connects downtown to Ball Arena.
"People have their wedding pictures on this bridge. People have high school pictures taken on this bridge," Kahn said.
On Tuesday, the city said an inspector would look at the bridge to determine what needs to be fixed and estimate a cost for repairs, but said funding for any repair work hasn't been allocated. But a spokeswoman said the city could seek a grant to do the work.
Current District 10 Councilman Chris Hinds, who is running for re-election for his seat, told 9NEWS he would offer to spend money from his district budget to hire a surveyor to determine the owner of the land. District 10 was redrawn to include this portion of downtown.
A lobbyist representing Kroenke Sports and Entertainment told 9NEWS KSE is aware that the bridge is closed and would like to see it repaired.
"I would like it fixed in my lifetime," Kahn said. "I hope it won't take that long. Because I'm planning to be kind of old."
Do you know who owns the bridge? Dish to 9NEWS reporter Steve Staeger by e-mail.
Every day, bridges hold us up. But who holds them up?