DENVER — It is a typical Colorado spring weather pattern.
With overnight temperatures in the 40s again, you might need the furnace to heat up your home overnight.
By tomorrow, when the temperatures hit the mid-70s, you'll be tempted to turn on the air conditioner during the day.
That decision, to cool your home, could cost more in September if Xcel Energy gets its request for a $312 million dollar electric rate increase.
The Office of Utility Consumer Advocate (UCA), the ratepayers' public defender, thinks that is $312 million too much.
"Well, we've proposed a reduction of approximately $27 million," said UCA Deputy Director Joseph Pereira. "Our office doesn't have a profit motive. And so what we're trying to do is get the most just and reasonable rates based on the evidence."
In March, we explained what happens with the electric rate case request and how you, as a ratepayer, can be heard on the issue.
The Colorado Public Utilities Commission (PUC) received dozens of emails following that story.
"No to this rate increase," wrote an Xcel customer from Thornton.
"Stop raising the rates," wrote an Xcel customer from Superior.
"Absolutely not. Hard no," wrote an Xcel customer from Aurora.
"No more increases. You are making record profits," wrote an Xcel customer from Arvada.
Rate cases are like a game of leapfrog, where Xcel seeks reimbursement for past expenses (investments) and build in costs for future expenses.
"What we've seen in this rate case is time after time the company is coming in, you know, 100-plus percent above budget. And that's a strong indicator that the company doesn't have a great handle on project estimation," Pereira said. "We've proposed that the company are disallowed some of these costs to bring some cost discipline and to bring some motivation to the company to do better in the future."
"We are committed to providing the safe, clean, reliable, and affordable energy our customers depend on, while aggressively moving forward with the investments needed to meet Colorado's energy goals. This rate review aims to align our customers' bills with the cost of service, and we believe this rate case accurately reflects this," an Xcel spokeswoman said in a statement. "As the rate case is still pending, we are unable to provide comments on the Utility Consumer Advocate's testimony prior to filing our response with the Public Utilities Commission. We ask for what we need to provide the safe, reliable service our customers expect. We do intend to file a rebuttal by the due date, May 31, and look forward to continued engagement and discussion with stakeholders as well as the commission."
As part of the rate case, Xcel is seeking a 10.25% ROE – return on equity. That is 10.25% interest on whatever it builds. Xcel, and other utility companies, can earn interest off infrastructure that the company builds.
Historically, Xcel (known as Public Service Company of Colorado in Colorado – PSCo) has earned much less than 10.25% ROE. It has not been that high since 2014.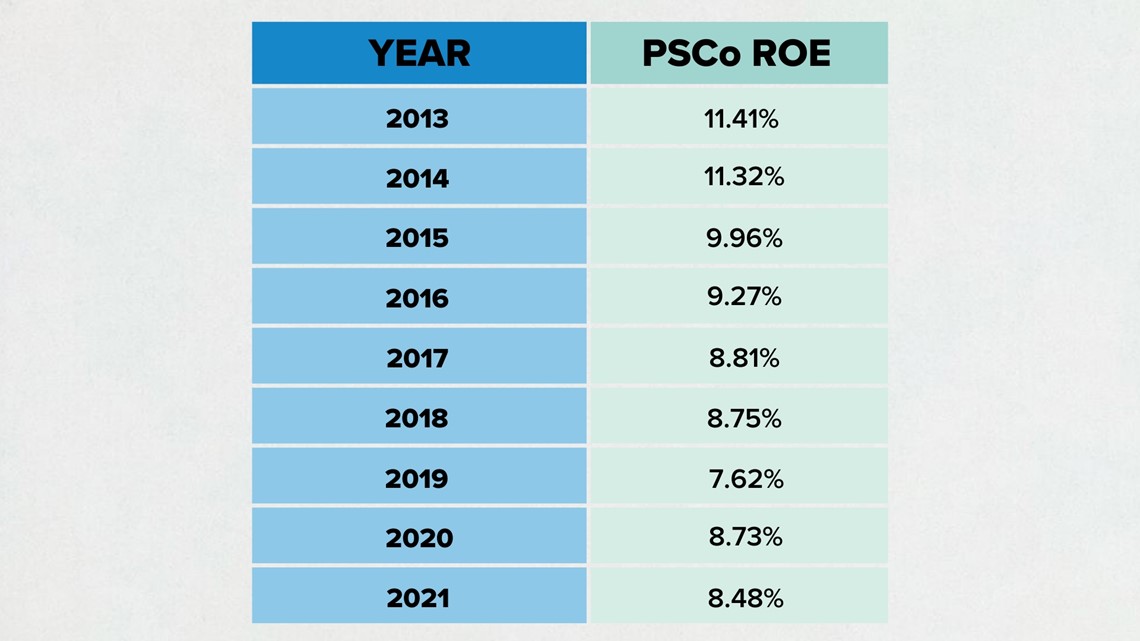 Xcel is seeking $312 million.
The staff that advises the PUC commissioners are recommending just $21 million.
The UCA believes rates should go down from where they are today by $27 million.
"Costs should be relatively flat moving forward for this utility," Pereira said.
Last month, the PUC rejected a gas rate increase request by Atmos Energy and instead approved a reduction of the gas rate.
Part of the reason the PUC staff is recommending just a $21 million rate increase is because Xcel previously increased electric rates 17 months ago.