You could see the pictures of Mickey and Purple's wedding and ask why anyone would want to get married while standing on rope about 400 feet above ground.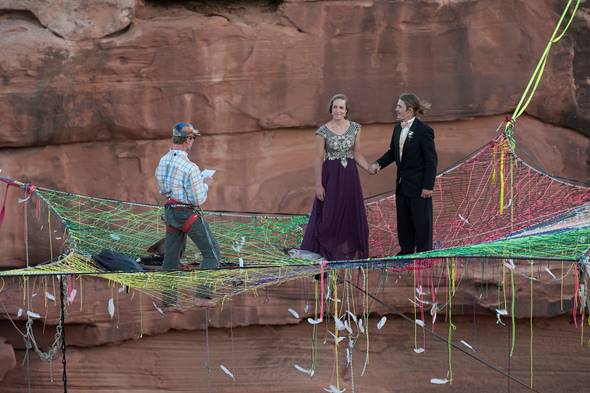 But Mickey and Purple would ask, why not?
Their attitude makes a lot of sense to anyone who knows them, and you may not realize that you actually do know Mickey.
Mickey Wilson is best known as the professional slackliner who was in the right place at the right time back in January. He watched as a friend-of-a-friend dangled lifelessly by his neck from a chairlift at A-Basin. The man was caught by his backpack strap. Wilson shimmied up a tower, scooted across the chairlift wire and cut the man free. The man survived with hardly any evidence of being hurt.
You can watch the raw video of that rescue here, in case you need a refresher.
Wilson described the experience to 9NEWS in perhaps one of our most epic interviews of all time.
Anyway, Wilson and Purple McMullen-Laird, his girlfriend of two years, were married on Saturday, in a wedding over a canyon in Moab, Utah.
"Both my wife and I are professional slackliners that have been traveling around the world and doing slackline shows and competitions. When I asked her to marry me, we both decided that we wanted to do it in a really special way that was unique and special to us," Wilson told Next.
Slackline Wedding
About 100 friends and family members gathered to watch the ceremony. They stood on the sides of the canyon to watch the wedding happen on a neon-colored net, which the couple and their friends made themselves.
"We basically asked one of Purple's slackline mentors, who also happens to be a minister – he's a minister and he highlines – and he taught Purple a lot of what she knows. We asked him to be our officiant, and so basically, he walked the slackline out to the net, then I walked a slack line out to the net,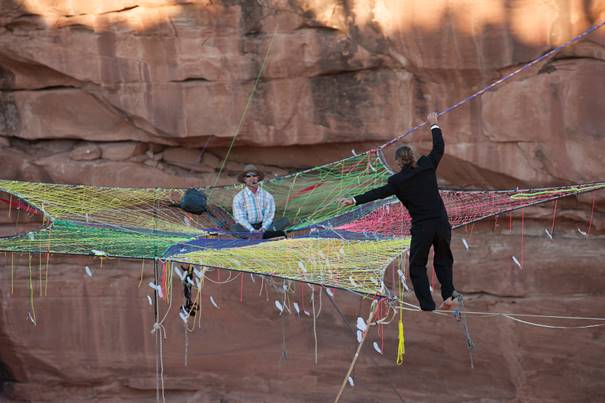 and then Purple walked the slack line out to the net.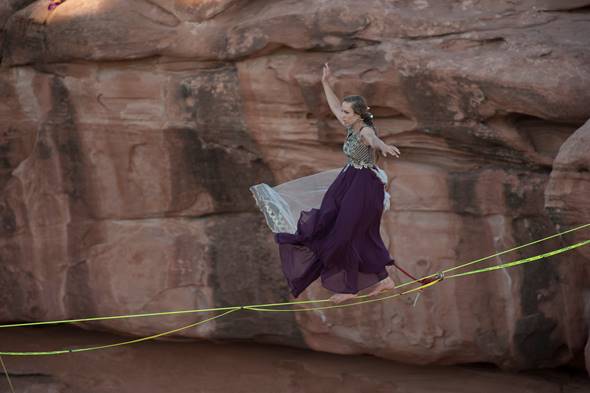 Tim married us, and then we jumped through a hole in the net to a rope swing that was about 200-feet-long. Took a big swing through the canyon, literally taking the plunge."
Friends who stayed late after the ceremony were allowed the use the swing if they wanted to, too.
Wilson says they didn't spend much money, and they were able to use a lot of equipment they already had.
"One of our good friends said that we threw – he said that the wedding culture is getting in sane. People are spending too much on weddings and all this, and we just flipped the wedding culture on its head by doing this," Wilson said.
Mickey and Purple called us from the airport in Los Angeles to give us the details. They were headed to Hawaii on their honeymoon. They used the tickets Mickey received from Ellen DeGeneres when he appeared on her show, talking about the rescue.