A new poll in the race to try to unseat Republican Sen. Cory Gardner just revealed some surprising results for someone not even in the race.
Not former Gov. John Hickenlooper.
Not Congressman Joe Neguse.
Not Congressman. Ed Perlmutter.
None of them were included in the poll.
Recently-elected Democratic Secretary of State Jena Griswold was included in the poll and finished second.
Andrew Romanoff - 23%
Jena Griswold - 15%
Mike Johnston - 12%
Alice Madden - 2%
John Walsh - 2%
Dan Baer - 2%
Other candidate - 2%
Undecided - 42%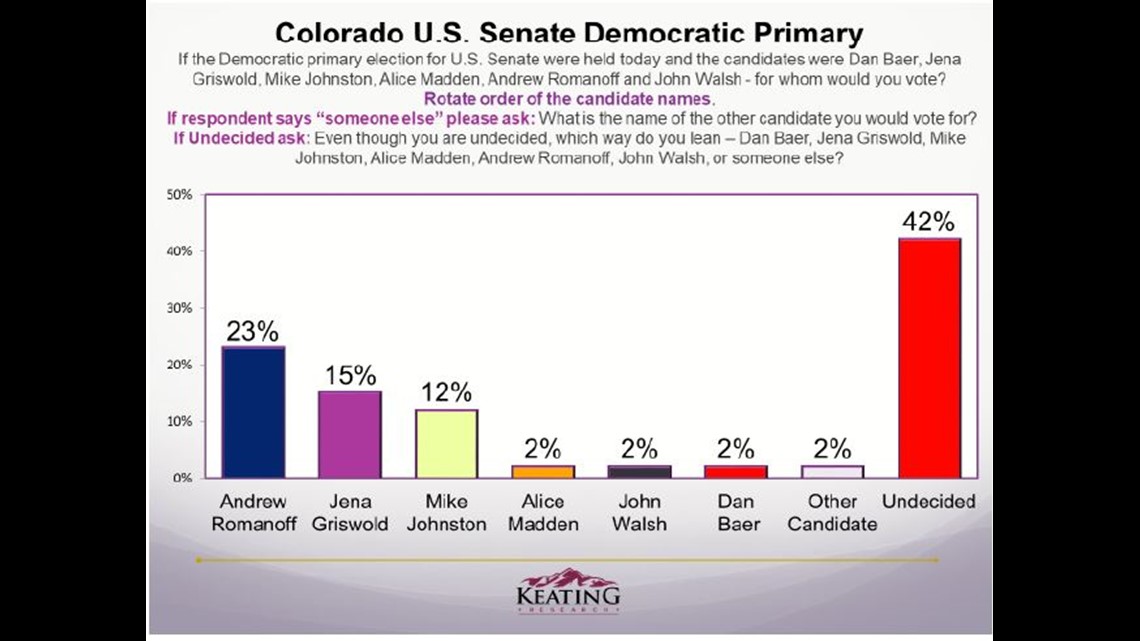 Hang on, Griswold isn't even a candidate.
"Given regularly reporting on the prospects of whether or not Secretary of State Griswold would run, we included her name," said Curtis Hubbard, from Onsight Public Affairs, who partnered with Keating Research to do the Democratic poll. "Given the, sort of, regular denials from Gov. Hickenlooper on his interest in running, we decided not to include his name."
The poll was conducted from July 1 to July 3 and included about 350 Democratic voters and 150 unaffiliated voters. Of those who participated, 60% were on a cell phone and 40% were on a land line.
The margin of error is +/- 4.4%.
If the poll included Griswold, why not Hickenlooper anyway?
"He's his own universe and it doesn't take a poll for us to know that if John Hickenlooper got into the U.S. Senate race, he would poll significantly higher than all of these people," Hubbard said.
He said to the best of his knowledge, the poll was not done on behalf of Griswold.
"This poll was done on behalf of a PAC that is looking at Colorado and other states that are highly targeted," said Hubbard.
That PAC is "Next Senate PAC," a political action committee that was created in June.
According to the campaign finance records for Next Senate PAC, seven people -- all in Colorado -- contributed $24,500 to Next Senate PAC. Of the seven, six of them contributed to Griswold's Secretary of State race.
Keating-OnSight provided the data from the polling.
In that data -- which looks like a hard to read excel file -- there is a column entitled "Swich to Jena." Yes, it said "swich" and not "switch."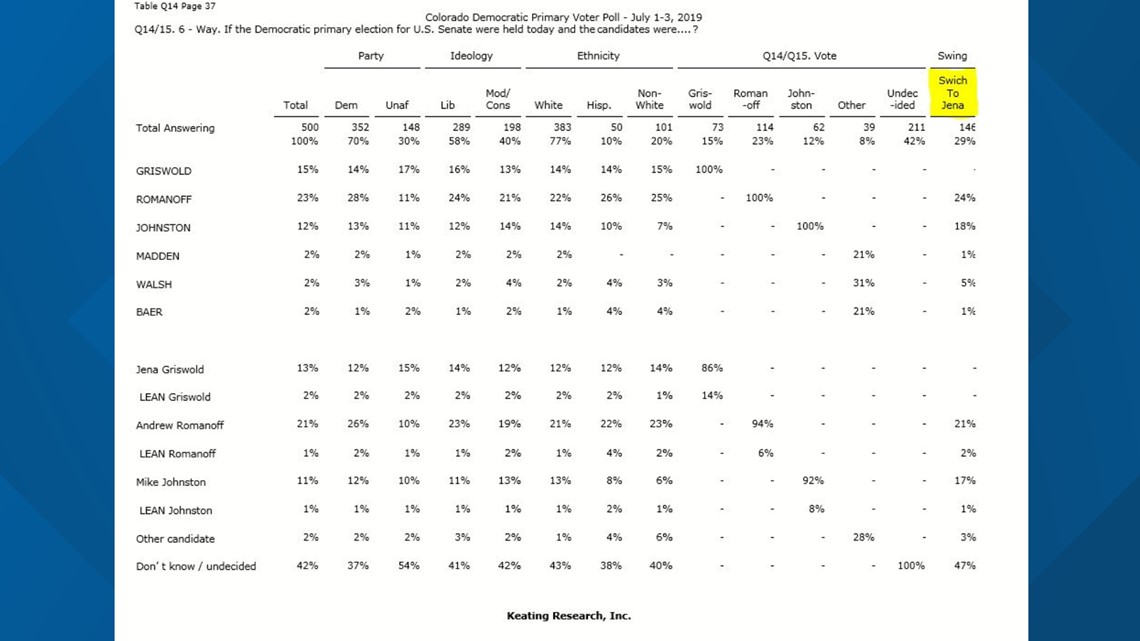 A pollster who spoke with Next said that a column like that would imply that there was specific information told about Griswold and then the person being polled would be asked if they would switch to Griswold from the candidate they first said.
When asked about that column, Hubbard provided a statement on behalf of Next Senate PAC.
"Colorado is our top priority race and, in commissioning this poll, we asked that Secretary of State Jena Griswold's name be added," said Tim Howard, executive director of the Next Senate PAC. "As we suspected, Griswold would be a strong candidate against the Democratic primary field. Additional questions were asked to measure candidate strengths and weaknesses as we devise our strategy to defeat Sen. Gardner in 2020."
A Tuesday afternoon phone message left with Chris Griswold, Jena Griswold's Secretary of State campaign manager, was not returned as of Tuesday evening.