DENVER — A truck driver has been charged with more than 40 counts in wake of the deadly crash that occurred on April 25 in the eastbound lanes of Interstate 70.
Rogel Lazaro Aguilera-Mederos, 23, told investigators that his brakes failed just before the crash, which involved 28 vehicles and left four men dead. Ten other people were injured, two of them seriously.
This crash and the subsequent investigation have prompted many questions in the community. Here's what we have learned so far.
PHOTOS | A look at the aftermath of the fiery I-70 crash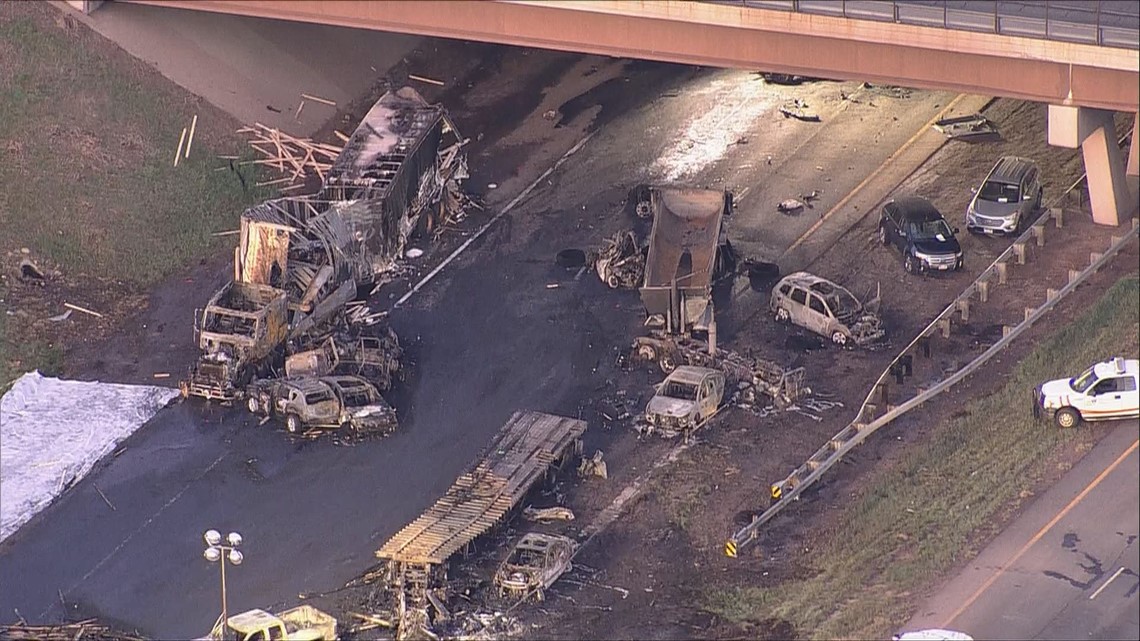 Who were the victims?
Four men were killed in the crash:
Doyle Harrison, 61, of Hudson, Colorado
William Bailey, 67, of Arvada, Colorado
Miguel Angel Lamas Arellano, 24, of Denver, Colorado
Stanley Politano, 69, of Arvada, Colorado
What happened?
Police said Aguilera-Mederos was driving a semi-truck eastbound from the mountains of I-70 when he struck the back of stopped traffic near US 6.
He told investigators that his brakes failed prior to the crash, and he noticed his speedometer showed 85 as he approached the stopped traffic, according to the arrest affidavit in the case. Aguilera-Mederos said he noticed another semi-truck on the shoulder, and because of it, he decided to swerve back toward traffic.
His semi-truck was destroyed in the crash, and District Attorney Pete Weir said there's no possibility of a mechanical inspection because of it.
Aguilera-Mederos' attorney called the crash a "terrible, terrible tragedy."
What do we know about the trucking company?
9Wants to Know has learned that Aguilera-Mederos was driving for Castellano 03 Trucking LLC, which has a history of safety issues with at least 10 violations for brake problems.
At this point, the trucking company has not responded to 9NEWS requests for comment.

Was there a runaway truck ramp?
Two witnesses interviewed by law enforcement said they noticed Aguilera-Mederos' semi-truck speeding past them near the Buffalo Herd Overlook near Lookout Mountain just before he plowed into traffic, according to the arrest affidavit in the case.
Video provided by the witnesses show the semi-truck ignoring the ramp.
Why doesn't video of the truck before the wreck show the brakes smoking?
Colorado State Patrol says with complete brake failure, you can't see smoke at all. However, it's important to note that investigators have not confirmed this is what caused the crash.
How many trucks have had to use Colorado's runaway truck ramps?
According to the Colorado Department of Transportation, there are 13 runaway truck ramps in the state of Colorado.
Data is only available for one of them: Lookout Mountain, the same ramp that Aguilera-Mederos is accused of skipping.
According to CDOT, nine trucks have used that ramp since 2016. The most heavily used are the ones west of the Eisenhower Tunnel.
According to Steve Carver with Big Steve Towing in Gypsum, it takes around four hours to take a truck off of a ramp, and costs around $2,500 – but it could be more if the wreck is bigger and involves a rollover.
Why are the signs for runaway truck ramps only in English?
Multiple 9NEWS viewers asked this question. Aguilera-Mederos is from Cuba, and the Lakewood Police Department had to ask a translator to help interview him.
The Colorado Department of Transportation said its engineers will look at multiple factors in moving forward following this crash, including bilingual signs on the highway. The concern, however, is that this could create a distraction and cause drivers to look away from the road to read them.
Do you need to speak English to get a commercial CDL?
Federal rules require anyone with a CDL in the U.S. to know how to read and speak English sufficiently enough to understand highway traffic signs and signals.
There are eight written tests to get a CDL, and seven are offered in English and Spanish in Colorado.
If federal law requires drivers to speak English, why are the tests administered in Spanish?
In addition to the eight written tests, the Colorado Department of Motor Vehicles says drivers have to pass a road test which is only offered in English.
The driver must be able to read and understand the road signs in English – which is required by federal regulations.
A third-party company does those road tests in Colorado and the state certifies and audits the results.