DENVER — Former rivals become new allies in their attempt to unseat two time incumbent Mayor Michael Hancock in the June 4 runoff election.
Hancock received nearly 40% of the vote in the May 7 election, with Jamie Giellis finishing second with almost 25%.
Because none of the candidates won a majority (50% plus one vote), the top two candidates go onto a runoff election.
On Tuesday morning, the third and fourth place candidates, Lisa Calderon - 19% and Penfield Tate - 15%, stood with Giellis at a news conference showing a united front.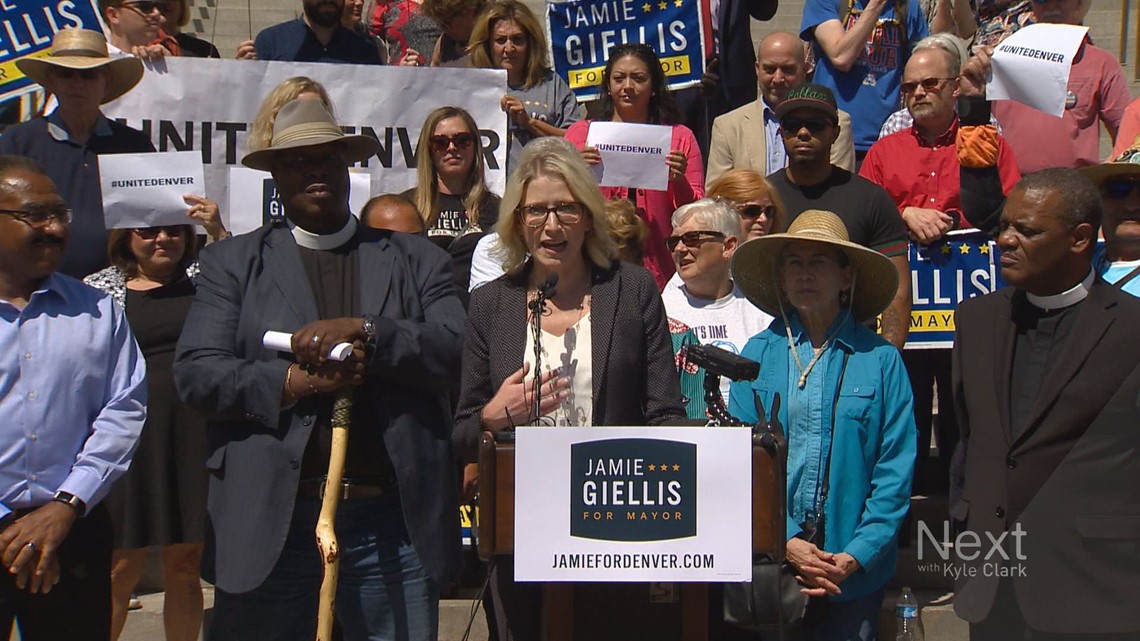 "I do not make this decision lightly," Calderón said. "Waiting out a term-limited incumbent will result in irreversible harm to communities at high risk for displacement."
A central tenant of Calderón's policy goals if she'd been elected mayor would have focused on affordable housing and gentrification.
"Endorsing Jamie Giellis was the most appropriate path for me," Tate said. "Together, we will bring experience, expertise and equity to the billion-dollar infrastructure projects that will define our city for generations to come."
Tate called for more transparency in city projects during his campaign.
In a group interview for Next with Kyle Clark, the trio of Giellis, Calderon and Tate said no one was promised anything for their support.
"We weren't promised anything for our support, other than integrating our platforms together," said Calderón.
"I don't have any expectations at all. When I ran in 2003, I endorsed (John) Hickenlooper, I co-chaired his transition team and never took a job in the administration," said Tate.
"I expect that we're going to work together as we go forward, win this election, through (the) transition, and then I hope they'll be a part of changing the city going forward," said Giellis.
During the 9NEWS mayoral debate in April, both Calderón and Tate did not say they would vote for Giellis if the runoff was between her and Hancock.
"Of course I wasn't on board and I had reservations initially because we ran against each other," said Calderón. "It wasn't 'anybody but Hancock,' it was let's make sure that whoever it is was reflective of the values and views I care about. I didn't just want to throw my endorsement as a protest vote against Hancock. I want it to be meaningful and move our city forward."
Giellis said she called both candidates on Election Night, but neither answered immediately.
"Kind of like Lisa said, I took a couple days just to reflect. I had to sit down with my staff, it's an emotional time, it's very frustrating, there are tears and there is anguish and there's angst, so it took a few days for me to get back to Jamie, but I got back to her," said Tate.
The trio is planning to host a series of events citywide before the next election, the release said. Details on those events are expected soon, but the group outlined their focus, partly, as such:
—end homeless sweeps
—end the camping ban
—protect and expand greenspace
—reform contracting for public infrastructure projects
—bring the Globeville/Elyria-Swansea neighborhoods to the discussion about the issues in their community
—reform the Office of Economic Development
On Monday,Hancock hosted a rally featuring prominent community leaders that supported him in his reelection bid.
Over 20 prominent judges, politicians and other community leaders were on hand to give their support.
Hancock has several key proposals he promises to focus on during his third term, including (among others):
—stabilize people experiencing homelessness
—more affordable housing
—address climate change
—ease traffic congestion
—preserve neighborhoods and parks
The May 7 results will be officially certified May 16.