A computer upgrade has led to additional transparency that reveals more about your vehicle registration fees in Colorado.
When DMV computers were upgraded earlier this year, they allowed for a line-by-line description of what you pay to register your vehicle. Before the upgrade, you saw a lump sum.
"We got a new car, and I went to pay a new registration and it was $750," said Aurora resident Eric Casebolt. "There was a lot of various fees on there that didn't really make a lot of sense. I guess it makes me a little more concerned, seeing exactly what that money is going for."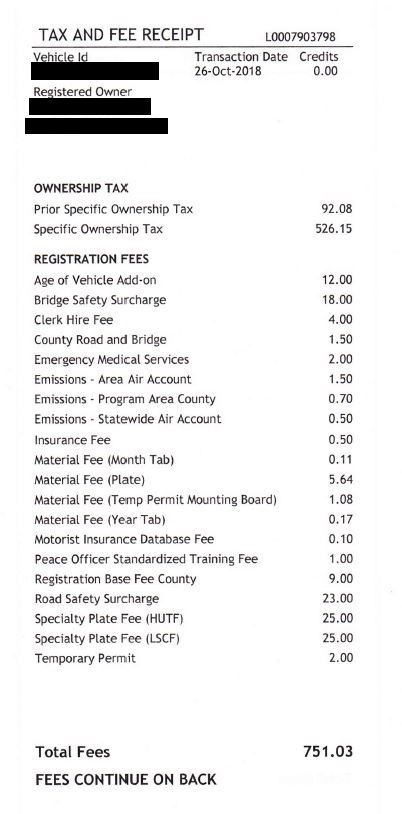 "Bridge safety. Road safety. Recently we had those on the ballot and they were declined, but then these appear, and I don't remember approving any of this stuff," said Casebolt.
Depending on the weight of your vehicle, the "Road Safety Surcharge" is between $16 and $39, and the "Bridge Safety Surcharge" is between $13 and $32. Those two fees were added by the state legislature in 2009 to fund road and bridge repair, and since then, vehicle registration fees have provided $1.3 billion in road and bridge funding.
"They're not paying more registration fees than they're used to," said Arapahoe County Clerk and Recorder Matt Crane. "We used to take complaints before because people wanted to know why their fees were so high and where it went to, so now when the state provides the transparency of what the fees go to, now we get more questions from people who are like, 'What is this? Why am I paying for this?'"
One of those other fees includes the $4 "Clerk Hire Fee."
"That's a fee that all counties collect for every transaction, and that fee stays with the county to help counties pay for staff, supplies, those types of things," said Crane.
Drivers also pay 11 cents for the month sticker they have to put on their car the first time they register, and 17 cents for the year sticker.
"I never knew that either," Casebolt laughed.
If you get a specialty plate, you might also have to pay a fee that funds a specific cause.
For instance, the "Adopt a Shelter Pet" license plate requires a fee for the plate and another to fund the "Pet Overpopulation Fund." The pink breast cancer plate requires a fee for the plate itself and another to fund breast and cervical cancer prevention treatment.
Casebolt had two $25 fees for his U.S. Army specialty plate.
"That's an optional fee, so those make sense to me," he said.
So there you have it: your fees didn't change, but the amount of transparency did.