NEWARK - President Donald Trump's endorsed candidate appeared to eke out a win in an extremely tight central Ohio race in Ohio Tuesday – but it should have never been this close.
Trump's name wasn't on the ballot in the reliably Republican district, but his brand was. Trump repeatedly endorsed Republican state Sen. Troy Balderson over Democrat Danny O'Connor, a county elected official, to fill the remaining months of former U.S. Rep. Pat Tiberi's term.
Trump flew into Ohio Saturday to campaign for Balderson in a crowded, overheated high school gymnasium. "(Balderson)'s really tough. He's really smart. He never stops working," Trump said of Balderson, a former Ironman race competitor. "It's Ohio's 12th district, and he's going to hopefully be here a long time."
The message was clear: a vote for Balderson was a vote for Trump.
And it seemed to work, according to unofficial results. With 100 percent of the vote in, Balderson led O'Connor 50.2 percent to 49.3 percent. The margin was just 1,754 votes.
Trump immediately took credit for the victory, tweeting "after my speech on Saturday night, there was a big turn for the better."
Balderson thanked the president during his brief victory speech. "America is on the right path, and we're going to keep it going that way," he said.
The race had not been officially called by any news organizations, and O'Connor had not conceded as of late Tuesday. "We are in a tie ballgame, and you made this possible," he told supporters Tuesday night.
Thousands of voters remain to be counted: 3,435 provisional ballots and 5,048 outstanding absentee ballots, according to the Ohio Secretary of State's office. Local boards will start counting these ballots on Aug. 18 and must finish by Aug. 24.
If the margin is within 0.5 percent at that point, an automatic recount is triggered.
With such a close race, the "blue wave" wasn't crushed – but it might be dampened. Republicans proved they could hold on to a reliably GOP seat in the face of Democratic enthusiasm. It's an encouraging sign for GOP candidates headed into November elections where control of the U.S. House of Representatives – and the Republican agenda – will be in play.
But Tuesday night was more of a sigh of relief than a victory cry.
The district – which runs from Columbus' northern suburbs to affluent Delaware County and east to the foothills of Appalachia – has been represented by Republicans for decades. Before Tiberi, Gov. John Kasich held the seat, which has been redrawn to assure GOP dominance. Registered Republicans outnumber Democrats 2-to-1.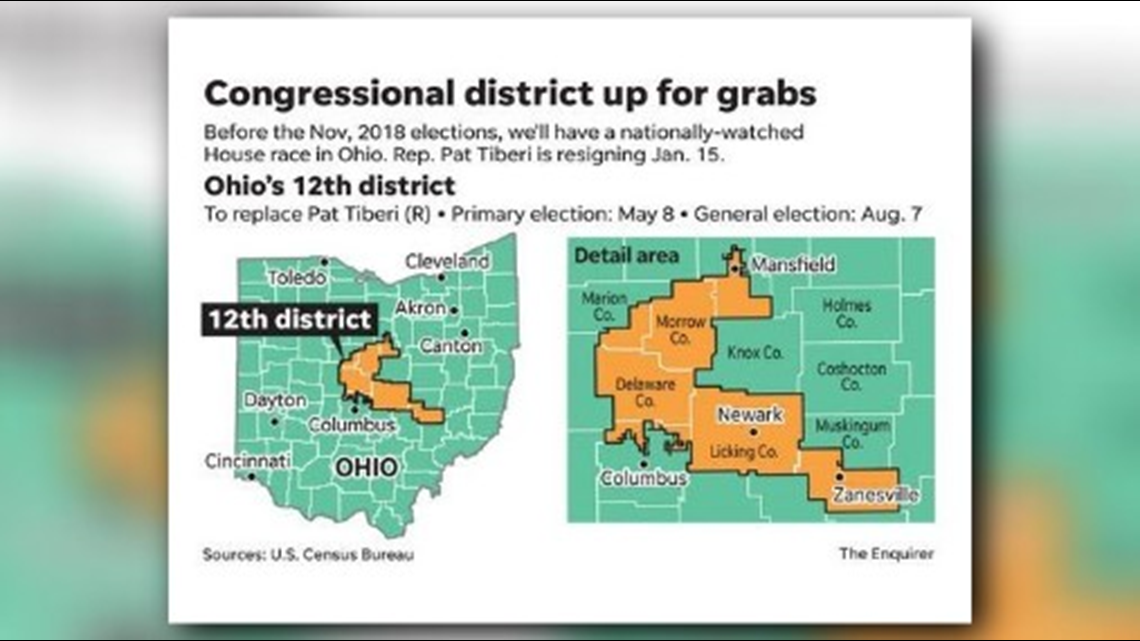 Despite this, O'Connor kept the race close.
President Trump loomed over the race and weighed heavily in some voters' decision Tuesdays.
Patricia Hughes, 61, of Newark, said she voted for O'Connor, in part, to stave off Trump.
"Absolutely," she said. "I wouldn't invite (Trump) to my home for dinner."
George Collmer, 72, of Marion, voted for Balderson to keep Trump's agenda intact.
"I think the country's going a better way right now," Collmer said.
After the nail-biter, O'Connor and Balderson will be back on the campaign trail tomorrow. They will face off again in November for the next two-year term. The electorate will be much easier to predict, and that bodes well for Balderson.
Kent Mallett and Sarah Volpenhein contributed reporting.