OLATHE, Colo. — Hot summer days and cool summer nights – it's part of the magic that happens behind the delicious sweet corn grown in Olathe located on the Western Slope of Colorado – but this year's harvest is not as magical as years past.
A destructive worm is wreaking havoc on Colorado crops. It's the corn earworm. The worm along with climate and environmental changes in the area have created a "perfect storm" that destroyed crops.
Every day but Sunday, you can find John Harold walking, looking and searching for this insect invader in his sweet corn fields on Tuxedo Farms.
He has two ways to see if the worm has infected the sweet corn. "Open the ear or there's another method we use," said Harold. "It's called the pull the silk." If Harold finds evidence of the worms in the ears of corn, that patch can't be picked – they are already infested with worms.
Harold inspects the damage. "So you know good and well the worm has been in there eating," said Harold. He points out pieces of silk that have been chewed on. "There's the damage, you can see the silks and how much they ate off of them."
Before anyone else could get a bite, something else got to his sweet corn.
This year, Harold will harvest about half of his crop of Olathe sweet corn. Usually, he harvests 600,00 boxes, but this year he's hoping to do half that. And while he has insurance, he can't cover the cost of his icing facility and pay for his labor.
"It seems like such a small thing," he said. "Yeah, but he'll grow into a fishing worm. He'll grow into a pretty good-sized worm. That worm is probably eight or nine days old...hope he dies somewhere."
The insect's invasion started months ago – strong winds bringing moths and other environmental problems.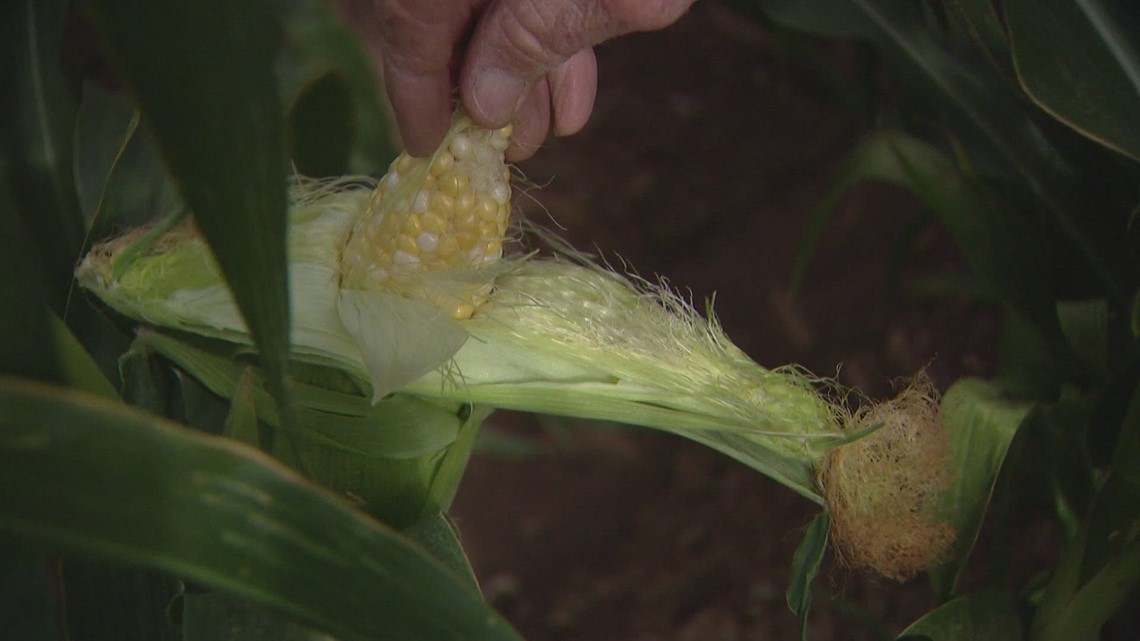 "The moth comes in and lays its eggs in the silk of the corn, the egg hatches, becomes a worm that nibbles on the corn," Harold explained.
That's why Harold walks the fields before he picks. "As far as being good to eat – great flavor, nothing wrong with it," as he takes a bite. "Needs another day or two to get really ripe, but that's the dilemma – rather than harvesting corn, you have to grade the corn in the field, that slows us down by 70% and we just can't keep up."
He said the worms have attracted birds, too, and said it's like nothing he's ever seen before. There are only weeks to find the good stuff – the stuff that passes federal inspections.
"The Kroger company understands the value of the Olathe sweet corn, but by the same token they can't leave empty shelves," explained Harold. "And they can't plan because of the difficulty we're having. In a nutshell, it's pretty close to a disaster."
In the meantime, his farm workers need to be paid, customers are waiting and so far, nothing can stop the worms.
He is hoping agriculture experts will give them some new ideas on controlling the worms and spraying for pests. He is very concerned about the impact this is having on not only all the sweet corn farms but other crops as well.
She explained they see the corn earworm every year, but typically it arrives during the harvest time when they're able to get ahead of it. This year the worms showed up earlier, in June and July.
Schreiner is in the field every day working as a researcher to help farmers find ways to control the pests that are attacking their crops. She said it's not clear where the moths that lay the worm eggs are coming from this year, but it is a national problem and it impacts far more than corn.
The worms also invade tomatoes and cotton fields. Schreiner said the worms have become resistant to insecticide and because of the climate changes they are arriving months early and impacting farmers nationwide.
After 82 trips around the sun, Harold, a veteran farmer, knows some years for crops are better than others. For him, sweet corn isn't just seasonal, it's an investment.
"But really in a business sense, realistically you have to look at the cost, this stuff costs when it's said and done," he said. " A thousand dollars an acre and you lose 700 acres, it doesn't take a genius to figure out that's probably not something you want to do very often."