Moms who microdose mushrooms say it's led to improved mental health
As Colorado works on rules for decriminalized psilocybin, those who use magic mushrooms for mental health tell their stories. One doctor shared what you should know.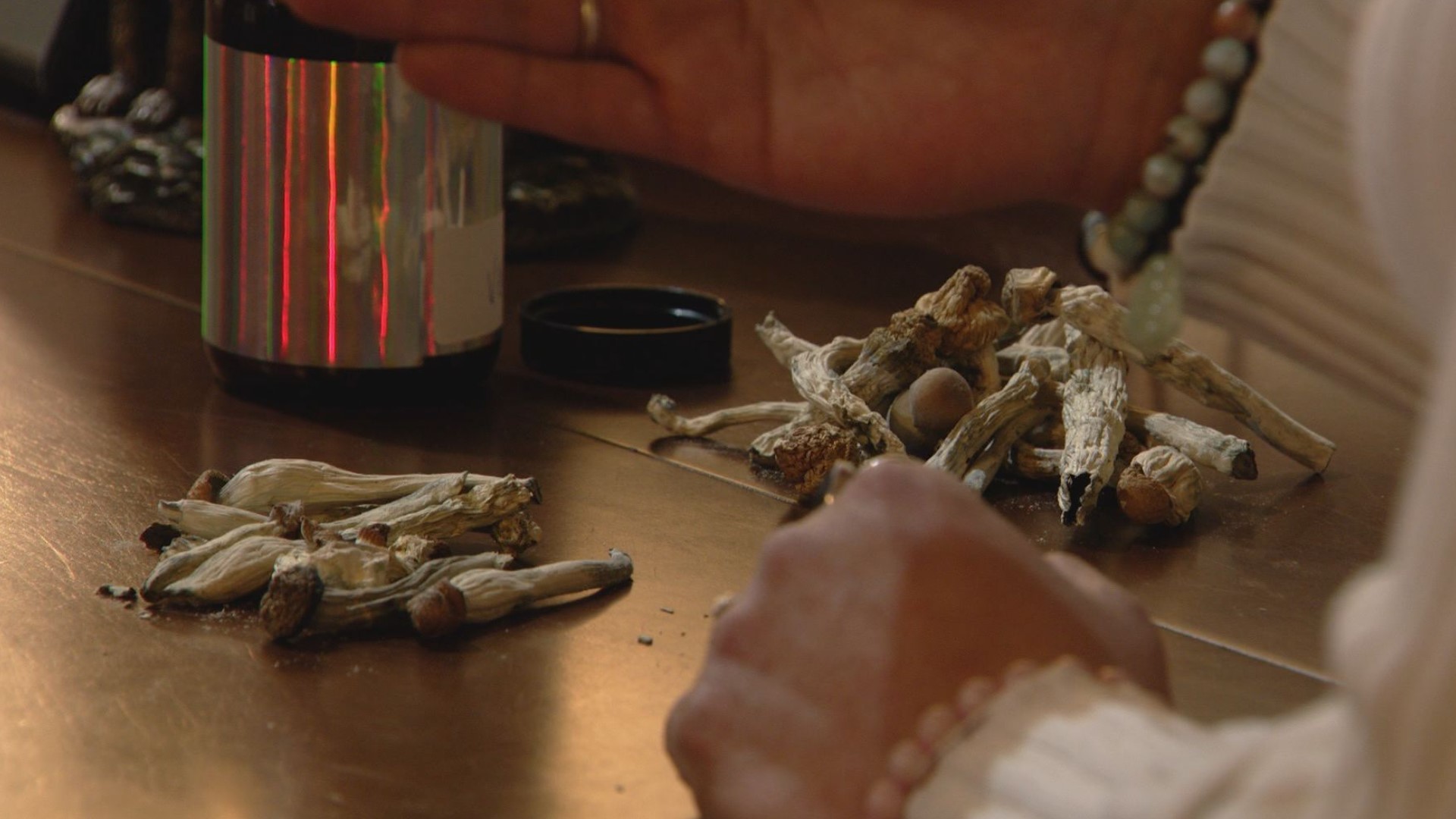 Every morning in Colorado people wake up, take a small dose of psychedelic mushrooms, head out the door, drive to work and come back home to raise their children.
These are the microdosing users who attest that small portions of psilocybin vastly improve their mental well-being in conjunction with therapy.
"The point of microdosing is that it's supposed to be completely sub-perceptual. That you are not high," said Tracy Tee, the founder of Moms on Mushrooms.
In her Denver kitchen, Tee poured a tiny portion of grounded psychedelic mushrooms into a cup of hot chocolate, said a prayer, and then shared with 9NEWS how psilocybin has changed her mindset.
"So you're not feeling high, but you may feel more calm. You may feel more creative. More clear, more present. More open-hearted," Tee said.
Tee and other women invited 9NEWS into their private spaces to show how they microdose psilocybin nearly every day for improved mental health.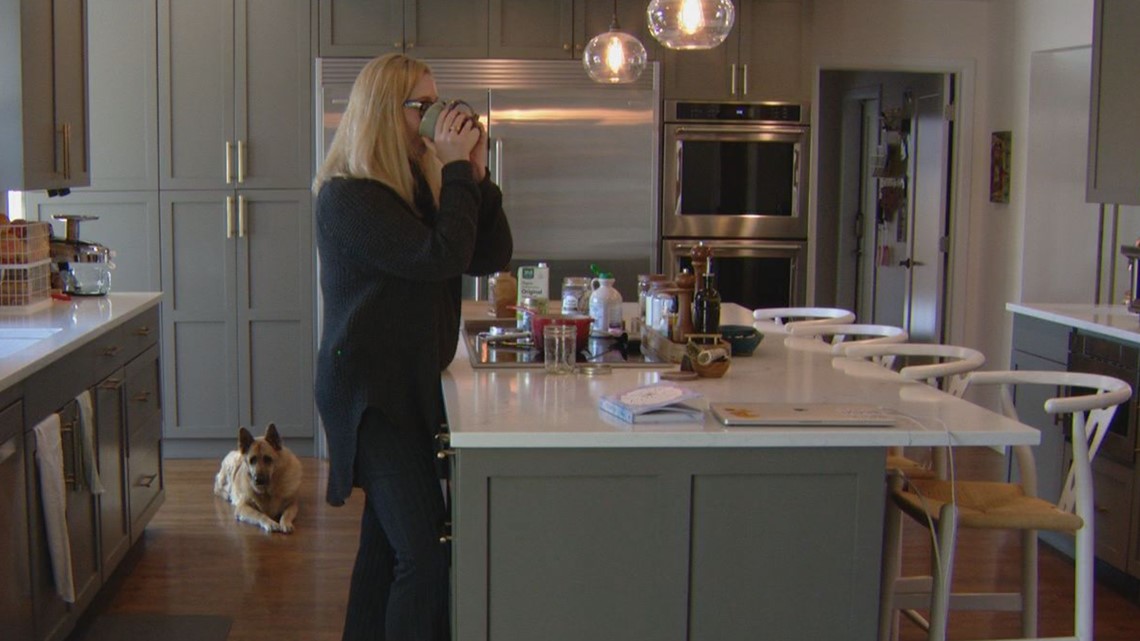 They said mushrooms have helped them with anxiety, depression and post-traumatic stress disorder.
"Oh yeah, I was scared of it. I was just as indoctrinated as a lot of people," Veronica Lightning Horse Perez, a mother of five and counselor said after ingesting a small piece of a mushroom.
Sometimes a microdose comes in the form of a capsule that contains a powder form of magic mushrooms or it's just a small piece of the mushroom, like a cap or a bit of the stem.
"My anxiety and depression are manageable. So psilocybin has given me my life back," Ashley Ryan, a former teacher turned psychedelic coach, said.
Ryan ate a small cap from a psilocybin mushroom after weighing it out on a tiny scale to make sure her dose was considered a "microdose."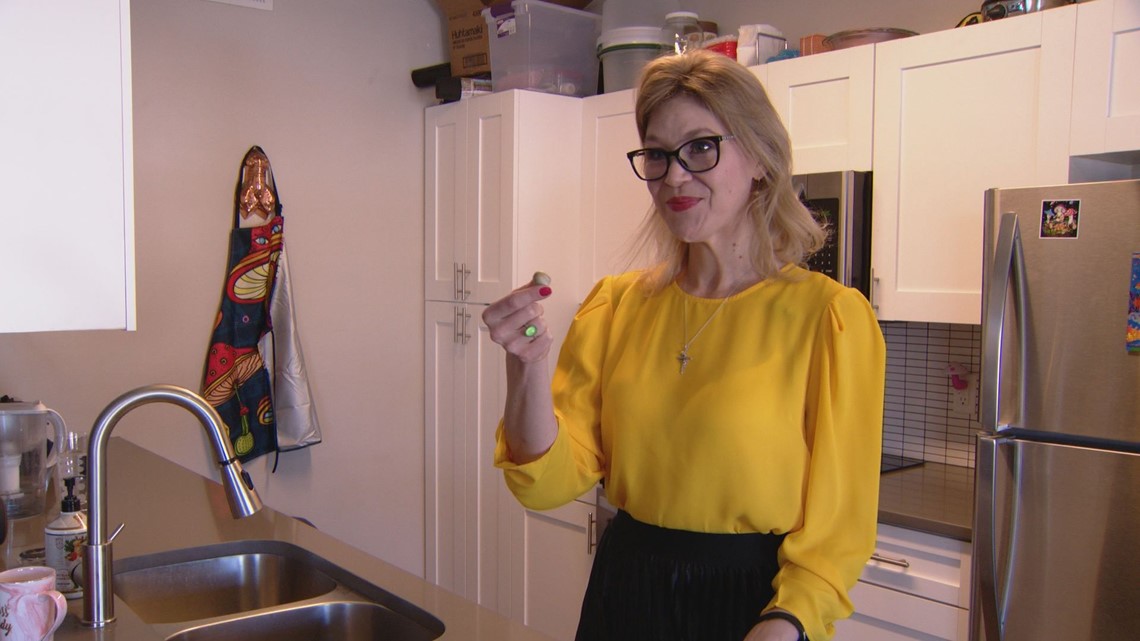 The women said microdosing psilocybin has a very subtle effect on their consciousness, which allows them to be more reflective throughout the day when the challenges of anxiety and stress begin to surface.
"You might feel a bit more relaxed. A bit happier. A bit more focused on your body. But you don't notice any psychedelic effects," Ryan said.
All of the women said they've been able to avoid the dependency on daily pharmaceuticals by turning to microdosing in conjunction with therapy.
"It's not a panacea and it's not going to fix you. You fix you. The medicine helps," said Lighting Horse Perez, who began microdosing after guidance from a contact in the Native American Church.
The practice of microdosing has largely been underground and through word of mouth for many years before Colorado voters recently passed Proposition 122, which decriminalized magic mushrooms on the state level.
Like marijuana, psychedelic mushrooms remain illegal under federal law as the state begins to formulate rules that will eventually regulate "healing centers."
Healing centers, where people are able to buy and use magic mushrooms with a licensed facilitator, are expected to be licensed in late 2024 once rules and applications are approved.
Chapter 1
:
A full psychedelic experience
The women 9NEWS interviewed said every few months they will participate in full-blown psychedelic experiences which are also known as "macrodosing."
A therapist or guide is present with them during a trip that could last up to six hours.
"In that space, there is an opportunity to alchemize grief. To connect with god or the divine, the great mother. Whatever you want to call it. To work through issues. To release patterns that have been holding you doing forever," Tee said.
Lightning Horse Perez said her first psychedelic experience was life-changing and helped her process past trauma.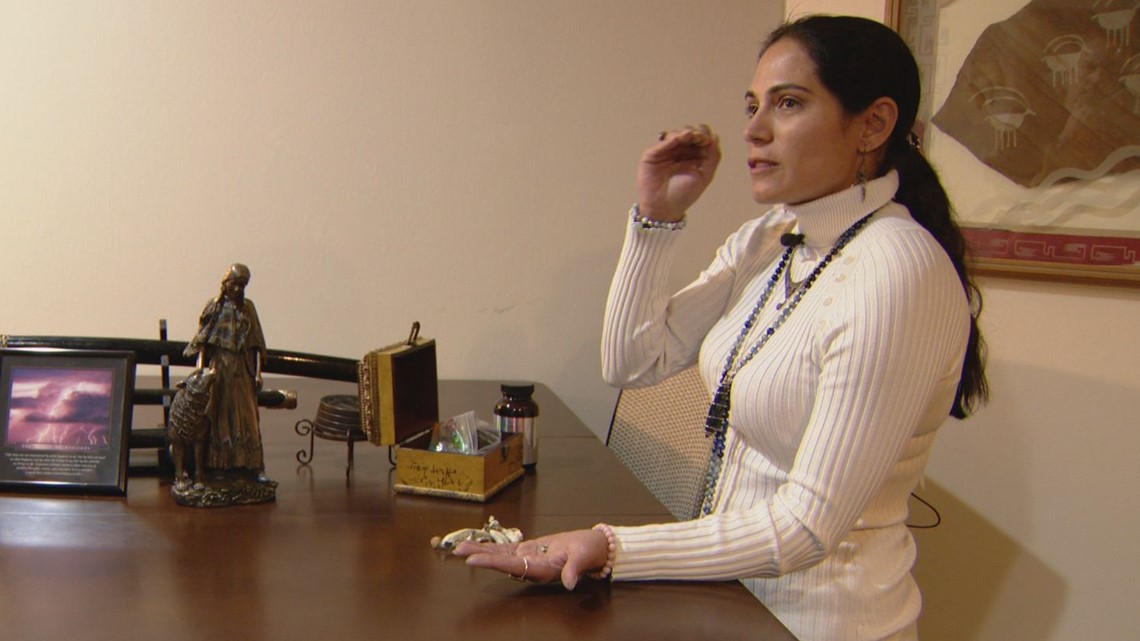 "The journey itself allowed me to have a different perspective and a different type of healing on the childhood sexual trauma I had experienced, in a completely different way and let me come to a place of forgiveness," Lightning Horse Perez said.
"You get the trip that you need and not the one you want," Ryan said.
Chapter 2
:
What to know about psilocybin
Some studies indicate people report an overall improvement in their mental health. Yet, another study attributes the improvement to mental expectation, similar to the placebo effect.
Dr. Stacy Fischer, a professor of medicine at the University of Colorado who has studied psilocybin use among cancer patients urged caution for those seeking to microdose or macrodose.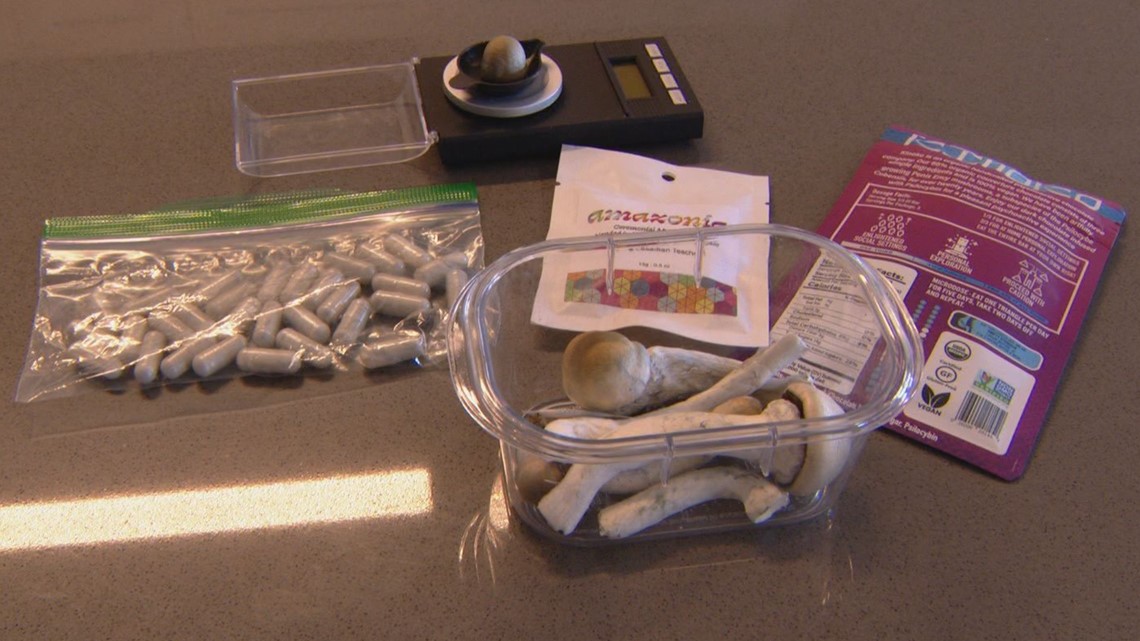 "We need to continue to rigorously study this before we offer this up to patients or people who are suffering and saying this is the solution to your problems," Fischer said.
Fischer is about to launch another, larger study of mushroom therapy for late-stage cancer patients in a controlled environment that is expected to involve 200 people in Colorado and New York.
As the state begins working on rules, Fischer said measures should be established to screen people who have a history of schizophrenia or bipolar disorder because psychedelics can exacerbate such conditions.
"Allowing widespread use under the Natural Medicine Act does give me concern. And I think we can expect to see an increase in adverse events. Increase numbers of people in the hospital," Fischer warned.
She urged people who are set on exploring mushroom therapy to make sure they have the right therapist.
"I would say be very cautious about who the therapist is, making sure you have the right rapport. Preferably understanding their background," Fischer said.
Chapter 3
:
Conflict between Colorado and Federal Law
"This is a gift to humanity. This is a gift to everybody. So we need to make it accessible to everybody," said Lightening Horse Perez, who added she hopes people will respect the indigenous roots of the medicine.
As people laud the positive effects of psilocybin, the substance is still considered illegal under federal law and can carry penalties for possession and distribution.
9NEWS reached out to the U.S. Attorney for the District of Colorado to ask what the agency's position is relating to psilocybin use in the wake of state decriminalization.
As of this publication, the local U.S. Attorney has not responded to this request as Colorado begins crafting rules that will outline how mushrooms will be sold in "healing centers."
Under federal law, psilocybin is a Schedule I drug and is considered not to have any medicinal value, which many critics say has impeded legit scientific studies of the therapeutic use of psilocybin.
The Colorado Department of Regulatory Affairs is expected to be the agency that will establish rules for the sale of psilocybin. A15-member Natural Medicine board will advise the state on how rules should be crafted amid conflicting federal law.
Dr. Fischer and those who currently use mushrooms for therapy say jailing people for possession of psilocybin is wrong, especially as the public is becoming more accepting of the medical benefits.
"For people who have been working decades underground, lets let them come up and teach and let's get a real sacred intentional respect for this medicine, far beyond as viewing it as just another pill to take," Tee said.
If you have any information about this story or would like to send a news tip, you can contact jeremy@9news.com.