COLORADO, USA — There's only one runway at the Northern Colorado Regional Airport in Loveland.
Marc Thor Olson took off there Tuesday night on his final flight. He never returned.
The following Monday, his family landed on that very runway, flying to Colorado to say goodbye.
"He loved to fly," said Kent Olson, Marc Thor Olson's brother. "Every day since has just been a day at a time."
His brother Kent called him Marc. Most others knew him as Thor.
"Marc was the baby of the family," Kent Olson said. "We miss him very much."
Thor wanted to make history on that final flight: to be the first to fight a fire from a plane at night.
First responders from across the state came together Monday to remember Thor.
Law enforcement agencies and first responders gathered outside the Larimer County Coroner's Office to escort his body to the funeral home.
From Fort Collins to Fort Morgan, a line of lights led by the hearse snaked in and out of towns as two CO Fire Aviation planes like the ones he used to fly guided the procession overhead.
"You can't talk to a pilot for more than about five minutes before they tell you they're a pilot," Kent Olson said. "But Marc wouldn't do that. Marc was probably one of the most humble fighter pilots I've ever met."
He was a veteran, a husband, and a man who loved his job.
"His bedroom, the ceiling was completely covered with model airplanes. He was into it early as a child," Kent Olson said.
"All the models he had as a kid, I would go up there and just walk around and look for hours just looking at those. I actually have most of those models. He gave me those," Keegan Olson, Thor's nephew, said.
The models helped inspire Keegan Olson to become a pilot also. The family has several pilots in it, all inspiring each other to also be pilots.
"That's part of what we sign up for in the military or a firefighter or first responder or police officer. It's just the ultimate sacrifice that he unfortunately had to pay," Keegan Olson said.
Sacrifice, from a man who died trying to help others.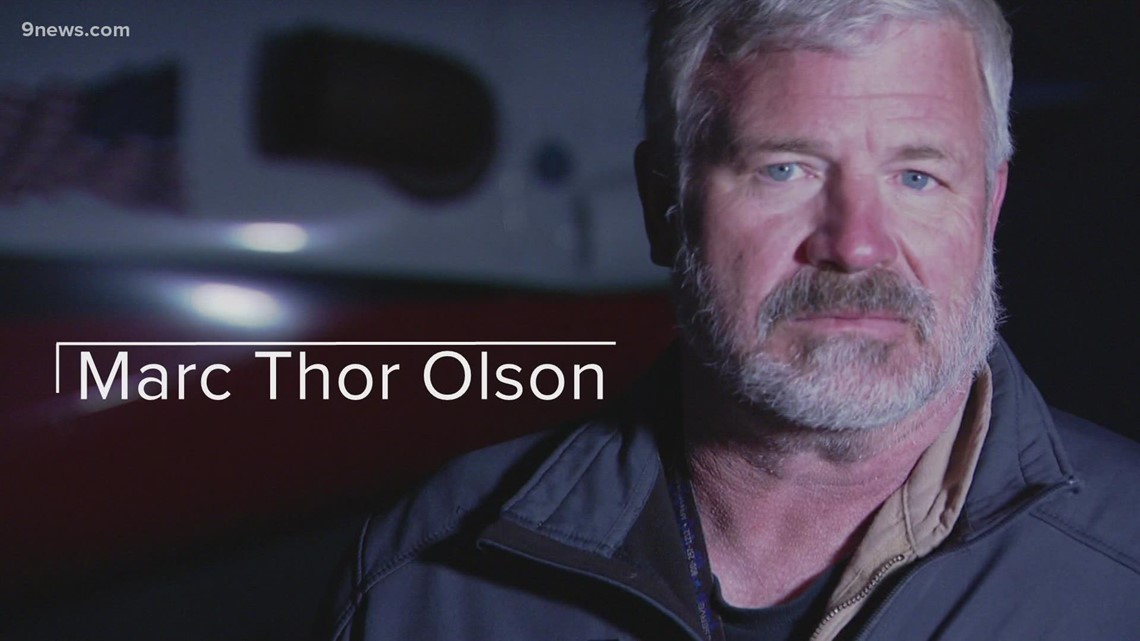 The investigation into the crash is still ongoing. Olson radioed down to ground crews telling them he hit turbulent weather. Seconds later, he crashed into the mountain in Estes Park.
Thor wanted to be the first to fight fires at night with his plane. He died chasing that dream.
"That was all we talked about at that point. Firefighting with night vision goggles and how excited he was about the program," Kent Olson said. "Don't let Marc Olson's death be in vain. Don't let this program die. He would want it to survive."
Fire engines from the Colorado Division of Fire Prevention and Control led the procession across the state. Loveland Fire Department, who helped bring Thor down the mountain after his crash, also helped lead the procession. The Larimer County Sheriff's Office was also heavily involved in the search efforts as well as the procession Monday.
Colorado State Patrol also helped organize the procession. The Fort Morgan Police Department, Morgan County Sheriff's Office, Brush Police Department, Morgan County Ambulance Service, Morgan County 911, Wiggins Fire Department, Fort Morgan Fire Department, Brush Fire Department and the Hillrose-Snyder Fire Department helped escort Thor's body to Heer Mortuary in Fort Morgan.
>Watch a portion of the procession: