CASTLE PINES, Colo. — The driver of a truck seen in a video swerving into a motorcyclist on Interstate 25 last month faces numerous charges, including attempted first-degree murder, the Colorado State Patrol (CSP) announced Thursday.
Alberto Mota, 38, faces other charges that include vehicular assault and child abuse because his 12-year-old daughter was in the truck with him at the time of the incident, CSP said.
"This is a case far beyond a simple careless driving charge," said CSP Captain JP Burt.
The road rage incident involving a truck and motorcycle happened around 2 p.m. on Aug. 16 and was recorded by a dash camera from another vehicle. The video, which was provided to 9NEWS by a witness, shows a black pickup truck traveling across several lanes of southbound I-25 and hitting into a motorcycle driven by 54-year-old Quentin Quidley.
He was pushed into a barrier in the Castle Pines area and suffered five broken ribs, a fractured skull and face and a broken right ankle from the incident.
Quidley was on a bike trip with his brother and two of their friends just passing through Colorado, a tradition for the brothers, one of them said.
Quentin Quidley's little brother, James Quidley, was riding alongside his older brother before the incident. James Quidley said they were coming up fast on another truck, and jumped into the left-hand lane to avoid a crash. That move, he said, forced the driver of the black truck to brake.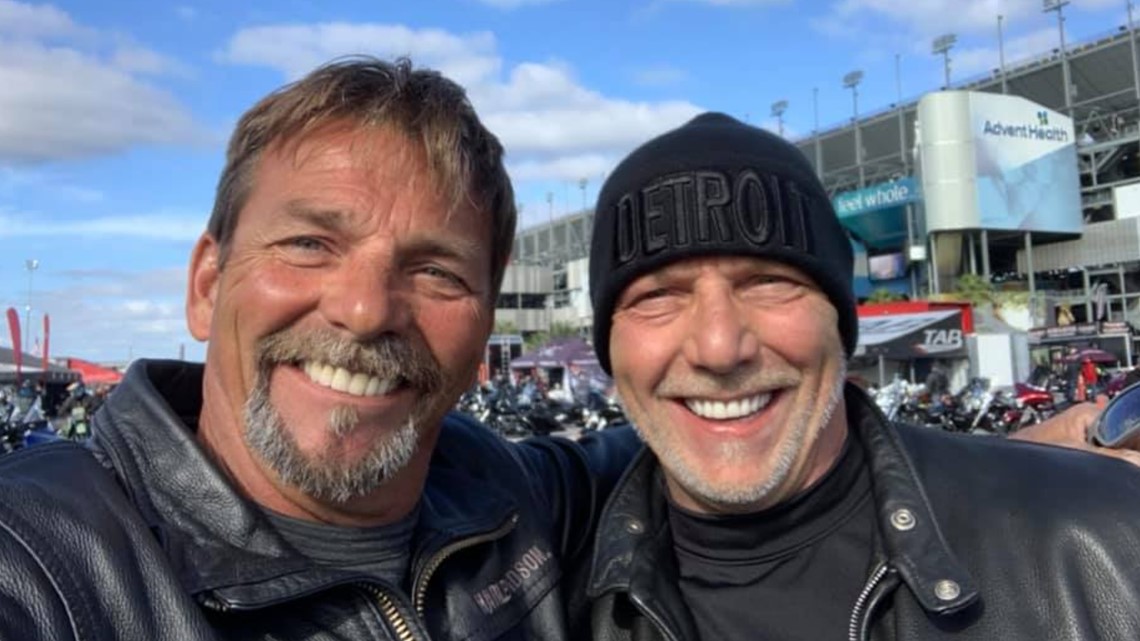 The brothers took off to put some distance between themselves and that driver, they said. But several miles up the road, they said they saw the black truck cross four lanes to approach them again.
"So we take off a little bit, to get some distance between us. I think it's all over and we start cruising again," said James Quidley. "About 2 or 3 miles down the road, I see him coming up in the right lane. I couldn't believe he did what he did... To have him come from that right lane and put me and my brother on the shoulder... That was bad enough.
"How we didn't wreck then is beyond me. Him and my brother had some words. Then he gave a second little swerve, hit my brother's faring, caused my brother to hit the wall. And I just watched my brother start tumbling in front of me," James Quidley said, breaking down.
CSP interviewed Mota, who was driving a Ford F250 pickup on the scene immediately after the crash, and released him. CSP said Mota initially led troopers to believe he had simply made an unsafe lane change, which resulted in the crash.
The video footage from another driver's dashcam, which was provided to 9NEWS and then to CSP, prompted troopers to reopen the investigation as a possible road rage incident.
"We were able to review that dashcam, do a very in-depth analysis of the events that took place on video and make a determination that this was an intentional act," said Burt. "This was not a simple crash."
CSP said they had to go back and do a full accident reconstruction of what happened, which took some time. He said reconstruction is common practice when very serious charges are involved.

According to an arrest affidavit for Mota from the CSP, prior to the crash, there was a road rage incident between the motorcyclists and Mota. During that incident, according to witnesses, the motorcyclists almost hit Mota's truck while changing lanes. One of the motorcyclists also admitted to "flipping off" Mota, which was supported by a witness statement.
Several witnesses also said the motorcyclists were driving "aggressively and unsafe," the affidavit says. However, it was also noted that prior to the crash, no one reported their behavior.
Mota turned into himself into the Douglas County Sheriff's Office Wednesday night on the following charges:
Attempted first-degree murder
Two counts attempted first-degree murder - extreme indifference
Four counts felony menacing
One count vehicular assault
Bond violation
Child abuse
Driving under restraint (his license was suspended or revoked)
Reckless endangerment
CSP said they're still looking for any witnesses or anyone who might have video of the interactions between the motorcyclists and the truck driver. Anyone who has information should call CSP at 303-239-4501.