LONE TREE, Colo. — Every day, the same words ring in the ears of thousands of Coloradans: "This is the E Line to Lincoln."
The recorded female voice on RTD's light rail trains has spoken that phrase incessantly for more than a decade. This weekend, she'll update her lingo with a new destination.
On Friday, RTD will begin grand opening celebrations for a long-awaited extension of its southeast light rail branch to RidgeGate Parkway.
The line fully opens Sunday, when trains on the E, F and R lines will terminate just east of I-25 next to a 1300-space parking garage that is, so far, the only building around.
RTD is working to convince drivers who access the metro area from the south to park at RidgeGate and give light rail a try.
The agency expects more than four thousand riders will be using the line a year from now, including new stations near Sky Ridge Medical Center and the yet-to-be-developed Lone Tree City Center.
PHOTOS: RTD extending light rail to RidgeGate Parkway
"It's so excited for the community members and businesses out here. It's great to see the enthusiasm," said Dave Genova, RTD General Manager and CEO. "This is our sixth opening in a three-year period, so it's unprecedented."
The neighborhood just south of Lincoln Ave., near one of the new stops, has seen major growth in the past few years anchored in part by Sky Ridge Medical Center.
The growth includes apartment complexes, restaurants and retail. Charles Schwab recently opened a large campus there, and construction contractor Kiewit plans one of its own adjacent to Sky Ridge station.
"The local businesses are incredibly excited," Genova said. "Some of them have located here knowing train service was going to come, and now that it's finally here, it's going to mean great opportunities for their companies but also a great benefit for their employees to be able to get around."
A lot of development has yet to break ground, and visitors to this weekend's celebration won't have much to look at while passing through the Lone Tree City Center Station.
While plans for a large scale residential and commercial "downtown" are moving forward, with plans to start building in the coming months, Coventry Development says it will likely be decades before the urban core envisioned by the city and developers becomes a reality.
What riders will notice immediately are the works of art at stations. They include a tall, yellow tree-like sculpture rising above the Sky Ridge station and a large tribute to some of the symbols meaningful to the history of the area on the platform at RidgeGate Parkway.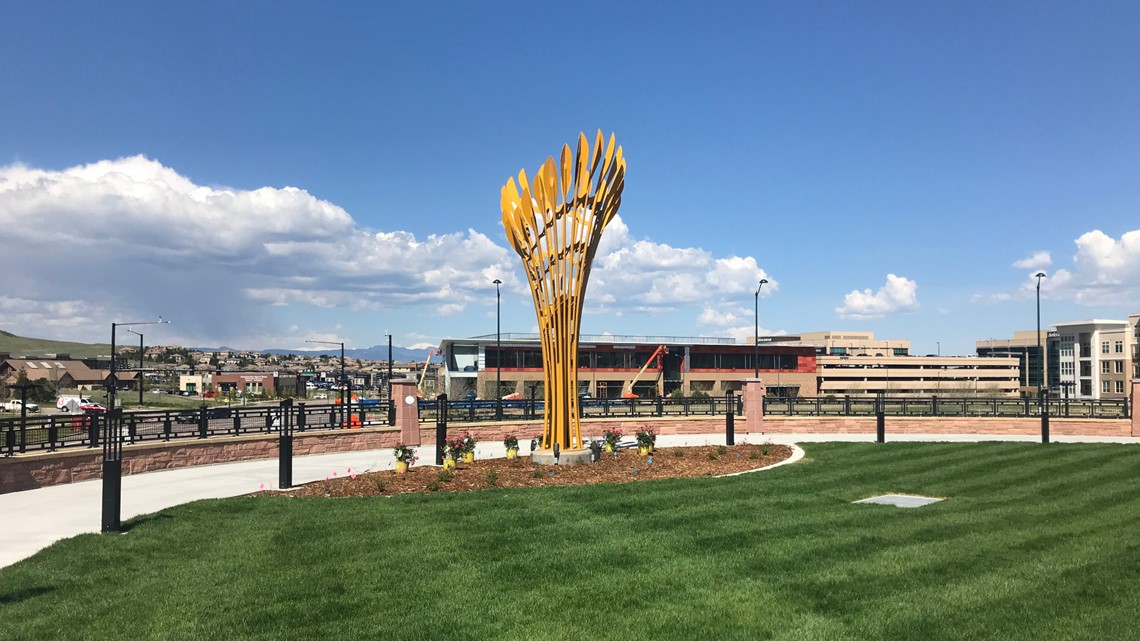 RTD will hold a grand opening celebration beginning Friday with a ceremony at RidgeGate Parkway Station.
The public is invited to ride the extension for free after the 10 a.m. ceremony until 2:30 p.m. On Saturday, the entire rail system will be free to passengers, and RTD will hold public celebration parties at the RidgeGate and Sky Ridge stations.