ADAMS COUNTY — Another name was added to a memorial Tuesday morning that already had five too many.
Adams County Sheriff's Deputy Heath Gumm was shot and killed by an armed suspect while responding to an assault call the night of Jan. 24. He was a beloved husband, friend, hockey player and protector of his community.
Gumm was posthumously promoted to the rank of detective.
His name was added to the Dale R. McLaughlin Memorial at the Adams County Sheriff's Office Headquarters during an emotional ceremony.
"We've been an agency since 1902 and have lost six over the course of that time. Six is too many!" Adams County Sheriff Mike McIntosh said. "To know that day in and day out, that the men and women that wear the uniform, the men and women that wear the badge, that continue to serve and protect our communities … we cannot forget that."
PHOTOS: Deputy Heath Gumm's name added to fallen officer memorial at Adams County Sheriff's Office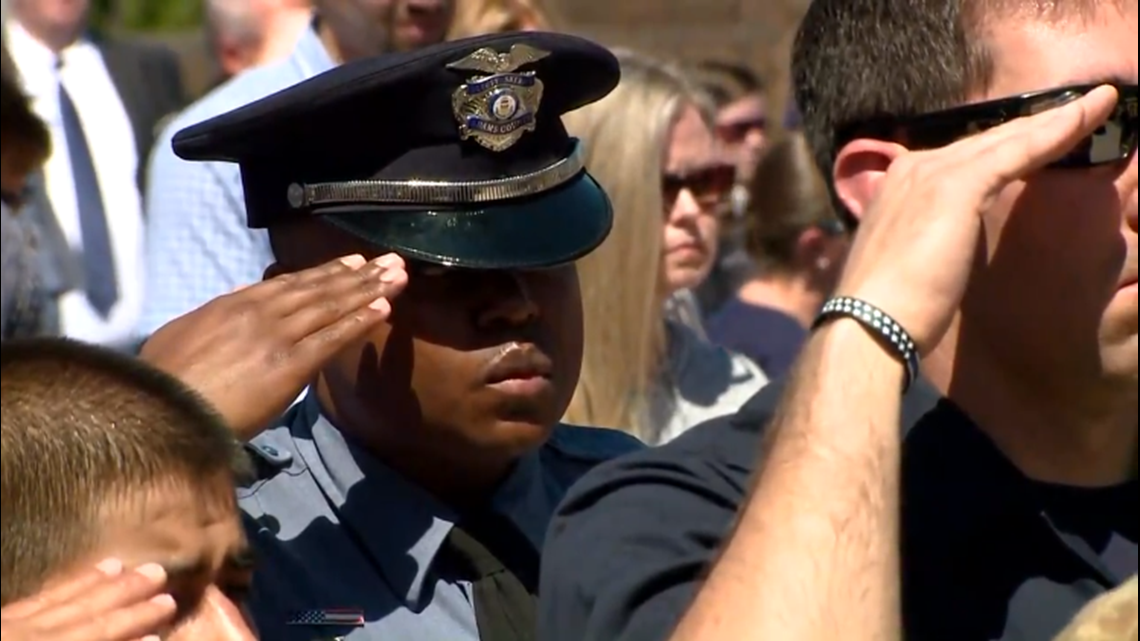 RELATED : Loss of second deputy in a month seems surreal to those working on memorial service
During the ceremony, Gumm was remembered as a man who didn't become a deputy for the glory. He did it for the well-being of the people around him, and he had a "joyful smile that could light up the darkest room."
His name was read alongside those of past fallen Adams County deputies.
Those names included Deputy Leonard Higgins, who was killed in a motorcycle crash on Oct. 11, 1923, as well as Deputy Frank Jackson, who died in a car crash on Aug. 26, 1960.
A car crash also claimed the life of Investigator Danny Barnes on June 1, 1973.
Sgt. Dale McLaughlin was killed on Dec. 26, 1988, when a suspect shot him without warning while he was responding to a domestic disturbance.
Deputy Robert Pollock was killed in a training accident on July 27, 1999.
And now, Gumm's name will be memorialized alongside theirs – a reminder of his ultimate sacrifice.
"Today we get the opportunity to make sure that Deputy Heath Gumm, that his memory lives on forever," McIntosh said.