CONIFER—Imagine spending 67 hours and 16 minutes awake. Now imagine doing that while swimming in open water. Sarah Thomas did both of those things in August 2017—and she did them on purpose.
"That's just a powerful feeling for me," Thomas said. "That you can do this, and that your body can do this."
Thomas is an ultra-marathon swimmer, and that 67-hour swim in Lake Champlain earned her a world record for the longest solo, nonstop, unassisted, current-neutral swim. During that 104.6-mile swim, she ate and drank while treading water, taking small breaks, but mostly, she swam.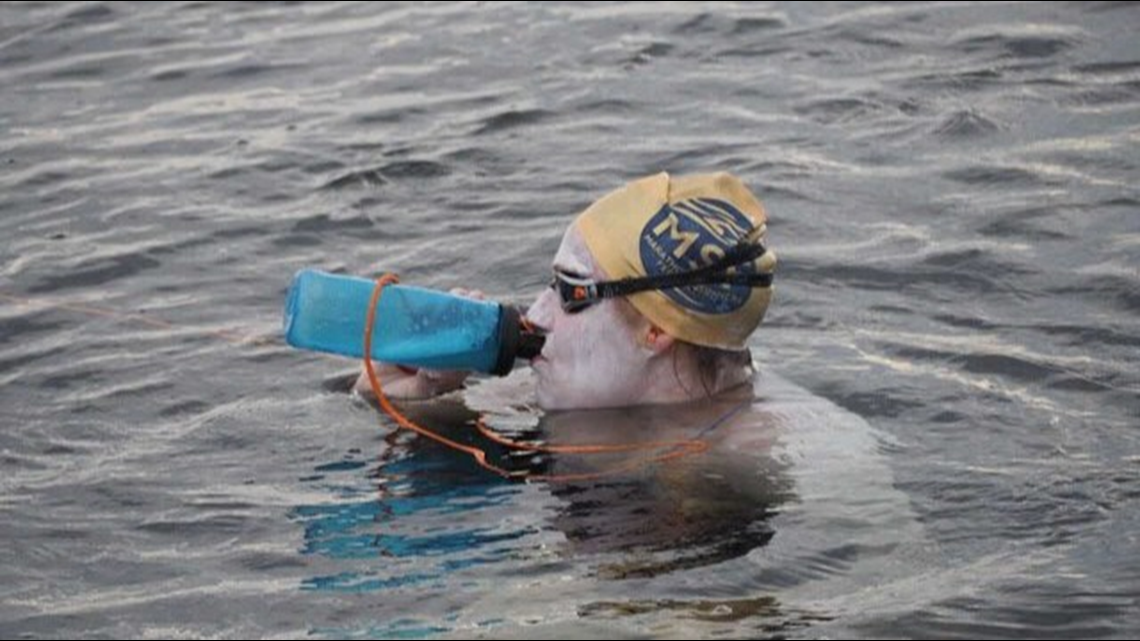 "You're not allowed to wear wetsuits, no one is allowed to touch you, you can't take a break, or get on the boat, or take a nap," Thomas said. "Well, you could take a nap if you could figure out how to nap while you're swimming."
She started swimming when she was a young child, participating in the sport in high school and college. It was not until 11 years ago that she got interested in open water swimming. She calls her first 10k race in Horsetooth Reservoir a "gateway drug." Since then she has set a record in Lake Powell, crossed the English Channel, swam in Loch Ness and around Manhattan, to name a few of her epic swims.
"It's just a sense of adventure," Thomas said. "You're doing something that not a lot of people do, with a lot of variables that you can't control."
Just a handful of weeks after her record-breaking swim, Thomas was handed another variable she could not control.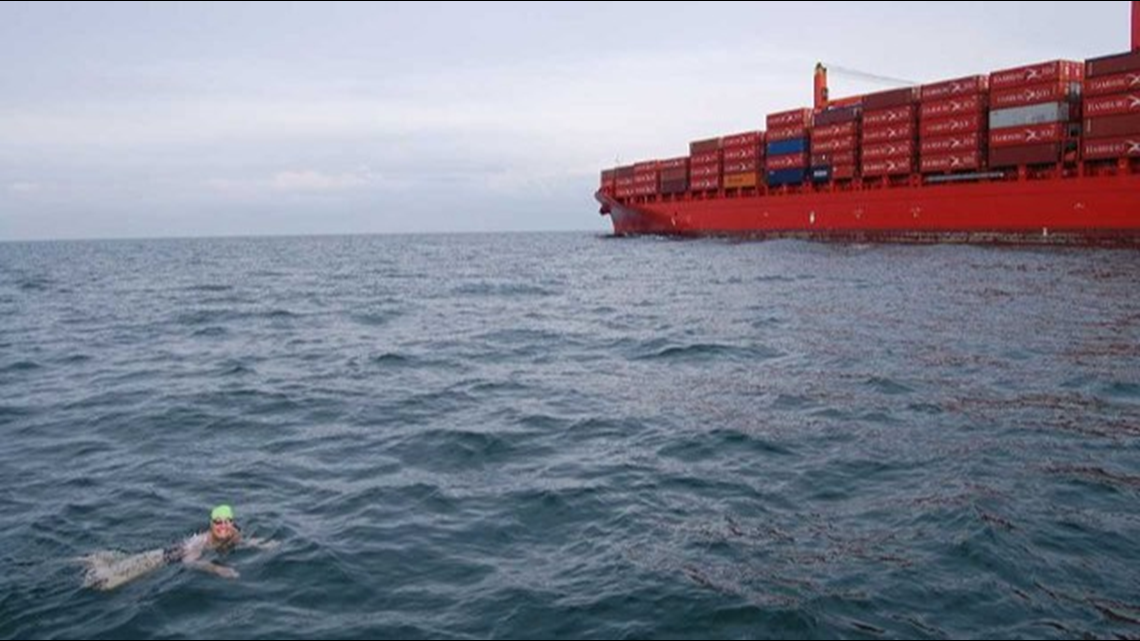 "I just randomly felt a lump in my breast—kind of in the middle of October," Thomas said. "I still had one swim left in the season and I didn't want to admit to myself that I thought something was wrong."
Thomas said she tried to deny it, but she knew something was wrong. In November 2017, doctors confirmed her suspicions. She had breast cancer. At the time, she was 35 years old, and at the top of her swimming game.
"I was feeling strong, I hadn't had any injuries and I just really felt like I was prepared to take on the world," Thomas said. "When you get a diagnosis of cancer you have to reevaluate everything you've ever wanted to do."
Doctors told her they might need to take multiple lymph nodes, which could result in lymphedema, and make long-distance swims dangerous.
"We've been really scared about the possibility that I wouldn't be able to swim at my level," Thomas said.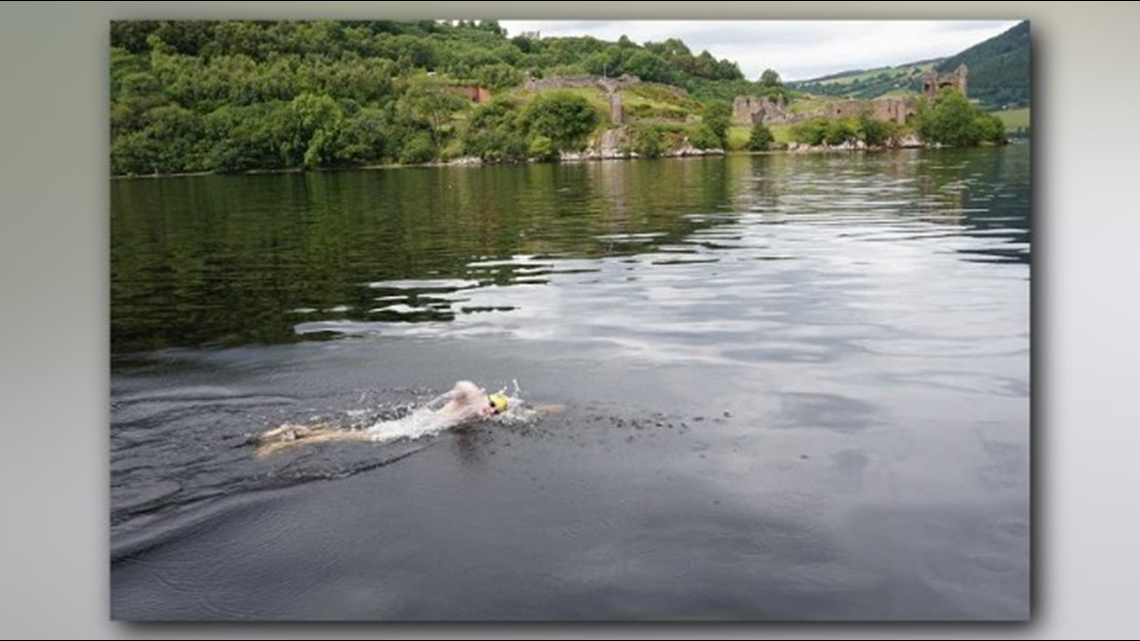 She said she argued with her doctors a lot. Not surgery, not chemo, not this diagnosis—nothing—could keep her out of the water. She had the goal of swimming across the English Channel four times, and she was going to do it in 2019.
"When I talk to my doctors that is my goal, and that is what I'm working for," Thomas said. "Treatments really need to help get me ready, so I can be back in the water training."
Through most of her treatment, Thomas has kept swimming in pools and open water. She said she knows that it is part of what is getting her through the illness.
"If I took some time off and said I was going to focus on chemo and recovery, I wouldn't be a happy person," Thomas said. "I'd be mopey—and nobody likes a mope."
Sprinkled in between swims and work, Thomas also spent a lot of the past year at hospitals and doctor's offices. Her 36th birthday was no exception.
"I get an ultrasound for my birthday, and we're hoping it's the best ultrasound that's ever been done," Thomas said. "We're hoping that cancer is gone for my birthday."
Thomas could never have imagined that the best birthday gift she would ever get would be delivered in a doctor's office.
At 36, she learned that the tumors had shrunk to almost imperceptible sizes, and only a few lymph nodes would need to be taken. She would be getting a mastectomy a few days later, but this was the best news she could have received.
"Whatever it takes to be cancer free and swimming again—that's all I really care about," Thomas said.