BAILEY—People always seem to argue which parent a new baby looks like. Some have mom's eyes, some have dad's chin, grandpa's smile, grandma's forehead—the list can go on and on. It's the same for 20-month-old Davy Oyler.
"I think he's got my massive hands—I've got man hands," said Justine Oyler, Davy's mom. "Good for spiking volleyballs."
This list goes far beyond hands. Davy reads like Grandma, swims like Grandpa, and has his dad's bright blue eyes. He got something else from his dad, David, too.
"He's got daddy's strong legs. He's pretty much dad," Justine said. "Everything is fascinating--especially stuff that dad loves."
And his dad just happens to love rock climbing. So much so, he built a climbing wall in the loft of their house.
"It just fit perfectly with the loft, and Justine was down for it," David Oyler said.
Davy saw what his dad was doing, and wanted to try it himself. So the family built a special small climbing wall for him.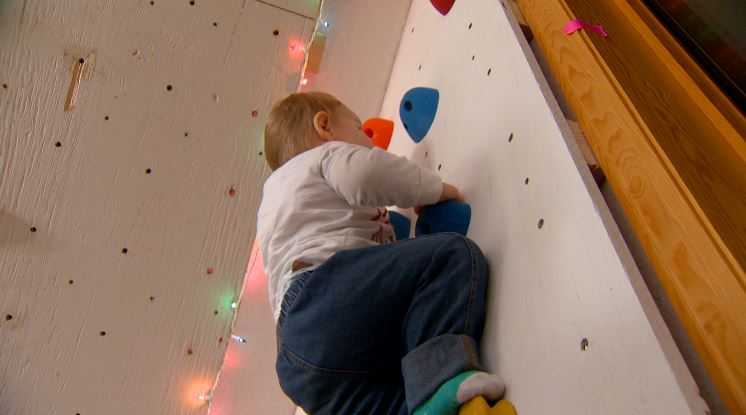 "He's a baby, but he's following his passions," David said. "He's being active, and he wants to run around, and he wants to use those muscles that he has."
Now Davy, who is still in diapers and still cannot climb the stairs yet, is already scaling the wall. When he makes it to the top, he rings a little bell.
"He's out of this world," Justin said. "He has a lot of good qualities so far—he's a sweet baby."
The family is always watching Davy when he climbs, making sure he is safe. If climbing does not work out, the Oylers just want him to be able to follow his passions, whatever those might be.
"If he turns to ballet next week, then we're going to have to change our loft quite a bit, but we'll figure out a dance floor—that works too," David Oyler said. "We hope, and try our best, to love Davy so incredibly much, that he feels fearless, and knows he can try rock climbing, ballet, living in Puerto Rico counting sea turtles, or being a banker in Boston, and we'll love him so, so, so much.
"Just the heart that Justine has and the support that I want to give our son we want to make all those dreams come true."