VERIFY – YOU'VE GOT QUESTIONS, WE'LL FIND ANSWERS
A 9NEWS project to make sure what you've heard is true, accurate, verified. Want us to verify something for you? Email verify@9news.com
The mom claimed three men behaved strangely while she was shopping with her children at a Ross. One of the claims that garnered the most attention from her post was that their actions were signs they wanted to abduct her children for sex trafficking.
Local law enforcement and the FBI disputed that idea in our story Monday, but commenters on our own Facebook page continued to ask questions.
One of the questions commenters repeatedly raised was whether this kind of abduction scenario is plausible. The theory being that even if this specific case is unfounded, there would be a value in sharing it to raise awareness.
For answers, we interviewed Professor David Finkelhor. He runs the Crimes Against Children Research Center and has authored several books about child homicide, abductions and sexual abuse.
"Child kidnapping is a very rare phenomenon to start out with," Finkelhor said. "We estimate that there are maybe 100 or so serious kidnappings of children in the United States (each year)."
He bases that number on a series of national surveys and studies that go back as far as the 1990s, including the National Incidence Studies of Missing, Abducted, Runaway and Thrownaway Children.
And for context, the federal government estimates nearly 74 million children under the age of 18 live in the United States.
"The most typical kind of kidnapping is of a teenage girl for the purposes of sexual assault," Finkelhor said. "Sometimes -- very rarely – [it's] for the purposes of abducting them into sex trafficking, but even that is very rare."
When it comes to younger children -- like the ones described in the Highlands Ranch mom's Facebook post -- kidnappings are usually by a family member during a custody dispute.
"I think it's more likely these are parents who are concerned about a person behaving suspiciously and go to the possibility that this is for reasons of abduction or sex trafficking … ," Finkelhor said. "Sex trafficking has gotten a lot of attention lately, so perhaps they immediately went to that idea. But I don't think that's a very realistic scenario."
Finkelhor's theory is backed up by the law enforcement officials 9NEWS interviewed as part of the original verify on this Facebook post.
Beth Boggess, the FBI supervisory special agent who heads Colorado's violent crimes against children unit, told 9NEWS that human traffickers tend to lure vulnerable teens over time.
"It's a completely different crime," Boggess said. "We don't see kidnapping for human trafficking."
Neither Boggess or the Douglas County Sheriff's Office, which investigated this claim and a similar one in May, had heard of a single incident where a young child was kidnapped from a store for the purposes of sex trafficking.
And versions of this scenario have been debunked by other law enforcement officials across the country, including Michigan and California.
"This is a very unusual and perhaps implausible kind of abduction scenario," Finkelhor said.
That doesn't mean parents shouldn't worry about their children.
"Children are more victimized than any other segment of the population," Finkelhor said. "But most of that victimization is at the hands of people they know."
Family members and family friends as well as other adults that kids have regular contact with and other children are all statistically more likely culprits than strangers when it comes to child abuse and assault. Finkelhor's research has found that stranger crimes against children make up about 10 to 20 percent of the crimes committed against kids.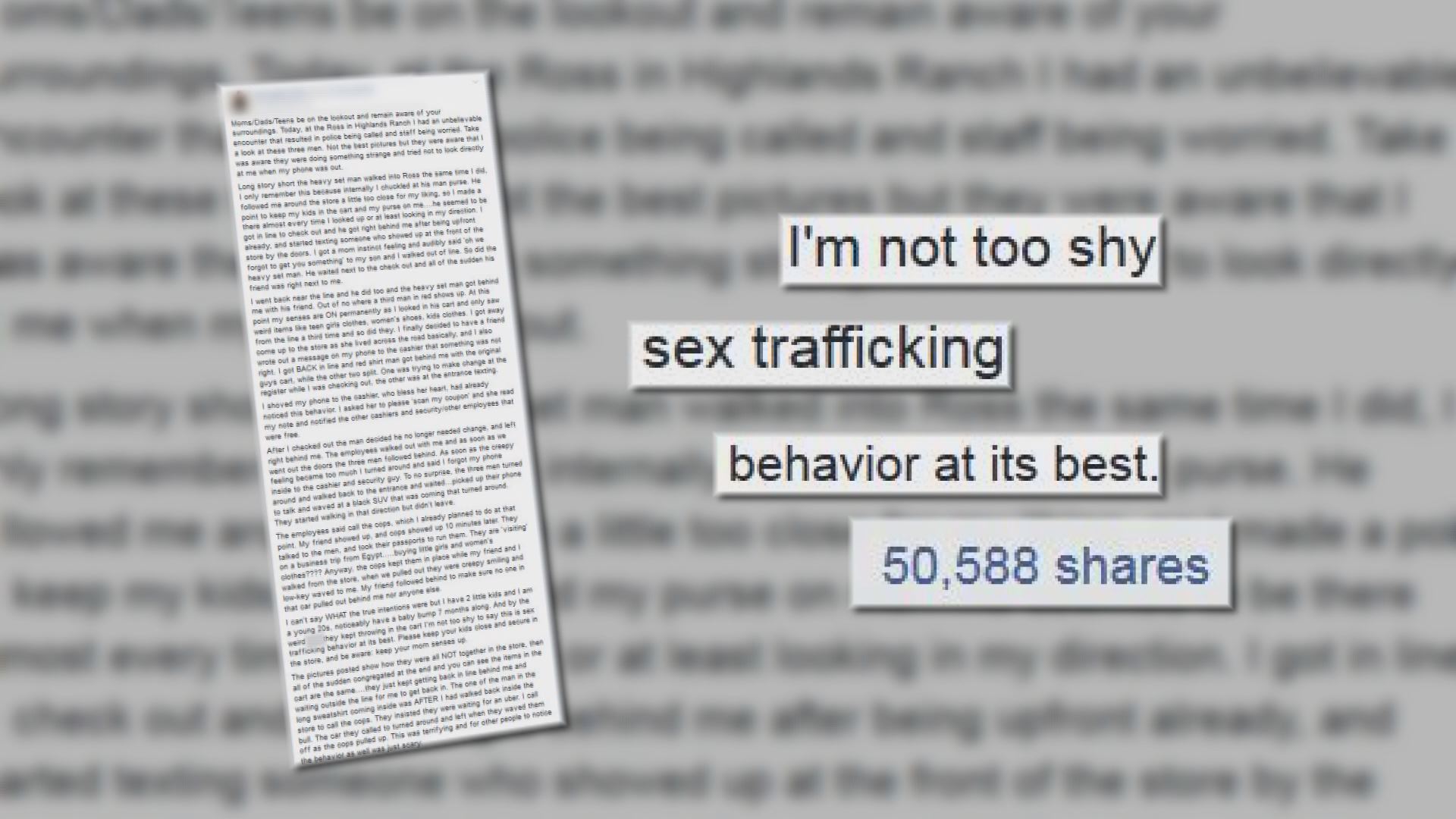 "The likelihood that a child would be attacked in a highly supervised public spot where the child is with the parent and there's the possibility of video coverage or immediately summoning help to foil the abduction, that's just not a very probably scenario," Finkelhor said.
His advice was to think before sharing a Facebook post from someone claiming their children were targeted for sex trafficking in a public place like a clothing store or a library.
He suggested asking yourself whether such posts are "…creating an unnecessary fear in a lot of parents who are easily frightened by this kind of story."