VERIFY – YOU'VE GOT QUESTIONS, WE'LL FIND ANSWERS
A 9NEWS project to make sure what you've heard is true, accurate, verified. Want us to verify something for you? Email verify@9news.com.
A photograph of what appears to be a Tesla belonging to the Denver Police Department has been circulating on social media.
The Tesla isn't a patrol car though.
It's a community outreach vehicle, said DPD spokesman Jay Casillas. Basically, that means the car gets driven to neighborhood events all over Denver.
"We're trying to relate to the community; trying to bring them closer to us," Casillas said. "When the kids see them, they're so amazed by them. It makes them come talk to us and then they don't feel as scared of us anymore."
Anyone can request the Tesla for their neighborhood car show, night out or block party. There's no charge. All you have to do is call your local police station and ask the community resource officer there if it's available on the dates you want it.
If the Tesla is booked or it's not your style, DPD also owns a Corvette, a Chevy Nova and a lowrider.
In case you're wondering about the lowrider, which is a converted Crown Victoria, it has chrome rims and working air pumps that make it pop and drop.
How does the Denver Police Department pay for these community cars?
The animated cop in the Tesla video says the car was used in a crime, so the department "adopted" it. The Denver Police Foundation then paid to convert it into a cop car.
What the department means when it says it "adopted" the Telsa is the vehicle was taken through civil asset forfeiture.
That's a controversial legal process where law enforcement agencies take stuff from people who are suspected of using that stuff in the commission of a crime.
Casillas couldn't tell us much about the specifics of the crime that snared the Tesla. All he could say was it used in a "multi-jurisdictional drug case that is being prosecuted by the Colorado Attorney General's office."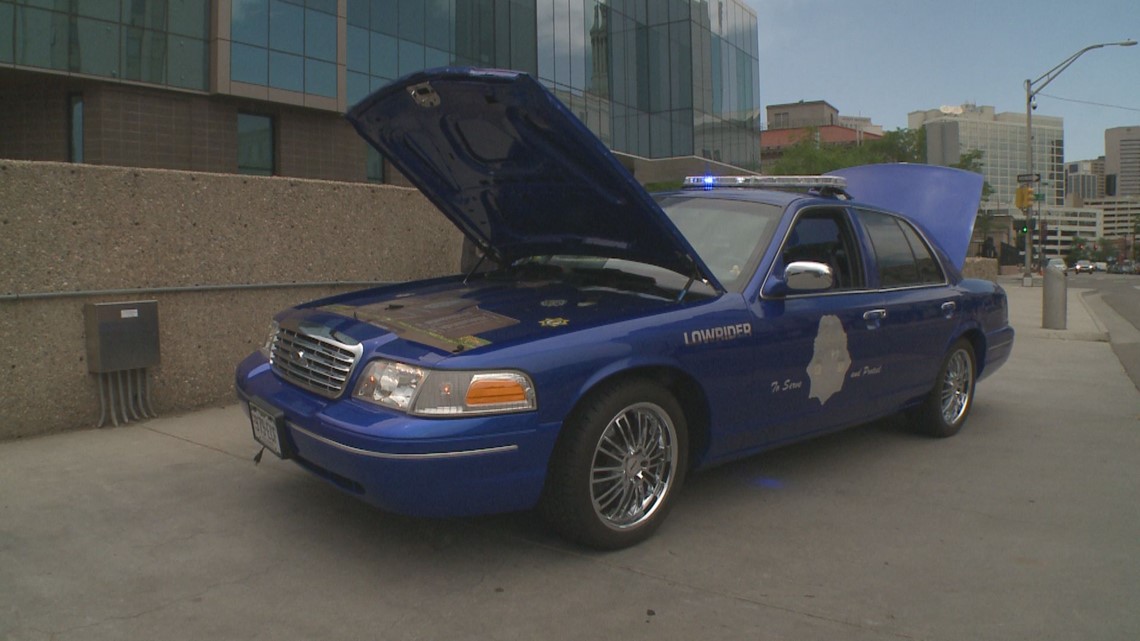 The lowrider, on the other hand, is an old patrol car.
A group of mechanics donated their time over a two-year period to convert the Crown Victoria into the pearl blue lowrider complete with flashing red and blue lights along the undercarriage.
Yes, the Denver Police Department owns a Tesla. And no, it didn't spend tax dollars to buy it.
The department says the car is a great conversation starter and it plans to keep bringing it out to community events for years to come.