On Sunday, Zackari Parrish's life was cut short when he was shot by a suspect while he and other law enforcement officers responded to a disturbance in Highlands Ranch.
The 29-year-old was a husband and father of two young children, Douglas County Sheriff Tony Spurlock said on Sunday.
"His wife said he loved this job more than any job he ever had," Spurlock shared during a press conference.
"He was always eager to work and eager to serve," Spurlock continued.
PHOTOS: Family photos of fallen deputy Zack Parrish
Parrish had been with the Douglas County Sheriff's Office for seven months. Before that, he was an officer with Castle Rock Police Department for two years. Police Chief Jack Cauley issued the following statement Sunday evening:
The Castle Rock Police Department is deeply saddened regarding the loss of Deputy Zackari Parrish. Deputy Parrish was formerly with the Castle Rock Police Department for 2 years and 5 months prior to joining the Douglas County Sheriff's Office. Zackari served the Town of Castle Rock with honor and dignity. He truly loved being a police officer and embodied everything it is to be one. He was an excellent officer, a good friend and a committed husband and father. Our thoughts and prayers are with the Parrish family. We ask that you keep them in your thoughts and prayers as well as the officers and civilians recovering from their injuries."
Parrish's first law enforcement job was at the Morrison Police Department, where he served as a reserve officer from June 28, 2014, until the end of that year.
"While he was here, he got glowing reviews from all his peers," said Morrison's interim police chief, George Mumma Jr.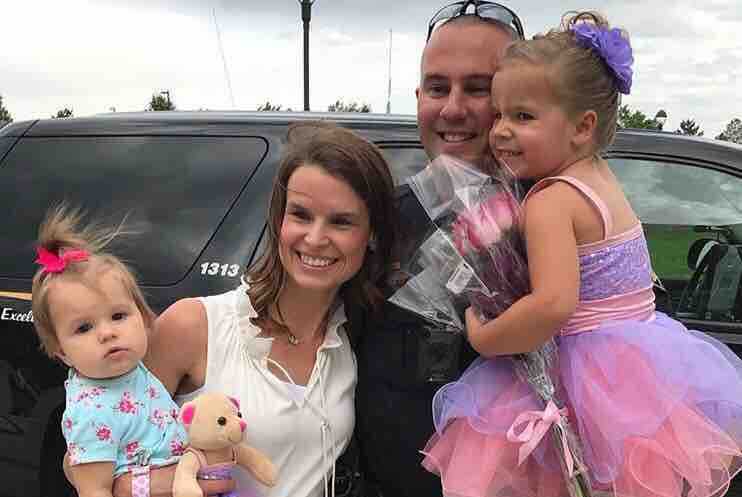 Prior to this law enforcement career, Parrish attended Dallas Baptist University and graduated with a Bachelor of Science in Communications, according to his bio on the CRPD's website. DBU President Dr. Adam Wright offered these words of support:
The Dallas Baptist University Family is grief stricken by the tragic news of our dear alumni, Zack Parrish. Officer Parrish was well respected and admired by his classmates and so many of us at DBU. A true servant-leader, Zack discerned a special call to serve and protect others. Our prayers go out to the entire Parrish family, particularly his wife who also attended DBU, and his two precious little girls."
When he began working at CRPD, he called a career in law enforcement "a childhood dream that I never thought would become a reality."
There will be a candlelight vigil at Mission Hills Church in Littleton for Parrish on Jan. 1 at 5 p.m.
The date and time of a memorial service will be announced soon.
If you would like to donate to the Douglas County Fallen Officer Fund, click here.
DCSO said on Facebook it cannot confirm that any other donation websites are legitimate.