COLORADO, USA — Moderate to heavy smoke will make for difficult breathing conditions for many across Colorado on Monday.
Air quality health advisories for wildfire smoke have been issued by the Colorado Department of Public Health and Environment (CDPHE) on Monday for Larimer, Moffat, Rio Blanco, Garfield, Mesa, Delta, Montrose, Ouray, San Miguel, Dolores, San Juan, Montezuma, La Plata, Eagle, Summit, Pitkin, Lake and Chaffee Counties.
Areas included in the advisories include, but are not limited to, Craig, Meeker, Rangely, Glenwood Springs, Grand Junction, Delta, Montrose, Ouray, Dove Creek, Silverton, Cortez, Durango, Eagle, Breckenridge, Aspen, Leadville, Salida and areas along the Poudre River to the west of Fort Collins.
The Cameron Peak Fire could also bring periods of heavy smoke to parts of the northern Front Range region on Monday, including Denver, Boulder, Longmont, Ft. Collins and Greeley.
If smoke is thick or becomes thick in your neighborhood, CDPHE said you may want to remain indoors.
The CDPHE advisory said those with heart disease, respiratory illnesses, the very young, and the elderly should also remain indoors. Outdoor activity should be limited when moderate to heavy smoke is present.
If smoke is present indoors and is making you ill, CDPHE said to consider relocating temporarily. If visibility is less than 5 miles in your neighborhood, smoke has reached levels that are unhealthy, according to the air quality health advisory.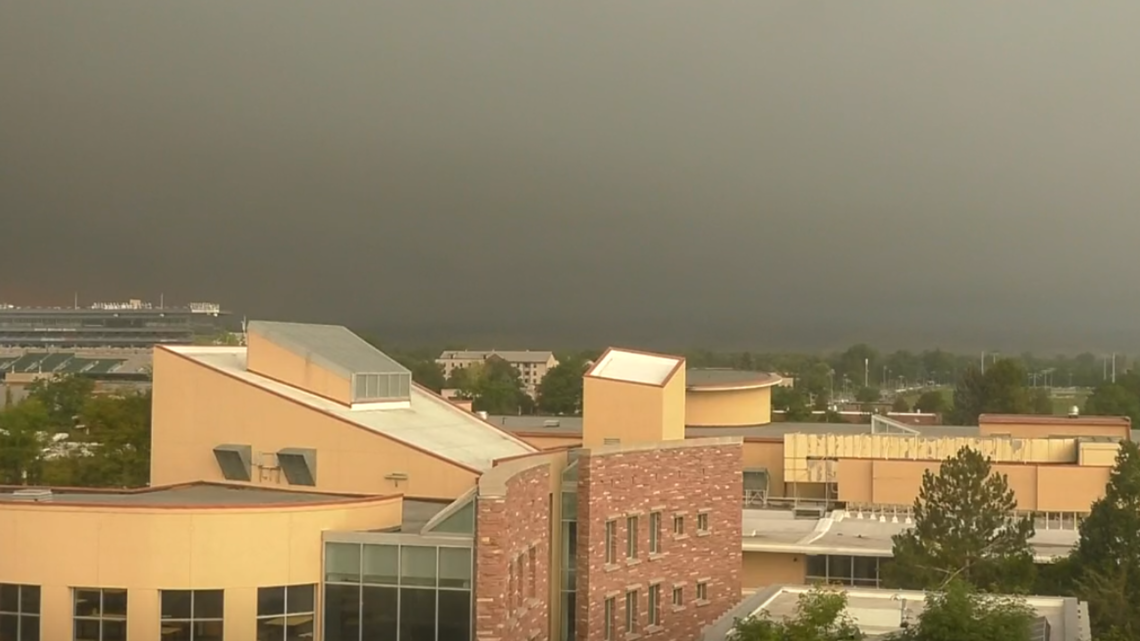 Smoke will gradually decrease into the afternoon hours as atmospheric mixing increases, according to CDPHE.
The wind at the Cameron Peak Fire will be from a west to northwesterly direction Monday afternoon resulting in periods of smoke redeveloping downwind for locations to the east and southeast of the fire.
Here are ways to make sure you're ready when smoke rolls in and air quality dips.
Track the air quality
You can keep up to date on the latest air quality information from the The Colorado Department of Public Health and Environment and the Regional Air Quality Council at Colorado.gov/AirQuality.
Keep your indoor air clean
Set your car and home air conditioners to recirculate so outside air isn't drawn inward.
Use a high-efficiency HEPA indoor filter if possible.
Keep windows and doors closed.
Avoid activities that increase indoor pollution including burning candles, using fireplaces or gas stoves.
Avoid vacuuming which stirs up particles already inside your home.
Protect your eyes
To protect your eyes from wildfire smoke, limit time outdoors.
If you're outdoors, safety goggles and sunglasses can help minimize the irritating effects of smoke.
Practice good hygiene, especially if wearing contact lenses.
Avoid dust masks
Paper "comfort" or "dust" masks commonly found at hardware stores are designed to trap large particles, such as sawdust. These masks will not protect your lungs from the small particles found in wildfire smoke.
Stay safe in the heat
Limit strenuous outdoor activities, find shade and stay hydrated.
Stay hydrated at outdoor job sites and take breaks in the shade as often as possible.
Never leave kids or pets unattended in hot cars.
Check up on the elderly, sick and those without air conditioning.
Prevent wildfires from starting
Prepare, build, maintain, and extinguish campfires safely.
For more information about wildfire smoke, visit CDC.gov.