LARIMER COUNTY, Colo. — Officials on Friday ordered new mandatory evacuations due to the Cameron Peak Fire that's been burning in Larimer County since mid-August.
Around 6 a.m. an emergency alert was sent telling those in the Pingree Park and Monument Gulch area to leave immediately. About two hours later, another order was issued for those in the areas of County Road 44H (the Buckhorn Road) to County Road 27 (the Stove Prairie Road) due to increased fire activity and immediate and imminent danger.
Crews continued containment work Wednesday on the over 240-miles of fire perimeter for the Cameron Peak Fire burning in Larimer County, according to the incident management team.
The wildfire that sparked on Aug. 13 near Red Feather Lakes, west of Fort Collins, has burned 129,055 acres and is 42% contained as of Thursday, Oct. 8.
"Full containment will take time to complete and each new weather event will challenge portions of the line, requiring firefighters to revisit many areas," the incident management team said on Thursday.
The fire has damaged or destroyed 95 structures so far. The cause of the fire is under investigation. Nearly 1,000 personnel were working on the fire as of Thursday.
Fire officials said crews successfully completed a burnout operation Wednesday on Sleeping Elephant Mountain by using air support. Additional crews worked around the structures in the area to ensure no damage occurred from the burnout.
Another burnout was performed at the southern end of Long Draw Road to create a fireline that will be more easily defensible. That burnout operation created a large smoke column over the area Wednesday, fire officials said.
On the east side of the fire, crews and engines continued mopping up around homes and structures at risk. Additional crews also joined work Wednesday on the contingency lines around the CSU Mountain Campus and area homes.
With the fuels remaining critically dry, firefighters expect active and possibly extreme fire behavior again on Thursday. A Red Flag Warning has been issued for the area from 10 a.m. to 7 p.m.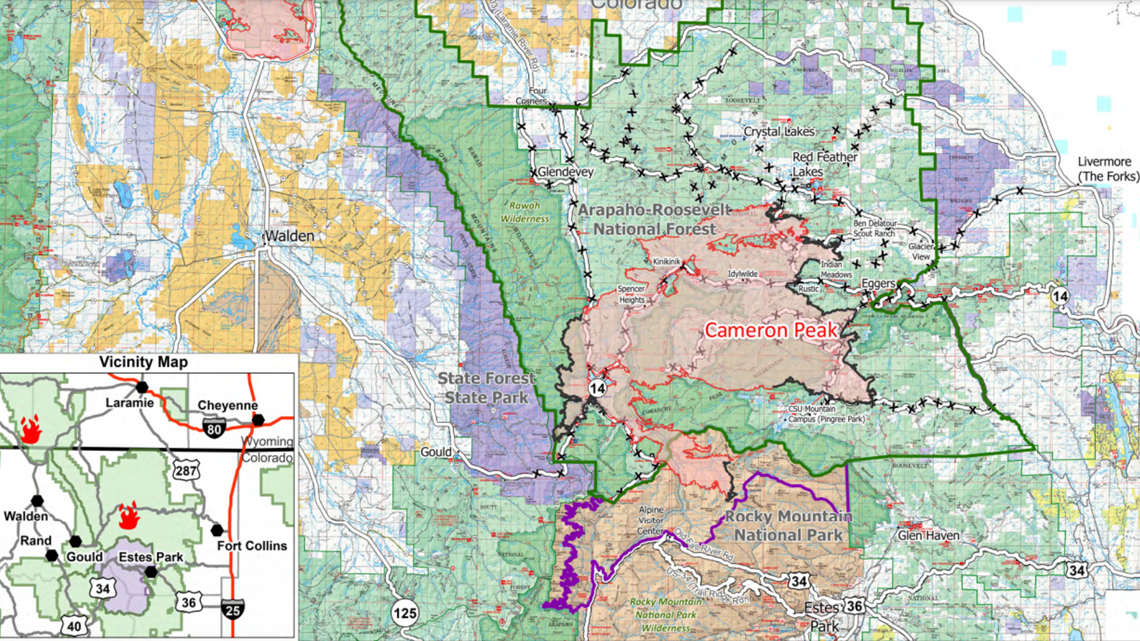 Evacuations
New mandatory evacuations were issued for residents in the Pingree Park and Monument Gulch areas just before 6 a.m. on Friday morning. Residents and business occupants should leave the area immediately. Another order was issued for those in the areas of County Road 44H (the Buckhorn Road) to County Road 27 (the Stove Prairie Road)
Mandatory evacuations remain in place for the Red Feather Highlands subdivision and the Lady Moon area due to the Cameron Peak Fire.
Residents who live there were told to evacuate the area immediately and as quickly as possible. An evacuation center was set up at La Porte-Cache Poudre Middle School gymnasium at 3515 Co Road 54G in Laporte.
Cameron Peak Fire officials on Wednesday downgraded the evacuation status for Glacier View filings to voluntary. The area had been under mandatory evacuations since Friday, Sept. 25.
Other mandatory evacuations were lifted Tuesday. Fire officials downgraded the evacuation status to voluntary for the Pingree Park/Monument Gulch area, which is south of Highway 14 along County Road 63E (Pingree Park Road) to the housing area south of the CSU Mountain Campus and east to Pennock Pass and Monument Gulch.
Residents in those area are allowed to return home. They need to proper ID to show residency status for those areas.
Officials said residents returning home need to be cautious as emergency crews are still in the area