GLENWOOD SPRINGS, Colo — The Eagle County Sheriff's Office on Sunday afternoon said some pre-evacuation orders had been lifted for Sweetwater Road, Dotsero and Lower Colorado River Road as firefighters continue to make progress on the 30,060-acre fire burning near Glenwood Springs.
"It's imperative for everyone to continue to be vigilant and adhere to the fire restrictions in the county," Sheriff James Van Beek said in a news release. "We know from our coordination with the Grizzly Creek Fire command that this fire remains active in many places and that we'll continue to see smoke in the area for quite some time. We can't let our guard down with how tinderbox dry the conditions are in our county."
Officials gave an update on Tuesday evening in the video below:
> Video above: I-70 reopens after two week closure.
According to Inciweb, the fire is considered 61% contained and 806 personnel are assisting with the battle as of Tuesday evening. Early Wednesday morning, command of the fire will shift from the Great Basin Type 1 Incident Management Team to the Alaska Type 1 Incident Management Team.
Firefighters will continue with building direct and indirect fire line around the fire perimeter. The structure protection unit will continue work in No Name and Bair Ranch.
> Scroll down for evacuations and road closures.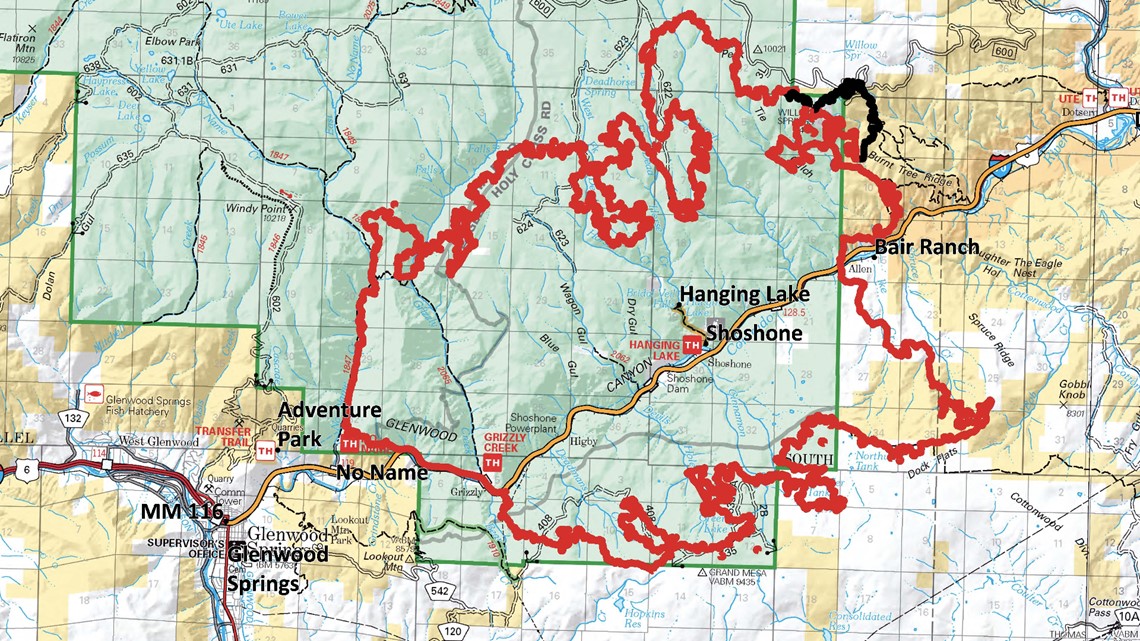 Crews worked last week to construct an indirect fire line from the end of Transfer Trail to the top of Windy Point to keep the fire from impacting Glenwood Springs.
I-70 reopened between Glenwood Springs and Gypsum early Monday morning.
Fire officials said a direct attack of the fire continues to be difficult, due to the rugged and steep terrain in the area. They say they are optimistic, however, because the fire is reaching plateaus where there is less fuel and it's easier to control.
Photos from the U.S. Forest Service released Thursday show just how close the fire got to the iconic Hanging Lake. Crews flew over the area Wednesday night and snapped some pictures which show that the fire burned above the lake.
Officials said they know the fire burned through some of the lower portion of the trail that goes up to Hanging Lake, but they haven't been able to assess how much it was impacted.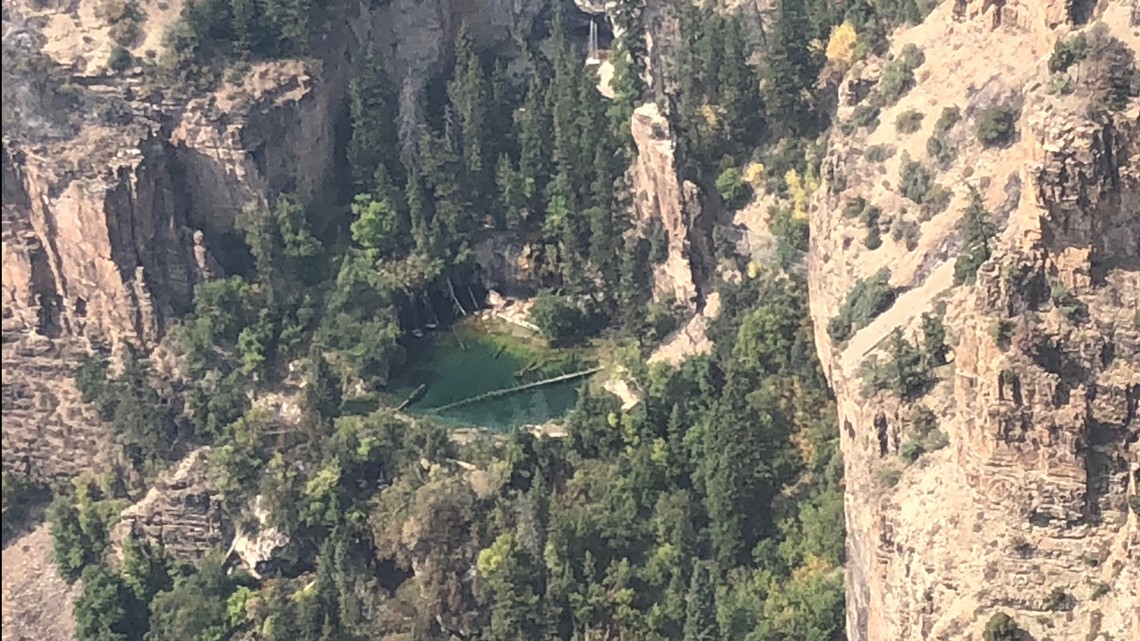 Evacuations
Residents in communities around the Grizzly Creek Fire should stay aware of the fire's dynamic changing conditions. Any time evacuation notices change or areas move into pre-evacuation status, the information will be shared at the Garfield County website at www.Garfield-county.com and Eagle County at ecemergency.org.
Coffee Pot Springs
No Name
Lookout Mountain
Homestead Estates
Bair Ranch
High Aspen Ranch
Coulter Creek
Cottonwood Pass
Spring Valley Ranch
Sweetwater (lifted Sunday, Aug. 23)
Road Closures
Forest Service Road 400, Eagle-Thomasville Road, is closed due to excessive traffic and accidents resulting from drivers attempting to use this primarily dirt road as an alternate to the I-70 closure.
Cottonwood Pass Road in Garfield and Eagle counties is open. Independence Pass is open to passenger vehicles only; big rigs and any vehicle towing a camper or trailer that is more than 35 feet long is prohibited.
Coffee Pot Road, Transfer Trail and Clinetop Mesa roads and areas of the Flattops accessed by those roads are also closed, as well as many surrounding White River National Forest and BLM roads.
Area Closures
White River National Forest and the BLM Grand Junction Field Office. That includes forest land south of Glenwood Canyon north to the Flat Tops Wilderness boundary. The western boundary of the closure extends to about Adams Lake, and the eastern boundary is the eastern Forest boundary in the Sweetwater/Coffee Pot Road area. Forest road closures also include Coffee Pot Road (FSR 600) and Transfer Trail (FSR 602).
BLM recreation sites and boat ramps on the southern portion of the Colorado River Road (RD 301) near Dotsero are also closed.
Fire Restrictions
Temporary Flight Restrictions (TFR)
Temporary flight restrictions are in place for the Grizzly Creek Fire. Flying drones in the area of the fire is illegal, as well as dangerous for the fire pilots.