GLENWOOD SPRINGS, Colo. — The Grizzly Creek Fire burning just east of Glenwood Springs more than doubled in size in about a day and has now burned 13,441 acres, according to the latest update Friday morning from the incident command.
Very hot and dry conditions will be a big factor for crews fighting the fire again on Friday. Winds gusts are expected between 15 and 25 mph in the afternoon, according to the National Weather Service.
Bair Ranch, Sweetwater and the Coffee Pot Springs campground were ordered to evacuate late Thursday as the fire grew. Two Rivers Village and Dotsero have been placed on pre-evacuation notice, according to the Garfield County Sheriff's Office.
The fire progressed along its western flank down to the bottom of No Name drainage, fire officials said Wednesday evening.
Hotshot crews are working Thursday to contain spot fires along the ridge south of No Name drainage, and establish an anchor point and firelines. Residents in north Glenwood Springs should be prepared for rapidly changing conditions that may lead to pre-evacuation notices.
While aircraft will be used to lay down retardant along the ridge to slow the fire's advance, officials said it has the potential to proceed up the ridge to the west toward Cascade Creek Road. Structure protection has been set up around structures at No Name, while additional engines and a water tender are reporting to the area. No significant growth has been reported to the north, south, or east.
Fire officials said 352 personnel were assisting with the fire and that more assistance has been requested. Two very large air tankers (VLAT), multiple large air tankers, four heavy helicopters and one medium helicopter are also working the fire from the air.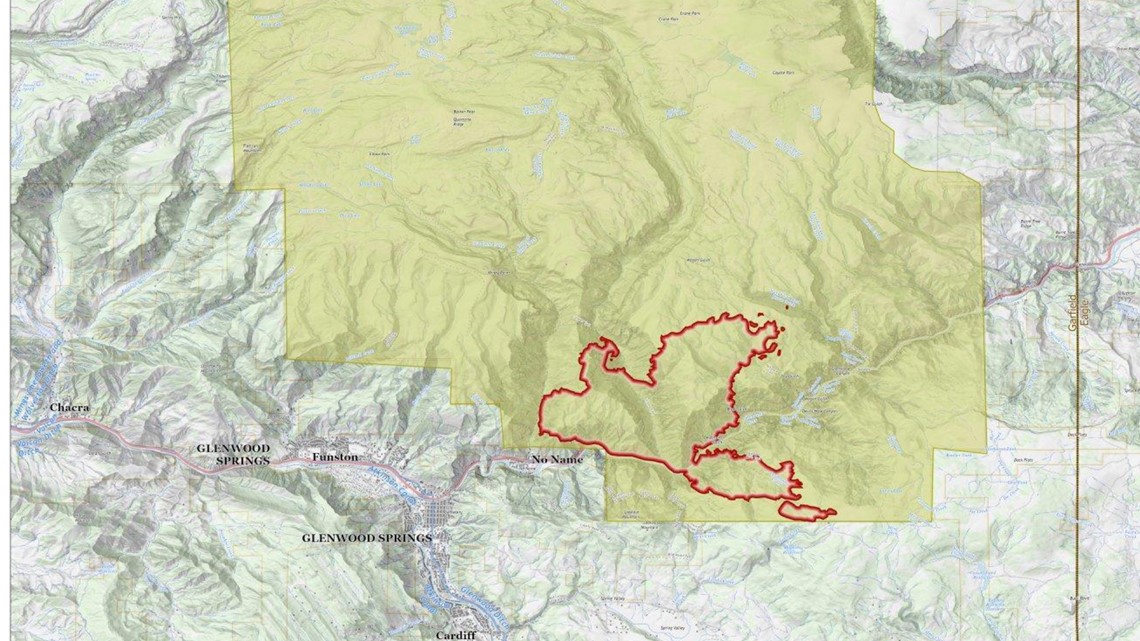 Temporary flight restrictions are in place for the Grizzly Creek Fire. Flying drones in the area of the fire is illegal.
Xcel Energy released a statement regarding the Shoshone power plant, located at 60111 Hwy 6 and 24 in Glenwood Springs.
The statement, in part, said: "Our Shoshone plant in Glenwood Canyon is a hydro-powered plant that began operations in 1909. At peak operation, the plant can supply 15 megawatts of power, which is primarily used for grid support.
At this time, the plant is off-line, and the water used to generate power is being released downstream in cooperation with the firefighters' overall strategy to battle the Grizzly Creek Fire. Our crews are working closely with firefighters to keep the plant safe from the fire, as well as working to protect other important electric equipment."
Evacuations
No Name
Lookout Mountain
Homestead Estates
Bair Ranch
High Aspen Ranch
Coulter Creek
Cottonwood Pass
Spring Valley Ranch
Sweetwater Road ( Eagle County)
Coffee Pot Springs
Buck Point Road ( Eagle County)
An third shelter in Edward was added Friday, according to the American Red Cross. It's located at Battle Mountain High school on Miller Ranch Road.
Below is a map of the fire and the evacuation zones. It can also be found here.
Road closures
An update from the Colorado State Patrol (CSP) in Eagle on Thursday noted that Independence Pass will remain closed and the same for Interstate 70.
In a post on the Facebook page for the fire, crews said there is fire on both sides of the highway which can cause debris to roll into the road creating safety hazards to the public.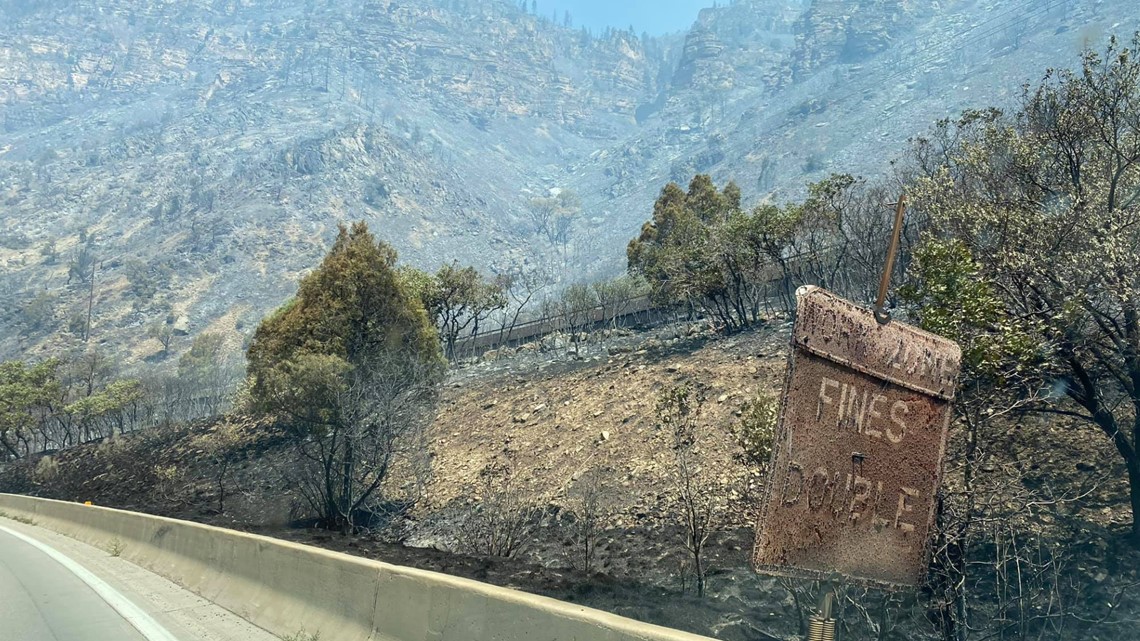 Firefighting equipment is also frequenting the corridor which is why the closure remains in effect.
Cottonwood Pass Road in Eagle and Garfield Counties is closed.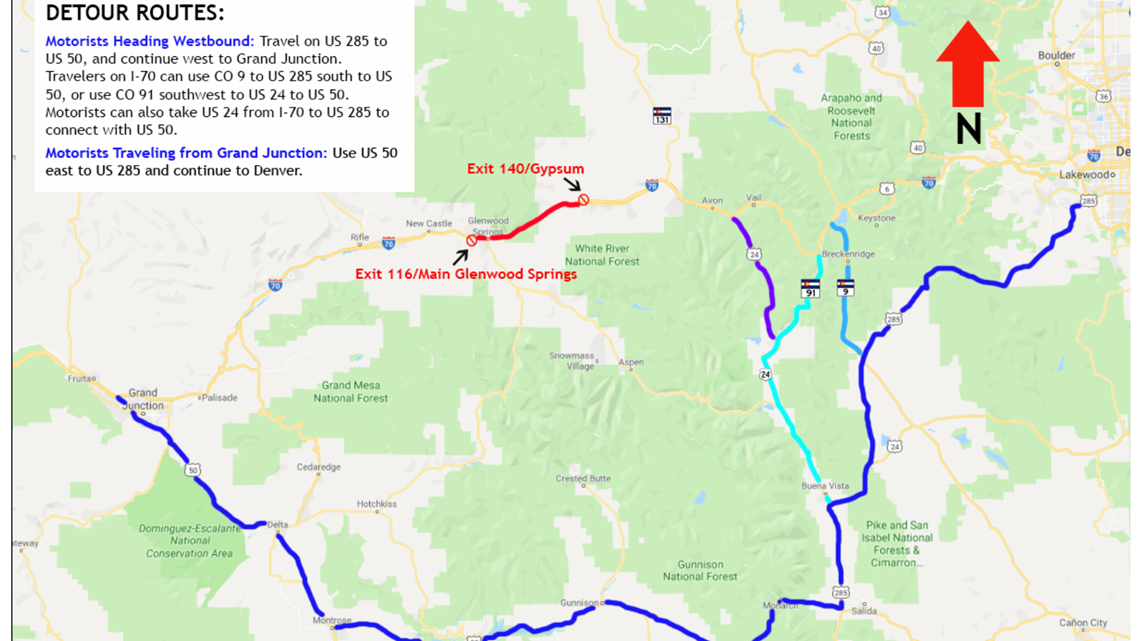 CDOT recommends the following detours:
Travelers heading westbound on I-70 can use US 24, CO 91, or CO 9 to US 285 US 50 and continue west.
Motorists headed east on I-70 can travel on US 50 to travel east towards US 24, CO 91 or CO 9 to return to I-70 eastbound, or continue east on 285 to the Denver metro area.
Motorists can take a northern detour of CO 131 to US 40 to CO 139. (While CO 13 is open at this time, it is not a recommended detour due to construction, and oversize commercial vehicles are not allowed due to construction conditions on CO 13.)
Coulter Creek Road (CR 121)
Lookout Mountain Road (CR 120)
No Name Lane (CR 129)
Buck Point Road (CR 78)
Cottonwood Pass Road in Eagle and Garfield counties.
Coffee Pot Road (CR 140), Transfer Trail (Forest Service Road 602.1) and the Clinetop Mesa Road near New Castle.
Interstate 70 between Glenwood Springs (MM 116) and Gypsum (MM 140)
Red Canyon Road (CR 115) up to the intersection of Cattle Creek (CR 113) at Cottonwood Pass.
Donations
Those who want to support firefighters or those affected by the fire are instead to donate to their local fire protection district, the Salvation Army, Red Cross, or the Wildland Firefighter Foundation.
Fire Restrictions:
All jurisdictions in the area moved to stage 2 fire restrictions on Thursday.
The cause of the fire, which was first reported around 1:30 p.m. on Monday, is under investigation. However, in a tweet, the Eagle County Sheriff's office said it is "unofficially" suspected that a blown tire, sparking rim, or dragging chain may have started the fire. In the tweet, the agency noted "there were several ignition spots along the road."