ESTES PARK, Colo. — A local photographer documenting the Kruger Rock Fire captured the last minutes before a single-engine air tanker crashed while fighting the fire Tuesday night.
Wildfires come and go in Colorado. But for residents in Estes Park, it brings back memories from the East Troublesome Fire last year.
"Once this fire happened, I just immediately went right back into that mindset of 'okay, let's just go document this historic event,'" photographer Brett Rios said.
Rios first started pursuing photography more professionally within the last couple of years--especially after he captured history during the East Troublesome Fire that lit up Estes Park.
As the Kruger Fire began to spread, he decided he wanted to capture that history as well.
"I drove out here, you know, a five-minute drive from my house, and I just set up my shot just over there. And within minutes of me getting my composition, the air tanker came over the ridge." Rios said.
Rios, who has been practicing photography for about 10 years, was watching the air tanker making drops on the fire and thought something seemed odd.
"My thought process was, maybe he's out of water and needs to go back down the mountain to refill," Rios told 9NEWS reporter Jon Glasgow. "Maybe he's called because we were dealing with 60-plus mile per hour winds last night. Maybe he's decided it's too windy for him to be up."
Rios watched the plane as it was flying over the ridge. A few seconds later, there was a bright light behind the mountain, and Rios heard over his radio that the plane had gone down.
"I just got an immediate bad feeling in my stomach, and then right as soon as that happened over the radio I hear, 'tanker down'" Rios said.
Rios continued to listen to the radio as he heard crews struggle to locate the aircraft in the dark and in difficult terrain. He said he called dispatch to tell them he witnessed the crash and could guide them to the crash site.
"That's when my worst fear was realized. And that's when I realized that I captured the last images of this pilot doing his job trying to protect our city's 133-acre fire. And a rush of emotions came over me," Rios said.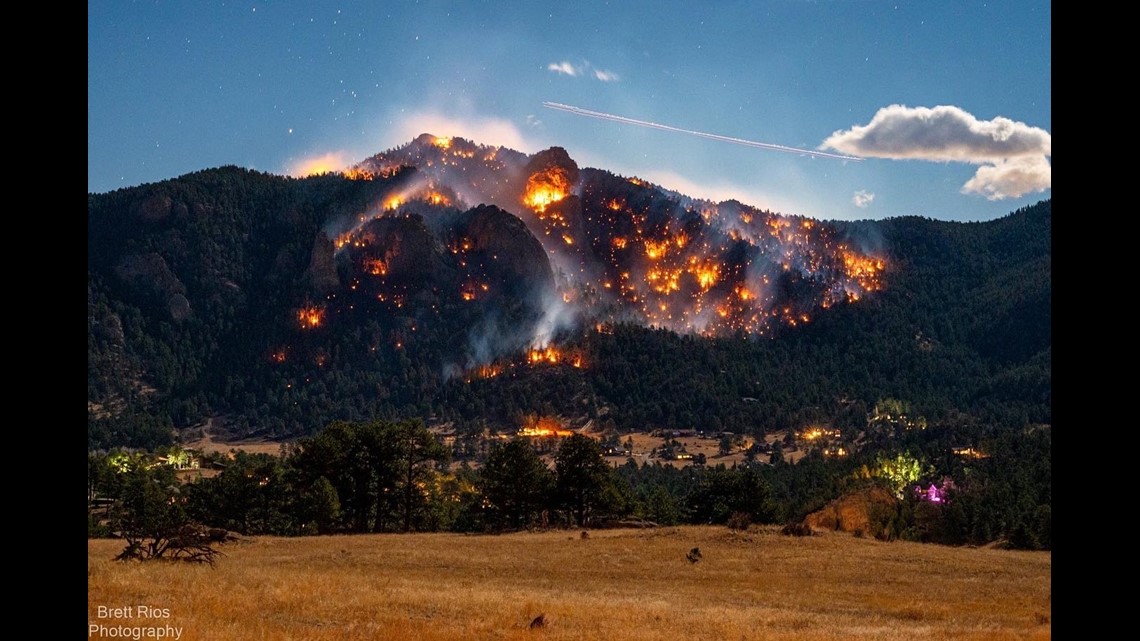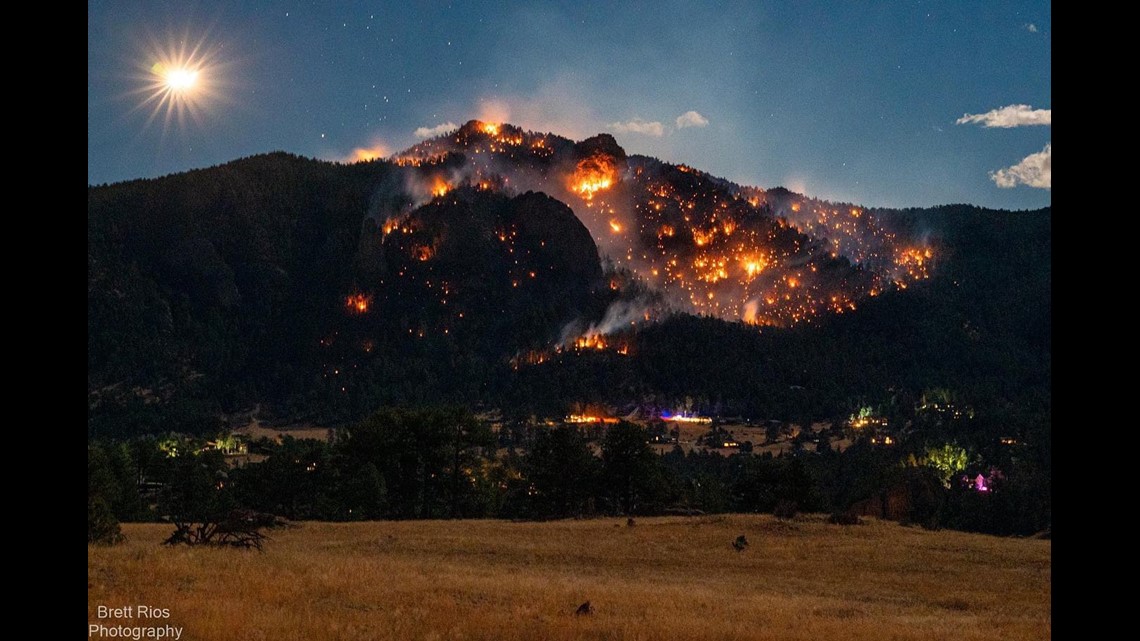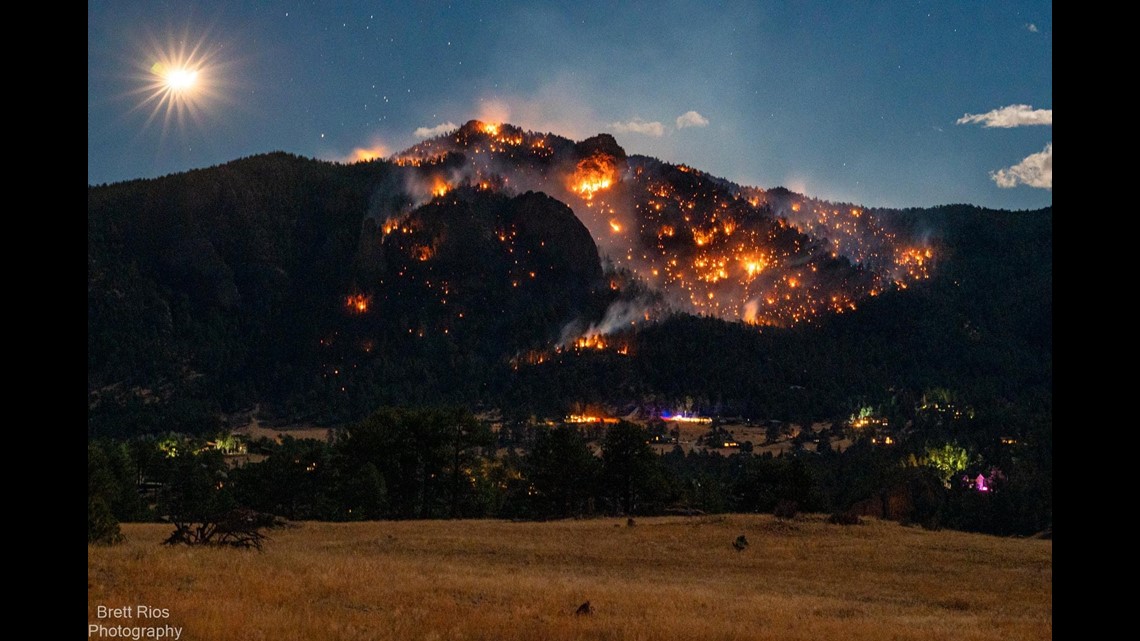 The dispatcher told him they knew exactly where the plane was and did not need his help, according to Rios.
He kept monitoring the radio traffic, and after a while it became clear that crews were having trouble locating the plane, Rios said.
Rios ended up calling the Larimer County Sheriff's Office to report where he last saw the airplane. After leaving a voicemail, Rios said he received a call back and met with a deputy to show him exactly where he saw the plane go down.
"I took him into my house, and I have a map, and I drew on the map exactly where it went down," Rios said. "He took a picture of that and immediately thanked me and said this is incredibly helpful."
Within an hour, Rios said he heard a call for a medic over the radio, which gave him hope that the pilot may have survived the crash. That hope quickly faded as time passed.
"I am incredibly thankful for him doing his job and sacrifice to try and protect our town," Rios said. "My heart goes out to his family."
The flight was believed to be the first time a fixed-winged aircraft was used to fight a fire at night using night-vision goggles.
Marc Thor Olson with CO Fire Aviation was making this historic trek as the pilot.
"He just started. He did an initial drop of water and retardant on the other side of Hermit Park and on the east side of Kruger Rock. And then he came over to the western side and he started doing low sweeps and pass and dropping water and retardant on this side of the fire. And he managed to do several sweeps, probably like four or five sweeps," Rios said.
The Larimer County Sheriff's Office said despite the gusty winds, air resources were utilized. They said Thor reported the winds were not too bad after his initial water drop. He then went to Loveland to get a load of suppressants. Once he returned, he told the ground crew it was "turbulent" and he would make another pass before landing. Moments later, ground crews heard the plane crash.
The Federal Aviation Administration and National Transportation Safety Board are investigating the crash. An investigator with the NTSB arrived to the crash site from Chicago Wednesday morning. He's hoping to access the site and document the wreckage.
After that process is completed, the aircraft will be moved to a secure location.
The NTSB said their biggest challenge right now is ensuring the Kruger Rock Fire is contained during their investigation. They said they hope to release preliminary findings in the next two weeks.