BOULDER COUNTY, Colo. — Newly released body-camera footage shows a member of the Twelve Tribes talking to investigators a day after the Marshall Fire burned more than 1,000 homes in Boulder County.
The next day, on Dec. 31, Boulder County Sheriff's Office investigators started focusing on land owned by the religious group Twelve Tribes.
The investigation, made public earlier this month, concluded that an intentionally set trash fire on property owned by Twelve Tribes was the initial point of origin for the Marshall Fire.
That fire, reported a little before noon Dec. 24, 2021, included the burning of railroad ties. A passer-by reported the fire, and both Mountain View Fire Rescue firefighters and Boulder County Sheriff's Office deputies responded. Because people from Twelve Tribes had water and a tractor on scene, firefighters were not concerned and left.
One Boulder County Sheriff's deputy told people tending the fire that they should cover it with dirt when they were finished burning. However, it appears that embers from the fire smoldered until hurricane-force winds roared through the area six days later and re-ignited the fire, according to the investigation.
The newly released body camera footage shows investigators interviewing a Twelve Tribes member – whom 9NEWS is not identifying because he hasn't been charged with a crime – on Dec. 31, 2021, at the Yellow Deli on Pearl Street in Boulder.
"There was definitely no fires being made up there yesterday," the man says in the body-camera video.
Days later, he told investigators about the fire on Dec. 24 that he buried with a front-end loader. That conversation was on the phone.
"I have no idea what to say except we did that," he told investigators in that phone conversation. "I'm not saying that's what started it, but we we want to make sure there's nothing that seems unclear."
He told investigators that Twelve Tribes was devastated at the possibility that the Marshall Fire might have started on their property.
"Even if it was inadvertent or a mistake, it's devastating to imagine," he said on that phone call.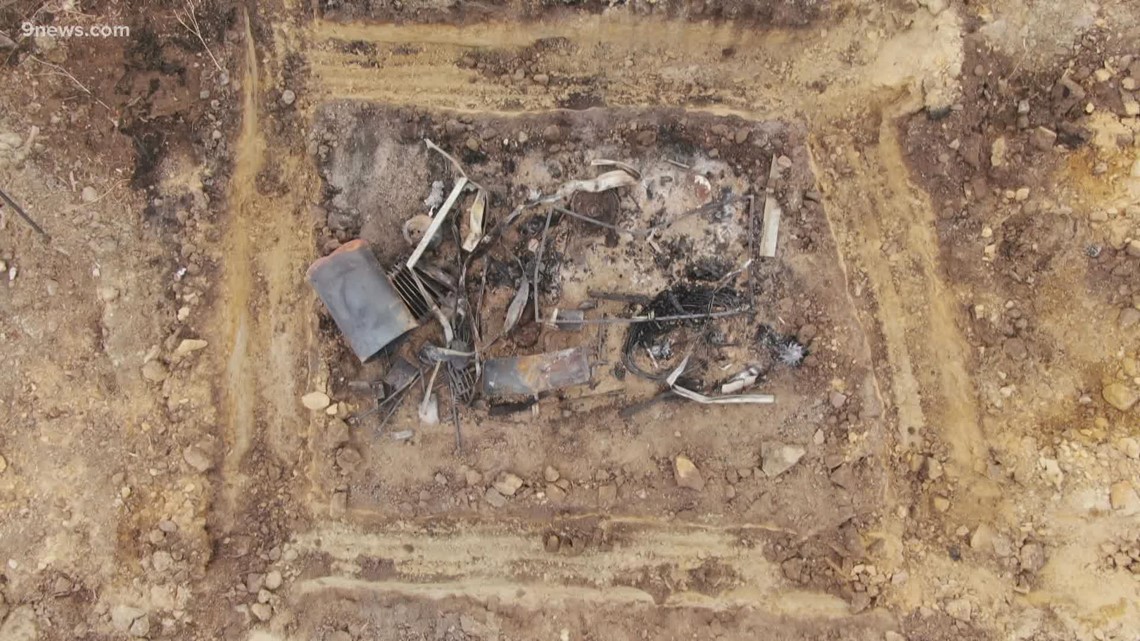 Later that day, he did an in-person interview.
"We didn't see anything," he said when asked whether the fire was out after it was buried.
"Even the few days after?" investigators asked.
"No, not at all between Friday, whatever that would've been, December 24, I guess, right? And then Thursday," he said.
He said he buried the fire and thought it was fine.
"However this fire started, it's most likely not malicious," investigators told the Twelve Tribes member. "So you know, we weren't there to get back at anybody."
"We're not involved in anything. It is underhanded," the man said. "It's against our reason for being."
Boulder County District Attorney Dougherty said there's no indication the residents at that property created a substantial or unjustifiable risk when they lit the fire on Dec. 24 and that firefighters who responded to reports of the fire did not find any issues.
Roughly 40 minutes after the fire ignited on the Twelve Tribes property, a second blaze began nearby, sparked by hot particles discharged from an Xcel Energy power line at the Marshall Mesa Trailhead, the investigation found.
This story includes previous reporting by Kevin Vaughan and Wilson Beese.
More 9NEWS coverage of the Marshall Fire: