BOULDER, Colo. — The NCAR Fire burning in Boulder County is 100% contained, Boulder Fire-Rescue said Thursday afternoon.
The fire, which forced thousands of people to evacuate over the weekend, burned about 190 acres. No injuries were reported and no structures were lost in the fire, which was first reported around 2 p.m. Saturday in an open space near the National Center for Atmospheric Research (NCAR) in south Boulder.
All evacuation orders for the fire were lifted as of 5 p.m. Sunday.
Tuesday evening, Boulder Fire-Rescue said command was being transferred back to the City of Boulder as containment numbers continued to improve.
Boulder Fire-Rescue will continue to patrol and monitor the fire's area over the following days and maintain water-hose lines in the burn scar for a few weeks.
Community members may see some smoke coming from the burn area, which is normal behavior as the fire burns out. Boulder Fire-Rescue said there is no need to call 911.
PHOTOS: NCAR Fire in south Boulder
About 19,000 people living in 8,000 homes were placed under mandatory evacuation orders after the fire started Saturday. Evacuation orders for many of those homes were lifted around 11 p.m. Saturday. The rest were lifted around 5 p.m. Sunday.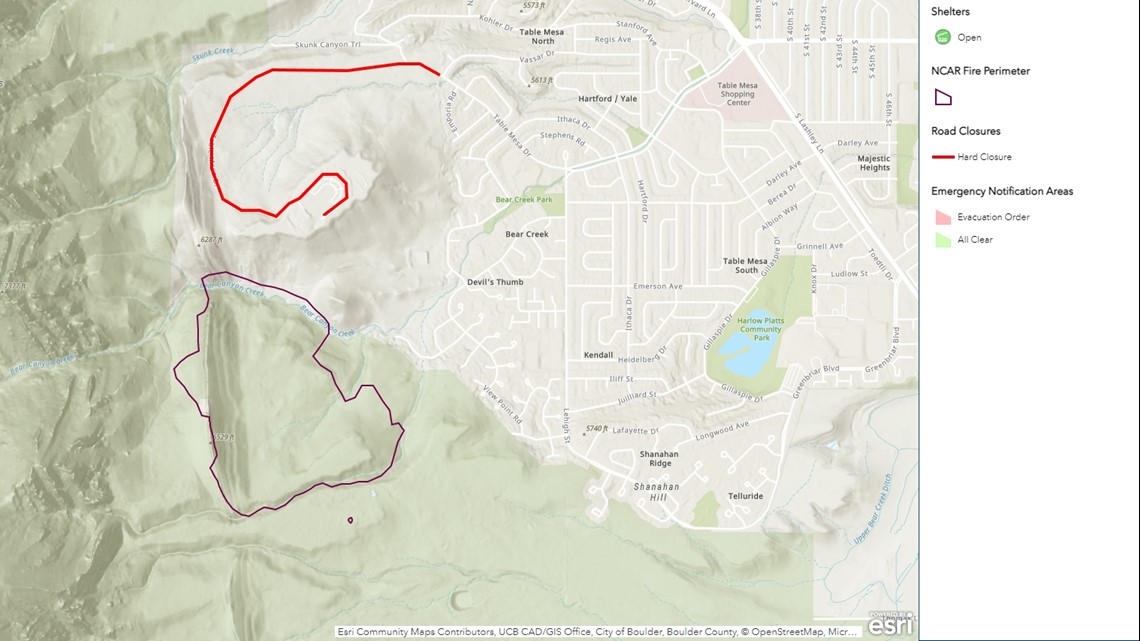 Part of the fire line approached several subdivisions in the Table Mesa neighborhood in Boulder, including Devil's Thumb. The flames never made it to any homes Saturday.
The BCSO is asking anyone who was on or near the trails south of NCAR around 2 p.m. or earlier Saturday and may have seen anything that could help with the investigation to call 720-564-2679 or email bcsotips@bouldercounty.org.