JEFFERSON COUNTY, Colorado — All residents who were evacuated due to the Elephant Butte Fire burning west of Evergreen have been allowed to return home, according to the Jefferson County Sheriff's Office (JCSO).
The fire burned about 50 acres, according to a tweet from JCSO. As of Wednesday night, it is about 75% contained. There's no word yet on its cause.
Fire crews will continue to mop up hot spots inside of the fire's perimeter over the next few days, but JCSO said air operations have been called off. At this time, access to the area is restricted to residents only.
Cooler temperatures, humidity and heavy rain on Tuesday helped in firefighters' efforts to contain the blaze.
Evacuation notices went to about 1,000 homes in the area of the 31000 block of Upper Bear Creek Road, according to the Jefferson County Sheriff's Office (JCSO).
At 5 p.m. Tuesday, about 80% of those residents were allowed to return home. By 7 p.m. all evacuations had been lifted due to heavy rain in the area.
Those returning home will need to go through checkpoints where deputies will be ensuring that only residents are entering the previously-evacuated area, the Jefferson County Sheriff's Office said. This is due to the number of first-responders still in the area.
CodeRed sent 2,950 phone calls, 1,070 text messages and 826 emails on Monday night, the Sheriff's Office said.
Alderfer/Three Sisters Park and Elk Meadow, two popular open spaces, were also evacuated and closed. Those parks are expected to reopen over the weekend.
Firefighters said the biggest challenge in fighting the Elephant Butte Fire is that it's burning in rocky, steep terrain with many surrounding trees.
No injuries have been reported and no structures have been destroyed.
PHOTOS: Evacuations issued as wildfire burns near Evergreen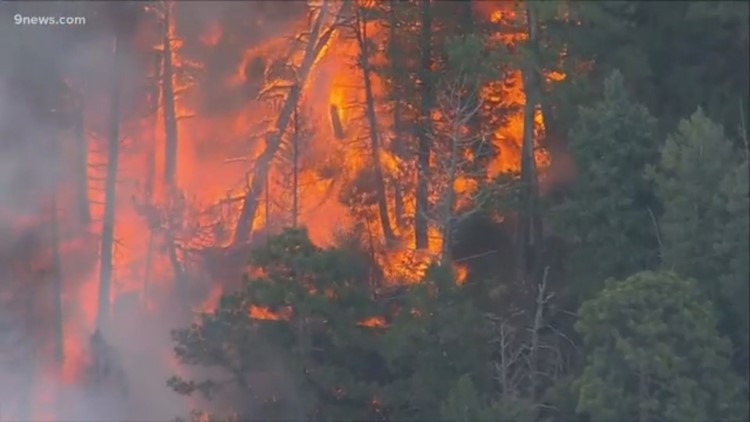 JCSO said more than 100 personnel are fighting the fire from several agencies.
Two helicopters and a large tanker are also assisting with fire mitigation after the Rocky Mountain Area Coordination Center (RMACC) ordered aircraft support.
The cause of the fire is under investigation, JCSO said.
The fire quickly grew from 5 acres to roughly 50 acres on Monday night, according to the JCSO.
Helicopters were seen collecting buckets of water to fight the fire from Evergreen Lake. During a media briefing, firefighters said wind would be a concern going into Monday evening.
Temperatures throughout the Front Range have been in the 90s for multiple days in a row, with little moisture.
Multiple counties have enacted fire bans in an effort to prevent wildfires.