KUSA — SUMMIT COUNTY - A wildfire that broke out near Silverthorne on Tuesday morning and came within a 250 feet of homes -- forcing more than 1,384 evacuations -- was definitely human-caused, the incident commander said.
Incident Commander Jeff Berino told 9NEWS Reporter Nelson Garcia the origin of the fire was human-caused, but they're still investigating exactly how it started.
Crews were still working to put out hot spots on the Buffalo Mountain Fire on Wednesday. Although conditions remained warm and dry, the wind cooperated with their efforts.
The mandatory evacuation impacts the Wildernest and Mesa Cortina neighborhoods above 20 Grand Road.
"When we were packing, there were cinders falling because I was late and there were, I could see flames," evacuee Janet White said.
Residents were allowed to return home Wednesday to collect personal items.
Bill Jackson is the district ranger for the White River National Forest. He says that fuel breaks created years ago saved homes from burning. These are areas between 300-to-500 feet wide where trees and other potential fuel were removed to create a buffer between homes and the heavy woods.
"From the air, you could see the fuel breaks which follows the edge of these condos and homes," Jackson said. "It was fairly stark. It was right there in front of me. The pattern and where the firefighters were able to engage safely because of these fuel breaks. So, it was quite obvious to me that without these, we'd be in a totally different situation. We wouldn't be standing here."
Residents agree that the fuel breaks made a big difference.
"It looked like it was coming over to my house," said Martin Salinas, who lives in the Wildernest neighborhood and was forced to evacuate. "I had to gather my stuff and get out of there as soon as I could. And as I was leaving, there were police cars everywhere trying to get people out. It was very scary."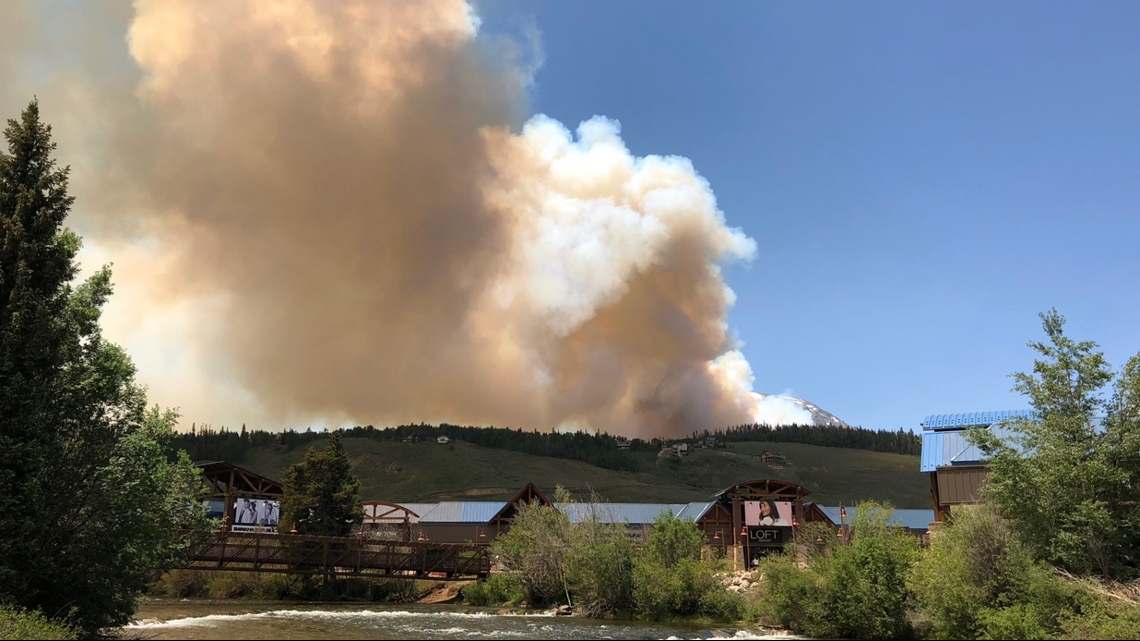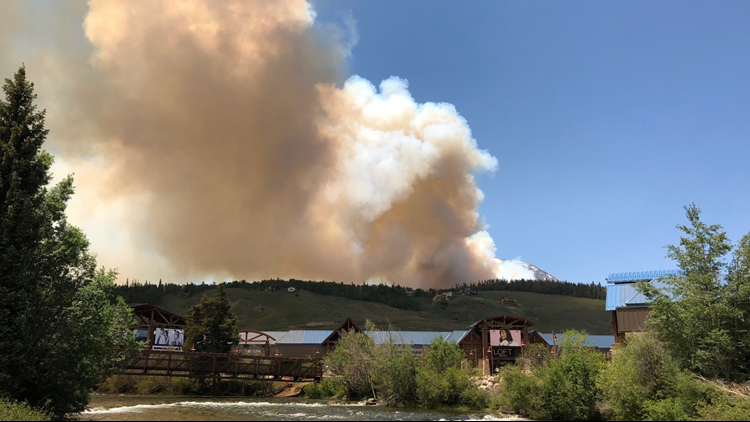 Summit Stage is helping people without transportation evacuate. The neighborhoods are in a densely-populated area.
Evacuees from Mesa Cortina and Wildernest may go to the Silverthorne Recreation Center (430 Rainbow Drive) for shelter. Also, the Frisco Elementary School opened as a shelter on Tuesday evening.
Members of the public with questions about the Buffalo Mountain Fire should call the hotline at 970-668-9730.
For residents with pets left at homes in Wildernest and Mesa Cortina, Summit County Animal Control has a hotline at (970) 668-4143 to help retrieve them.
The wildfire, which started near the Mesa Cortina and the Buffalo Mountain trailheads, is in an area of heavy timber. Sparks and embers are within 250 feet of structures.
White is thankful her home is still standing for now.
"I think this fire would've just really moved quickly, a lot quicker than what it did," White said. "Fire breaks work."
Four heavy air tankers, two DC-10 air tankers and a Type-1 helicopter have been ordered, according to Summit Fire.
The U.S. Forest Service is closing trails in the area including North Ten Mile, Meadow Creek, Salt Lick, Buffalo Mountain, Lily Pad Lake, Mesa Cortina, Willow Brook, Gore Trail at Red Buffalo Pass.
PHOTOS | Buffalo Mountain Fire in Summit County