LA PLATA COUNTY - Almost two weeks after the 416 Fire broke out in southwestern Colorado, some evacuated residents are being told they can return home, but should remain on standby in case they need to evacuate again.
As of Wednesday morning, the blaze has burned 27,420 acres as more than 900 firefighters work to battle it back. It remains 15 percent contained.
Mandatory evacuations were lifted at 8 a.m. Wednesday for some residents along the Highway 550 corridor in San Juan County.
Those residents will need show a Rapid Tag residential credential before they can return, according to the Rocky Mountain Incident Management team. They will also remain on pre-evacuation in case the fire becomes a threat again.
Note: A media briefing for the 416 Fire will be held at 3 p.m. at the Animas Elementary School. 9NEWS plans to stream this online and on Facebook.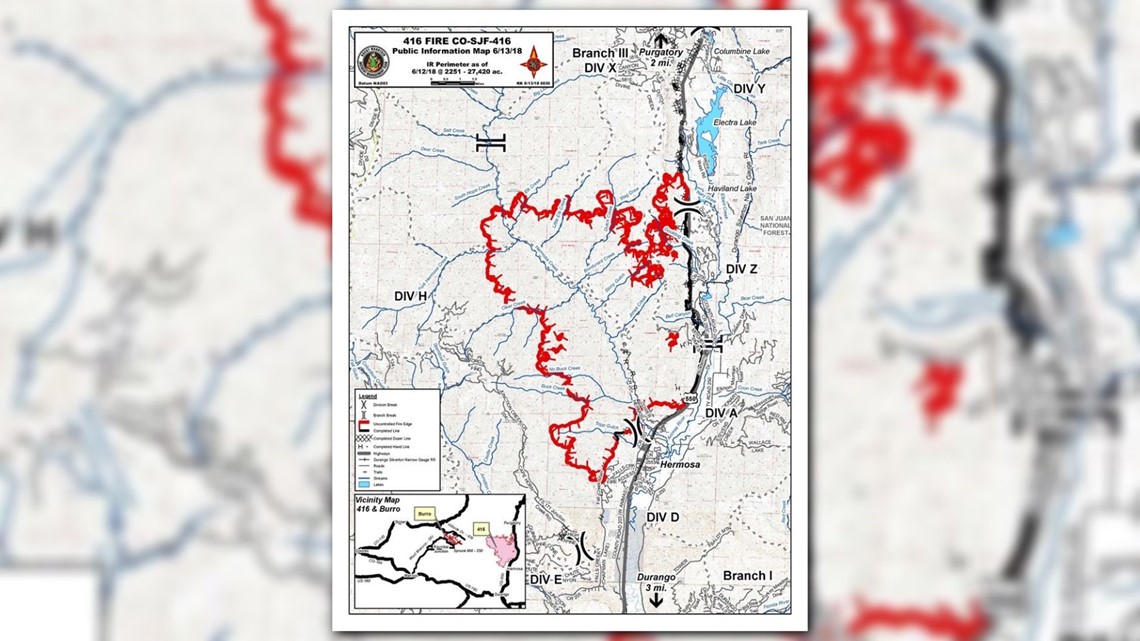 The entire San Juan National Forest closed to the public on Tuesday and will remain closed indefinitely. Stage 3 restrictions mean all public access is prohibited.
Most Forest Service staff will also be barred from entering the park as firefighting efforts focus not only on the 416 Fire, but also the now 1,000-acre Burro Fire not far from it.
Campgrounds, day use areas, roads and trails inside the San Juan National Forest will all be closed until the moisture returns, the Forest Service said.
While some exceptions may be made only by the Forest Service, entry to the park and any usage of roads or the like will come with specific requirements for fire suppression.
The McPhee Recreation Area Complex boat ramp and marina will likely remain open but access to the shore is prohibited.
Kara Chadwick, the supervisor of the San Juan National Forest, said the decision to close the Forest was not an easy one. In a news release, Chadwick said implementing several fire restrictions since May 1 hasn't stopped the dry weather or the fires.
One tiny spark could cause a catastrophic wildfire, Forest Service staff said in the release, and those that work in the forest aren't willing to risk it.
Violating the stage 3 fire restrictions in place or the forest's closure carries a mandatory appearance in federal court. It's punishable of a fine up to $5,000 for an individual and $10,000 for an organization, the release said. Prison time tops six months.
Fire officials are keeping an eye on the potential for afternoon storms north and east of the 416 Fire on Wednesday afternoon. Those storms could bring lightning and winds of up to 40 miles per hour.
Burn out operations continued Tuesday on the ridgeline west of Hermosa where crews worked to get ahead of the fire and slow its progress while protecting surrounding structures.
This "burnout operation" means that when the fire lines reach the area, it will meet a parcel of land already burning.
Fire officials want residents to know that more planned burn outs are scheduled in the area that borders Junction Creek Road on the west and Falls Creek Road on the east. Smoke will be seen from Durango.
During these operations, firefighters will continue to drop water to decrease the fire's intensity allowing for more control, according to the Incident Management Team.
PHOTOS | 416 Fire north of Durango
The fire started on June 1 about 10 miles north of Durango in the San Juan National Forest, and has since led to the evacuation of more than 2,100 homes.
Smoke has reached unhealthy levels in La Plata County as far south as the Colorado-New Mexico border, according to the Colorado Department of Public Health and Environment.
The area includes the communities of Durango and Hermosa and the Southern Ute Reservation.
An evacuation center is open at Escalante Middle School at 141 Baker Ln. in Durango. It will now have 24-hour shelter capacity with arrangements for food and showers.
Livestock can be evacuated to the La Plata County Fairgrounds at 2500 Main Avenue. The emergency call center at 970-385-8700 can help coordinate pick-up of livestock. Small animals are being accepted at the La Plata County Humane Society, 1111 South Camino del Rio, Durango 970-259-2847.
Haviland Lake & Chris Park Campgrounds are closed because they are in the mandatory evacuation area. If you have reservations you should call Rocky Mountain Recreation at 1-800-416-6992 about refunding or transferring your reservation.
The Discover Goodwill of Durango, 1230 Escalante Drive, is now accepting clothes and household donations. Financial donations can be made by calling the Community Foundation serving Southwest Colorado at 970-375-5807, in the name of the Community Emergency Relief Fund.
To receive emergency notifications, including evacuation and pre-evacuation notices, on your cell phone or via email, click or tap here.