KUSA – For a fire that's already consumed 89 square miles since it broke out less than a week ago, a distance of another two miles might not seem like much.
"Sometimes those miles can be a huge distance, sometimes they can be really close," said Neal Kephart, the fire information officer for the Spring Fire in southern Colorado.
PHOTOS | Spring Fire burning in Costilla County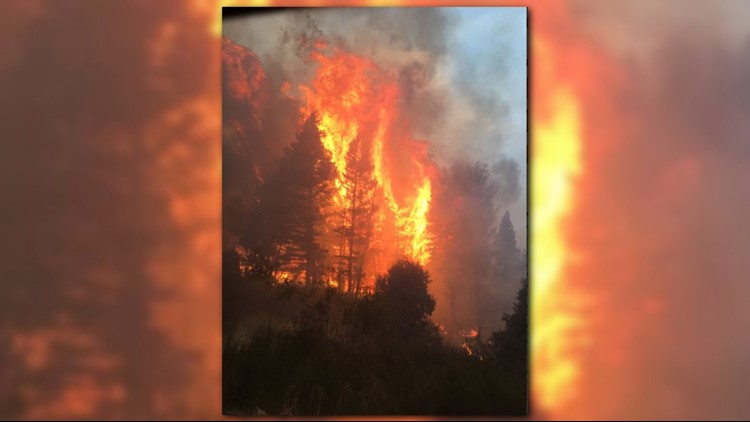 The 56,820-acre blaze is now a little over two miles from the village of Cuchara, an unincorporated community situated on the slopes of a former ski resort that's been entirely evacuated as the Spring Fire creeps southwest.
It's possible that the fire could reach the area Monday night.
"Efforts so far have been to construct fire lines, dozers and equipment around some of the structures there," Kephart said, adding some of the 550 firefighters assigned to the Spring Fire will go to Cuchara to assess what they can do to protect the homes and businesses there.
Kephart said the Spring Fire has been unpredictable, and that the conditions between Raspberry Mountain and Cuchara has significant beetle kill, rough terrain and narrow canyons – factors that make battling the blaze difficult and could pose safety hazards to firefighters.
If the fire gets closer to Cuchara, Kephart said firefighters could set controlled fires which are aimed at keeping uncontrolled blazes away from structures.
Firefighters can also leave portable sprinklers and water tanks in Cuchara if the blaze spreads too fast.
"Every attempt is going to be made to protect those structures wherever possible and where it's safe to do that."
Seven helicopters are currently dropping water and retardants onto the Spring Fire, as well as air tankers.
The Spring Fire, which was allegedly started by a man who had been cooking pit in a fire pit the night before it broke out, is 5 percent contained.
"We're looking at quite a challenging period here because we have low humidity, we have high temperatures, we've got unstable atmospheric conditions and we've got windy conditions," Kephart said. "Combine the four of those with the near-record drought that we've been experiencing here, and it's just kind of a setup for extreme fire behavior."