Excited delirium: The story of how some people die while in police custody
As critics suggest it doesn't exist, or at least doesn't kill, excited delirium continues to be used as a reason for why people sometimes die in police custody.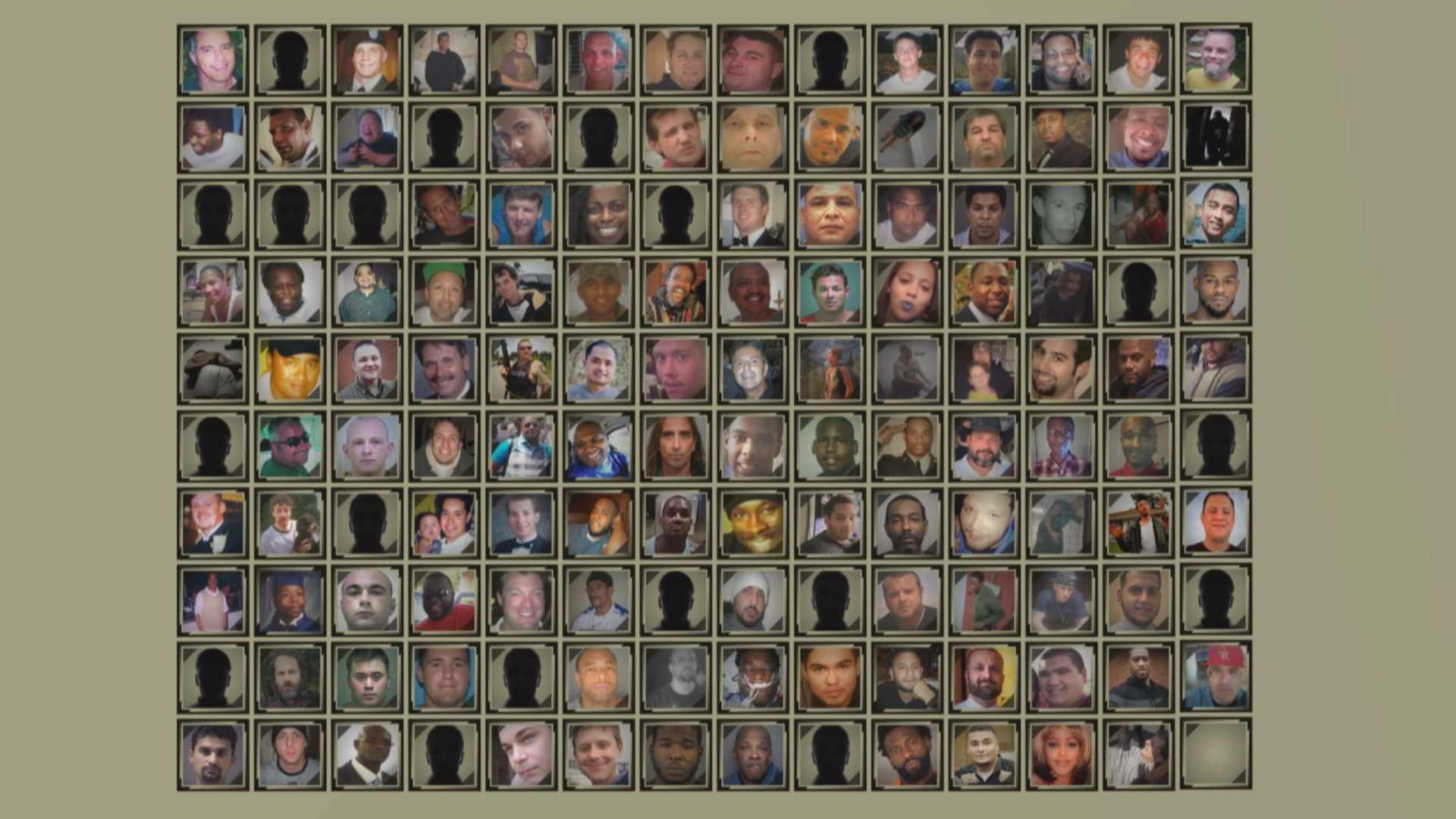 The two-word term made little sense to Judy Rigg: excited delirium.
Excited delirium. That was why her husband, Bob Rigg, was so out of it not long after he crashed his car into the back of an RTD bus. That's why he was incoherent. That's why he stopped breathing as a police officer had him in the back of a police car.
Wait a second, she thought, as she looked at a pair of Lakewood Police officers: She knew why he was incoherent, why he couldn't get the words out, and almost certainly why he died.
"When I told them he was a diabetic, the look on their faces was like, 'Oh sh-t,'" she said.
Fourteen years after she first heard the words "excited delirium," it still makes her upset.
"It doesn't make any sense to me at all," she said.
Instead of immediately taking Bob Rigg to a hospital when they found him, dazed in his damaged car that was idling near West Alameda Avenue and South Pierce Street, Lakewood officers first took him to police headquarters to be booked, right around noon on Sept. 9, 2009.
"He was a diabetic, and he was low," Judy Rigg said. "That's why he died."
Chapter 1
:
What is excited delirium?
Excited delirium, to its believers, is a condition that manifests itself through such things as bizarre behavior, incoherency, profuse sweating, extreme strength, imperviousness to pain. And, yes, sometimes people suddenly drop dead from it.
Yet, as our investigation has found, those position statements have hardly been enough to keep the term out of autopsy reports, police reports and court filings.
As of this story, 9NEWS has linked 139 deaths to the term since 2010. Even if you believe excited delirium exists – which many people do not – our investigation uncovered example after example where suspicion of it turned out to be wrong.
Bob Rigg's case could have served as a warning to other officers inclined to suspect they're witnessing excited delirium. It's not certain it ever did.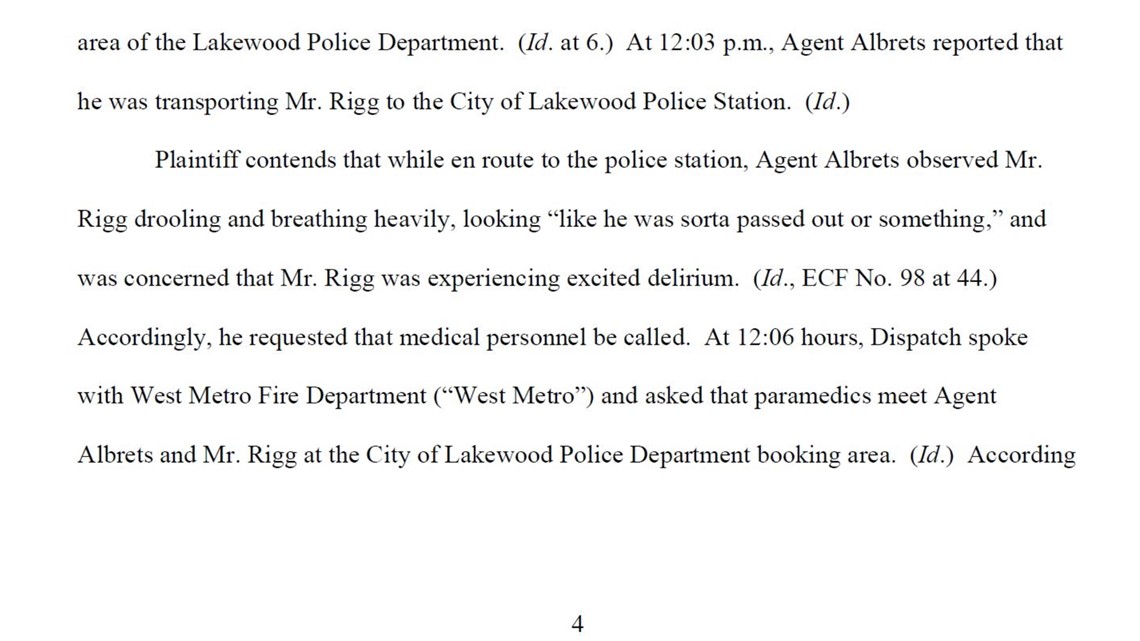 Chapter 2
:
Death of Elijah McClain
Minutes after Aurora Police officers took Elijah McClain to the ground – around 11:03 p.m., Aug. 24, 2019 – someone standing around McClain's mostly immobile body proclaimed it was "excited delirium."
It's why McClain received ketamine. The words even managed to find their way numerous times into an initial autopsy report done by the Adams County Coroner's Office.
"The patient's sudden collapse after an intense struggle is commonly seen in Excited Delirium," wrote Dr. Stephen Cina.
The problem is – as Dr. Cina would essentially admit when he amended his autopsy more than a year later – "excited delirium" had nothing to do with the death of McClain. The words didn't appear once in Cina's amended report, issued in the summer of 2021.
"I believe this tragic fatality is most likely the result of ketamine toxicity," Dr. Cina wrote.
9NEWS' ongoing investigation has found other examples of where initial suspicions of "excited delirium" led to similar bad outcomes.
Jerica LaCour also received ketamine in 2018 after a paramedic believed the mother of five was suffering from "excited delirium" when she turned up in a Colorado Springs parking lot alone and utterly despondent. She stopped breathing not long after the injection. The El Paso County Coroner's Office said ketamine toxicity played a role in her death. Excited delirium cannot be found anywhere in her autopsy report.
Last year, an Adams County deputy asked, "Excited delirium?" when he and others restrained, facedown, a jail inmate named Arthur Roybal.
Roybal stopped breathing a few minutes later.
"Excited delirium" had nothing to do with Roybal's death, concluded Dr. Bill Smock, the Louisville (KY) Police surgeon. He has testified as an expert in excited delirium for numerous cases, including the trial of the Minneapolis Police officer now convicted of murdering George Floyd.
Roybal's death, he told 9NEWS, "was, in my mind, a classic case of positional asphyxia."
An autopsy report in that case from the Adams County coroner has yet to be made public.
He said fear of excited delirium has led poorly trained law enforcement officers to do some really questionable things.
Minneapolis officers suspected that George Floyd had excited delirium when they held him facedown in 2019. Smock found excited delirium had nothing to do with his death. Why? Because Floyd wasn't delirious at all.
"He was conversing with other officers," Smock said. "He was telling them he couldn't breathe. Was his speech understandable? Yes. Was he incoherent? No."
When we asked Smock to review the body camera recordings of McClain, he said essentially the same thing.
"If you can talk coherently, you definitely don't have it," he said.
Chapter 3
:
Why not call it a Martian virus?
Nearly half of the 139 deaths on our list involve people like Roybal who were held prone – or facedown – by law enforcement officers.
More than half received jolts from stun guns or Tasers shortly before they died.
All but two of the deaths happened after law enforcement involvement.
Dr. Michael Freeman is a forensic epidemiologist and co-author of a 2020 study that concluded, "There is no evidence that indicates [excited delirium] is inherently lethal in the absence of aggressive restraint."
He's spent more than a decade looking into the use of what he calls a "magical term."
"The term should just be taken out of the medical lexicon," he said. "When law enforcement is involved, and the death occurs during the restraint, that's when the term 'excited delirium' is invoked."
"You could call it a Martian virus," Freeman said. "You could say he was hit by a meteorite that no one saw. I mean, if you're just going to make something up say that's what killed him … then why not?"
Judy Rigg and her daughter Jenny Keiper don't disagree.
When Judy's husband and Jenny's father, Bob Rigg, died in 2009, the term "excited delirium" meant little to them.
"I really didn't know what it was," Keiper said. "I think we had a very long conversation just trying to understand what excited delirium was."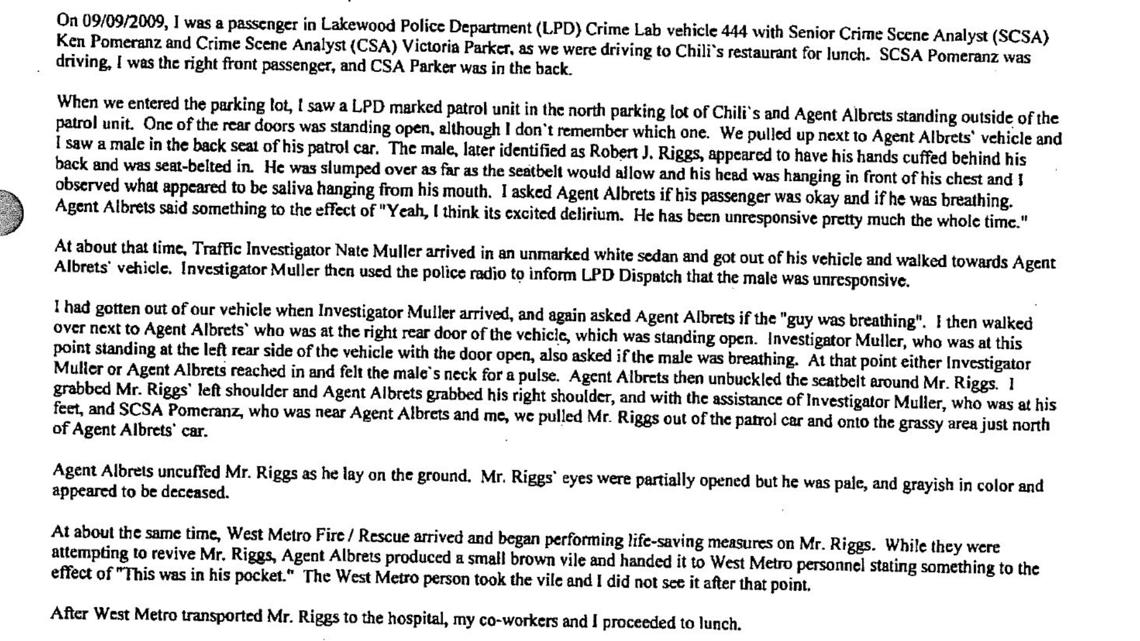 Bob Rigg's death received scant attention in the news. When a judge tossed their lawsuit against the City of Lakewood in 2014, the story failed to gain traction anywhere. But the fact remains. Bob Rigg died not long after police believed he was experiencing excited delirium.
"I have kids who have never met my dad," Keiper said. "My husband has never met my dad. We want to say it doesn't bother us, but it does. It just that we continue moving on, but we do think about that a lot."
If you'd like to contact us regarding this story or about any other investigation you think we should cover, you can email reporter Chris Vanderveen at chris.vanderveen@9news.com.