DENVER — They're unmistakable when you see them, yet their purpose is to help you with disguises.
Sounds like a riddle, right?
Spirit Halloween stores around Colorado have already put some empty retail spaces into costume.
"Well, it's kind of early for Halloween," said Tim Gantz, outside the Denver location near Colorado Boulevard and Mexico Avenue. "It's a little bit unusual to be thinking about Halloween in July."
And on this day, exactly 100 days before Halloween, there's another "opening soon" Spirit location at an empty storefront in Aurora, on the northeast corner of Hampden Avenue and Chambers Street.
"It says that the real estate market over here may be not so great? The commercial real estate," joked Adam Helm outside the Aurora location. "I think it's a little bit too early. I mean, it's like 100-degree heat still."
That would explain the bright orange glow from the signs popping up at the locations that will open around Labor Day.
There is already competition near the Aurora location because Gott-a-Costume is a year-round Halloween store in the shopping center on the northwest corner of the intersection.
Another Spirit has marked its territory on the empty big box store between Park Meadows Mall and C-470, just off Yosemite Street.
"I kind of wonder what these retailers, these strip malls do, all the rest of the year, to fill that space," said Gantz.
According to the real estate broker that helps with the Aurora location, that spot used to be an Aaron's Rents, and the tenant is stuck in a lease, so they sublease to Spirit for some short-term help.
According to the Spirit website, the location for a three-month lease from August until mid-November includes:
5,000-50,000 square feet
Population of 35,000 or more that live within 3-5 miles
25,000 or more vehicles driving by daily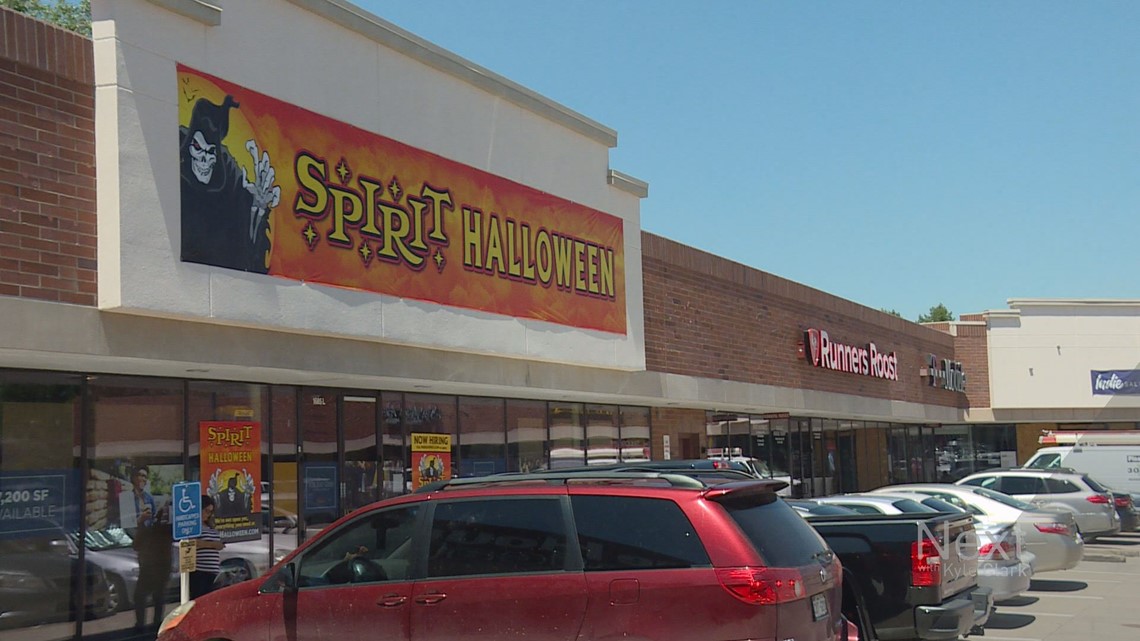 "I'm always skeptical when they pop up," said Helm. "However, I do have two kids and we go, so you know, it's one of those toss-ups."
Vox reports Spirit's business model is successful, despite only being open a few months a year. Spirit scouts for empty stores all year, and it capitalizes off of empty retail spaces left behind by brick and mortar stores that go out of business. And according to Business Insider, the stores don't spend time or money decorating the empty spaces. Once the season's over, employees put unsold inventory away to sell the following year.