Last week's monitor showed about 30 percent of the state under some level of drought. The drought monitor released on May 18 showed that statewide number has decreased to about 11 percent.
Most of eastern Colorado saw at least two inches' worth of rain last week, with some areas (particularly in the Denver metro area) seeing as much as six or even seven inches of weekly rainfall. Most of eastern Colorado only averages about 15 inches of rain a year, meaning a sizeable portion of eastern Colorado's average annual rainfall fell in just a few days.
That helped put a serious dent in the drought across eastern Colorado. Basically everyone saw substantial drought improvement.
For the first time since the summer of 2021, the full Interstate 25 corridor is completely drought-free. Colorado Springs and Pueblo were both removed from drought conditions, mere weeks after both cities were in either severe or exceptional levels of drought.
The Denver metro area, meanwhile, was fully removed from abnormally dry (pre-drought) conditions after an historic four-and-a-half inch rainstorm last week.
Drought map for May 18: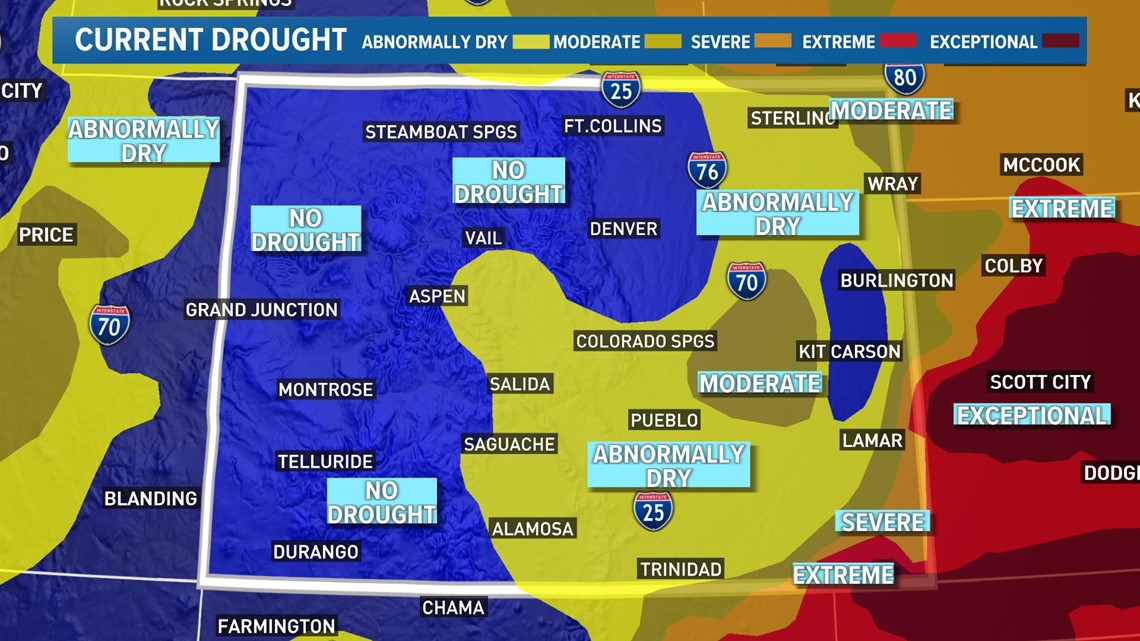 Drought map from May 4: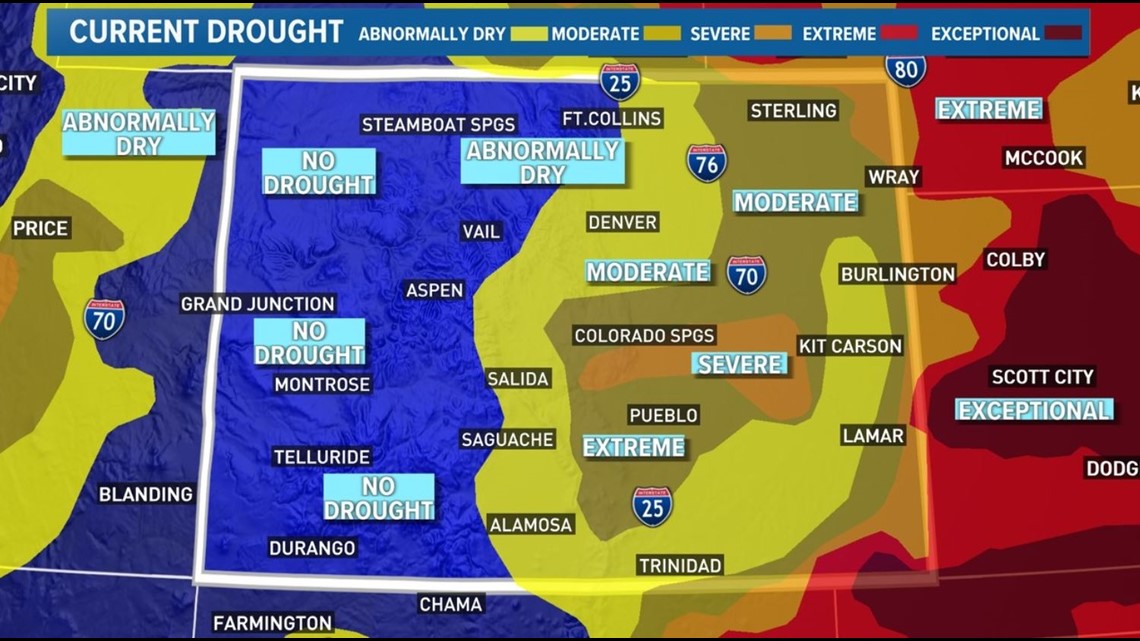 About the drought monitor:
There is a new drought update published every Thursday, which uses the data from the previous Monday through the current Monday.
The USDM takes two days to draw up the map because it actually gets authored by a human scientist that makes a judgment by weighing several different factors.
The map does not come from a physical measurement from something like a drought sensor, or even from a computer model that just simply crunches data.
The author is either a climatologist or a meteorologist from the National Drought Mitigation Center at the University of Nebraska-Lincoln (the academic partner and web host of the USDM), the National Oceanic and Atmospheric Administration (NOAA), or the U.S. Department of Agriculture (USDA).
They usually take turns authoring two consecutive weeks of monitoring before handing it over to another author.
9NEWS+
9NEWS+ has multiple live daily shows including 9NEWS Mornings, Next with Kyle Clark and 9NEWS+ Daily, an original streaming program. 9NEWS+ is where you can watch live breaking news, weather updates, and press conferences. You can also replay recent newscasts and find videos on demand of our top stories, local politics, investigations and Colorado specific features.