Full story in the video above. Who deserved to win the race? Watch and judge for yourself.
Surveillance video at the Wellington Webb building in downtown Denver shows how a pot group that camped out for 27 days to get the coveted April 20th Civic Center Park permit got held back for 20 seconds (420, get it) and got beat.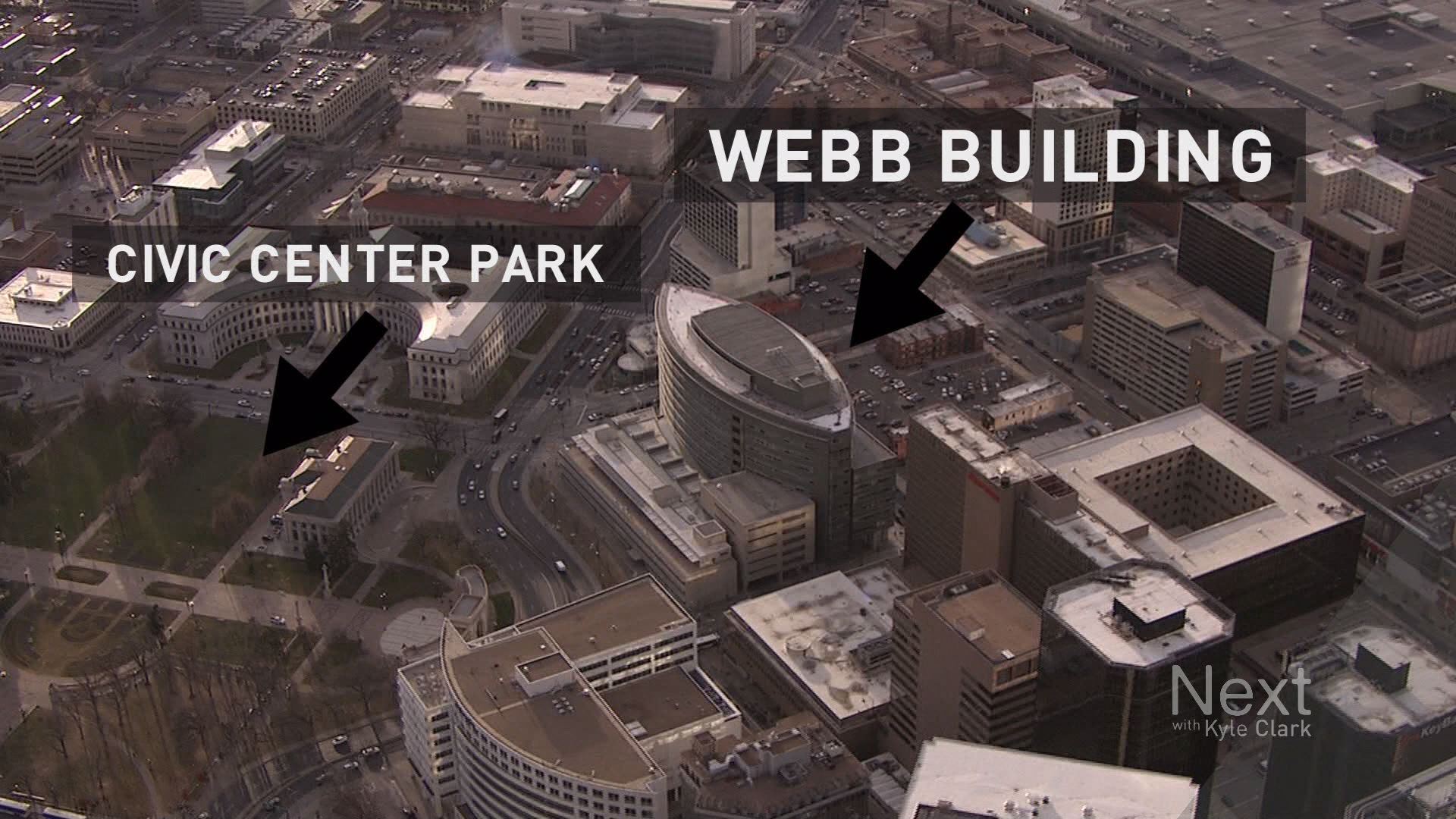 Euflora is a Denver area dispensary that had people camp outside of the Webb building, where one would apply for the Civic Center Park permit for April 20, starting in the last week of October, to be first in line if it came available.
The former permit holder, Miguel Lopez, had a three-year ban upheld during an appeals process, which put the permit up for grabs. That decision was officially announced on Nov. 17.
Euflora had camped out 24/7 for 23 days until the city said they could no longer be on the property after hours. However, on the day the permit was officially available on Nov. 21, the city said people could line up at 12:01 a.m., and not a minute before.
"The city just put up a sign two days ago that is now 5 p.m. to 7 a.m., the city is closed, anyone here is trespassing," said Euflora Marketing Director Bobby Reginelli on Tuesday Nov. 21. "We've had the times changed three times. We've had the rules changed three times."
Reginelli had teams first in line at both Webb building entrances off Colfax Avenue and Bannock Street and at 15th and Court Streets.
"We actually had two teams at each door. One of our teams was evicted," said Reginelli.
During the early morning hours, an HSS security guard working security at the Webb building told the Colfax team that they were not allowed to wait at that entrance. Euflora recorded the conversation with a cell phone.
"The official entrance for the 420 permit is on the Court Street entrance. The Colfax Street entrance is actually considered loitering for being out here," said the guard.
9NEWS reached out to two employees at HSS to confirm the identity of the security guard, but neither returned our calls. Staff at Denver Parks and Recreation are aware of the content of this video and have not suggested that the security guard is not a real employee.
This is key because the person who ultimately got the permit entered from the Colfax entrance.
After his team left the Colfax side, Reginelli talked with a Denver Police officer by the Court entrance.
"It's not who's here first, it's who is at the door inside first," said the officer.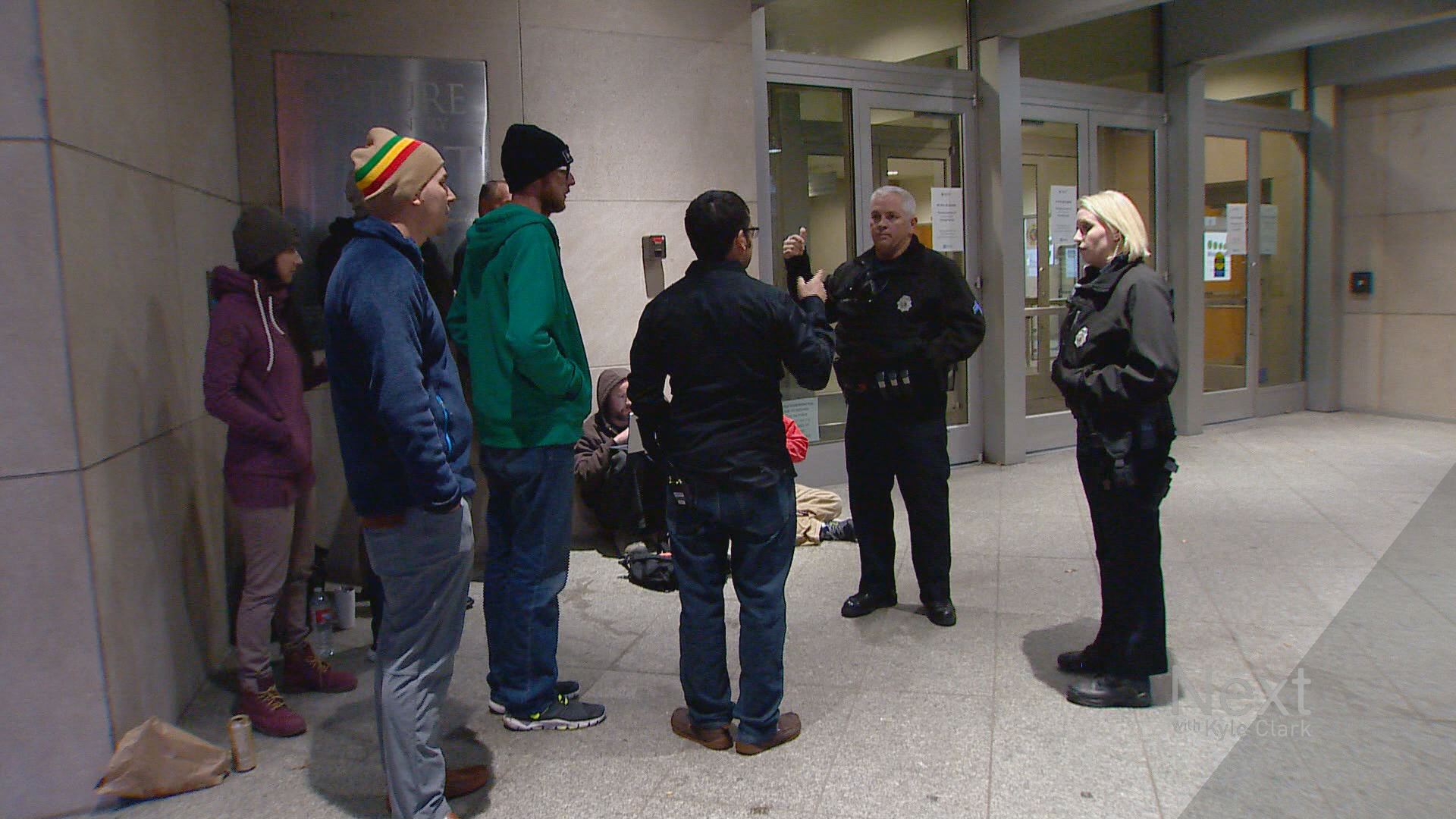 "Yes, we've been told that," said Reginelli.
"The good news is, I think you and the gentlemen on the other side are after two other permits," said the officer.
"No, I think he's lying," said Reginelli.
The "gentleman on the other side" was Michael "Smokey" Ortiz.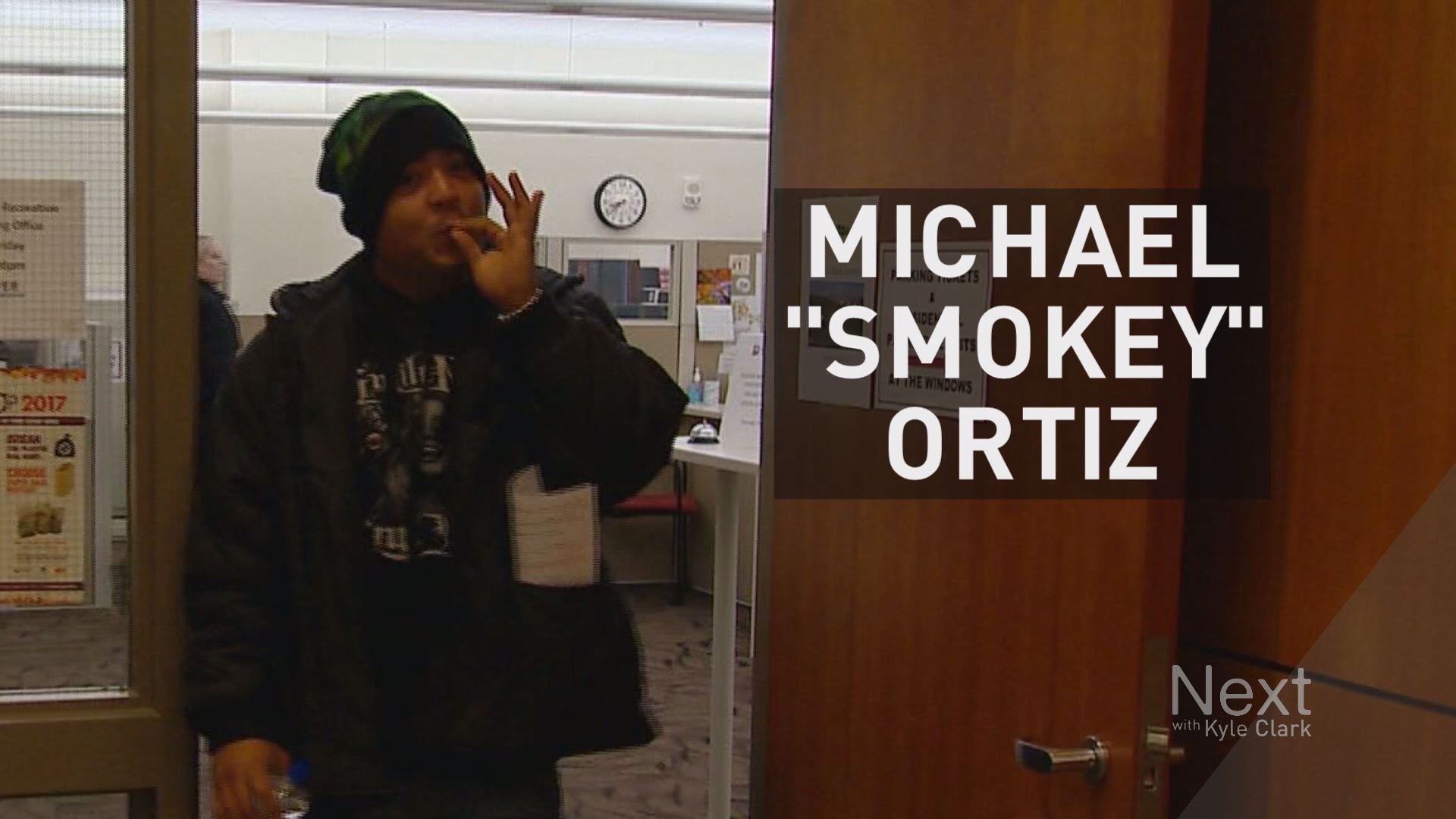 "Yeah, that guy's not camped out here at 2 a.m. for another park," said Reginelli. "This is very frustrating. We have been here for 27 days and there's somebody who showed up last night who's trying to sneak in through the back door and get it from us."
Surveillance video obtained by 9NEWS from the city of Denver shows what happens once the doors open. Let's examine the timeline:
A security guard unlocks the Court entrance and the Euflora team walks in at 7:00:13.
They are not allowed to go through the metal detector right away.
"The lady tells us, 'Oh no, we've got to open the other door so this is fair,'" said Reginelli.
7:01:37: That security guard unlocks the Colfax entrance and you see Ortiz walk in.
7:01:37: Reginelli is seen taking the beanie off his teammate standing in front of him at the metal detector.
7:01:48: Ortiz walks through the metal detector near the Colfax entrance.
7:01:48: The Euflora team waits to go through the metal detector for 20 seconds (420 again, get it).
7:02:04: After waiting for his belongings to be screened, Ortiz starts to head to the permit office door.
7:02:08: Euflora gets to go through the metal detector near the Court entrance.
7:02:17: Ortiz gets to the permit door one step faster than Euflora.
"We come inside at seven o'clock, we have nothing in our pockets. Two of us. Ready to run down this hallway," said Reginelli. "This gentleman hadn't planned to be as quick as us through security. He had phones and everything with him."
After getting beat, Reginelli pleaded with Denver Police in the lobby as Parks and Recreation Director Happy Haynes looked on from a nearby bench.
"We got lied to and fraudulently moved by their security detail and this guy gets to get in line?" Reginelli asked the officers. "I've talked to 15 individuals within city government for 27 days. Nobody knew more about this process than I did."
Parks and Recreation spokeswoman Cyndi Karvaski said that the actual permit for April 20 won't be issued until about 10 days before the event.
The city attorney is currently reviewing Ortiz's application and the circumstances that let him beat Euflora.
"If we don't know that theirs is cancelled and that we have a shot by January 1st, we are no longer interested in this," said Reginelli.
9NEWS reached out to Ortiz by phone on Monday. He initially agreed to an interview, then texted that he changed his mind and would be issuing a news release. That has not happened yet.
So, was the win fair? #HeyNext